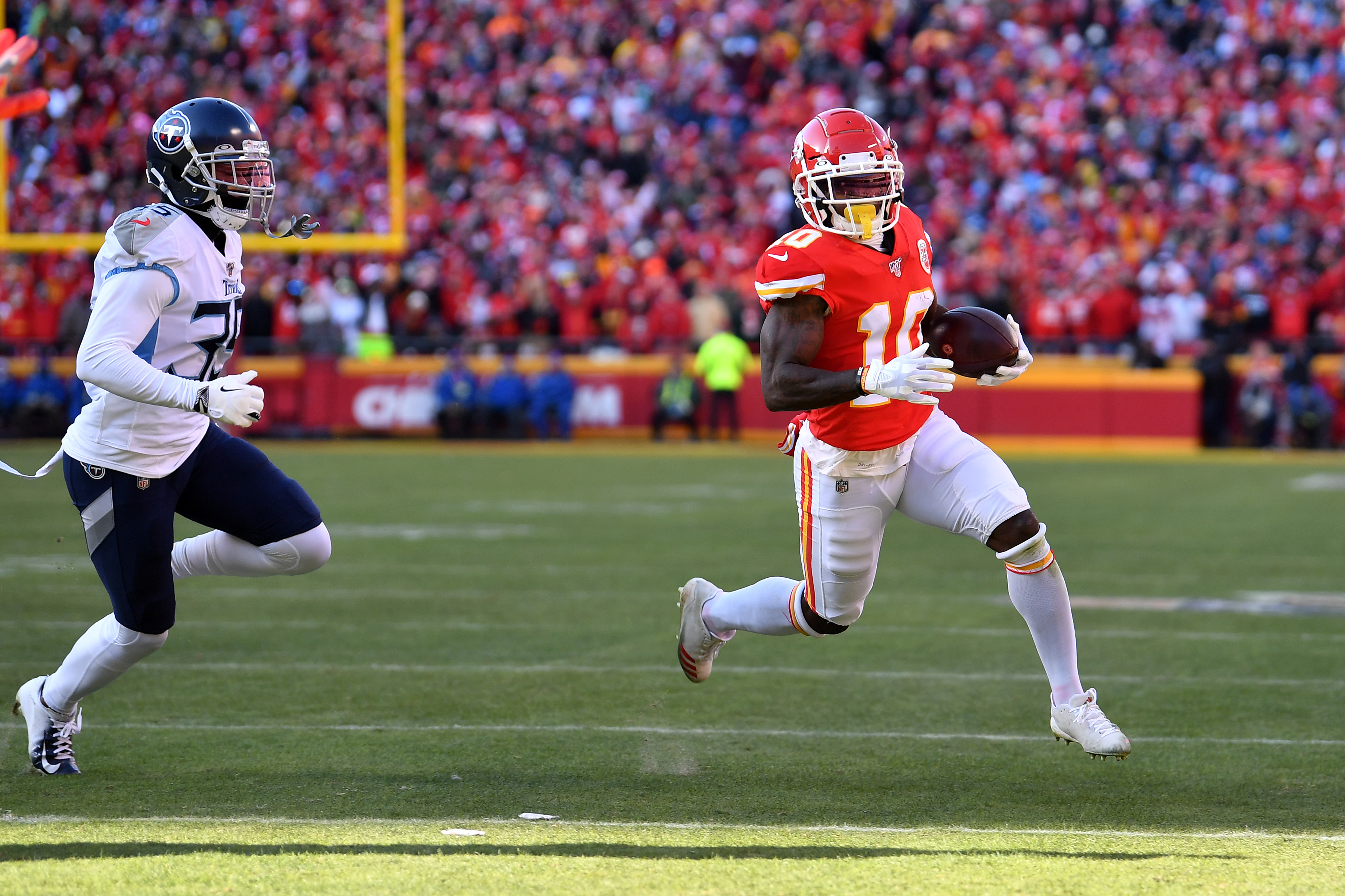 The NFL's Obsession With Tyreek Hill is Going to Ruin Some Teams' 2021 NFL Draft
Teams tried to find the next Tyreek Hill in the 2021 NFL draft but many are going to be disappointed when their small receiver isn't as good.
The NFL is a copycat league. That's what they always say.
When a scheme or a type of player has success in the NFL, other teams follow suit. Drafting a mobile quarterback in the mold of Aaron Rodgers or Russell Wilson has worked out well for franchises like the Chiefs, Bills, and Ravens. For teams that ran the Wildcat formation after Ronnie Brown and Ricky Williams, it didn't go quite as well.  
In 2021, the newest trend is teams looking for a blazingly fast, dynamic wide receiver like the Kansas City Chiefs Tyreek Hill. They see how he softens up the defense and creates huge, momentum-swinging plays, and they want a player like that.
The problem is, most short speedsters aren't Hill, and the fact that so many teams went heavy on this type of player in the 2021 NFL draft is a problem.
Tyreek Hill changes the game for the Kansas City Chiefs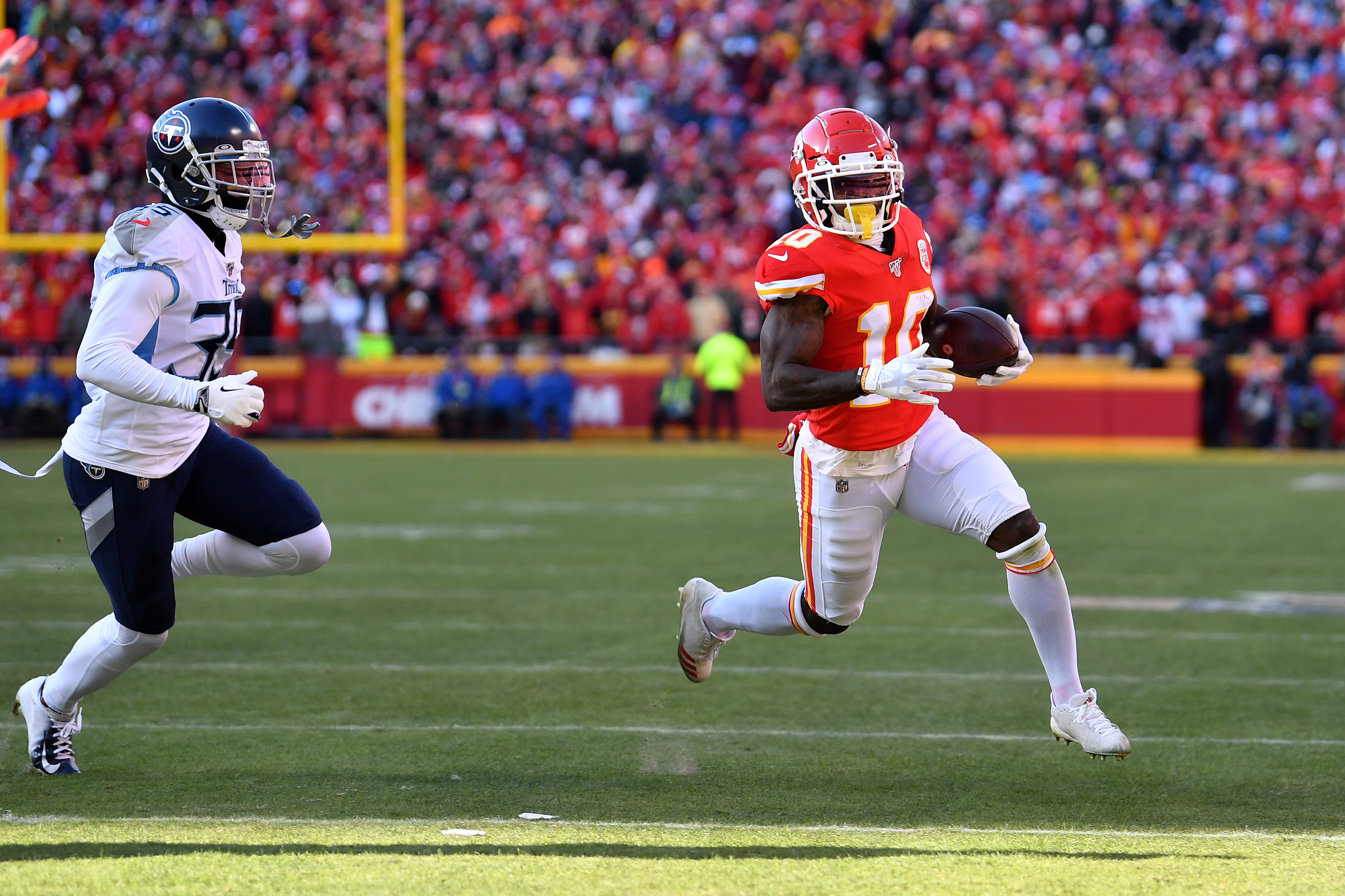 It's no secret that Patrick Mahomes quickly became one of the best NFL starting quarterbacks when he first got under center for the Chiefs. Fewer people though talk about the fact that his 5'10" speed-burner wide receiver is a big reason for this.
Hill ran a 4.29 40-yard dash at the 2016 NFL draft combine and has shown that speed on the field. Even the average fan can see how fast Hill is and how his 5,391 receiving yards and 47 touchdown catches lead to wins. When you factor in his rushing and kick and punt returning, his value is immense.
A closer look at his advanced stats reveals even more about his importance to Mahomes and the Chiefs. Since 2018, when these stats first started being recorded, Hill is averaging 10.2 air yards before the catch, meaning he gets far downfield fast. With 5.2 yards after the catch, Hill basically produces a chuck yardage play (a play of 10-yards or more) every time he touches the ball. This explosive play capability is something every team in the NFL wants.
Most of the best wide receivers in the NFL are tall
The problem with every team wanting Hill is that he is the exception to the rule. The rule is, the best wide receivers are tall. It just makes sense. A quarterback is throwing behind lineman who are well over 6-feet tall to a receiver anywhere from five to 50-plus yards away, being covered by a defender. It makes sense that longer, rangier athletes would have more success.
The stats bear this out too. Of the top 40 wide receivers in receiving yards in 2020, eight are under 6'0" tall. In addition to Hill, only DJ Moore (5'11"), Brandin Cooks (5'10"), Tyler Lockett (5'10"), Cole Beasley (5'8"), Dionte Johnson (5'11"), Curtis Samuel (5'11"), and Jarvis Landry (5'11") are on this list. This number represents just 20% of the league's best pass-catchers who aren't at least six feet.
These smaller receivers aren't all speed merchants like Hill either. A few of them get it done in a very different way. Cooks, Lockett, and Samuel all ran sub-4.4 40-yard-dashes at the NFL combine, but none went under 4.3 like Hill. Landry and Beasley both ran in the 4.4 range, and Johnson ran a 4.52. These receivers get it done with precise route-running and short-area quickness, not pure speed.  
Teams went all-in on small, fast receivers in the 2021 NFL draft
As much as the current crop of top NFL wide receivers fit the traditional, taller mold, teams still see Hill and get visions of 75-yard touchdowns dancing in their heads. This desire showed up in a big way at the 2021 NFL draft.
In the first three rounds, NFL teams selected the following small wide receivers: Jaylen Waddle (Dolphins – 5'10"), Elijah Moore (Jets – 5'10"), Rondelle Moore (Cardinals – 5'7"), D'Wayne Eskridge (Seahawks – 5'9") Tutu Atwell (Rams – 5'9"), and Amari Rodgers (Packers – 5'9").
This group represents 40% of the wide receivers drafted in the first three rounds. If you add the fastest player in the whole draft, the Brown's Anthony Schwartz and the Giants' new burner Kadarius Toney who both just reach 6'0", you're looking at more than half of the pass catchers in the first three rounds.
NFL teams have selected 17 quarterbacks in the first round of the last four NFL drafts. It makes sense that teams are going heavy on wide receivers early to give their young passers weapons. The problem is, this year, teams all thought at once that they could find the next Hill and bucked conventional wisdom.
This draft strategy might work out for some (probably around 20% based on the numbers), but for many others, it will fail. This failure will hurt teams' developing quarterbacks and could cost a number of NFL coaches and GMs their jobs in coming seasons.
All stats courtesy of Pro Football Reference