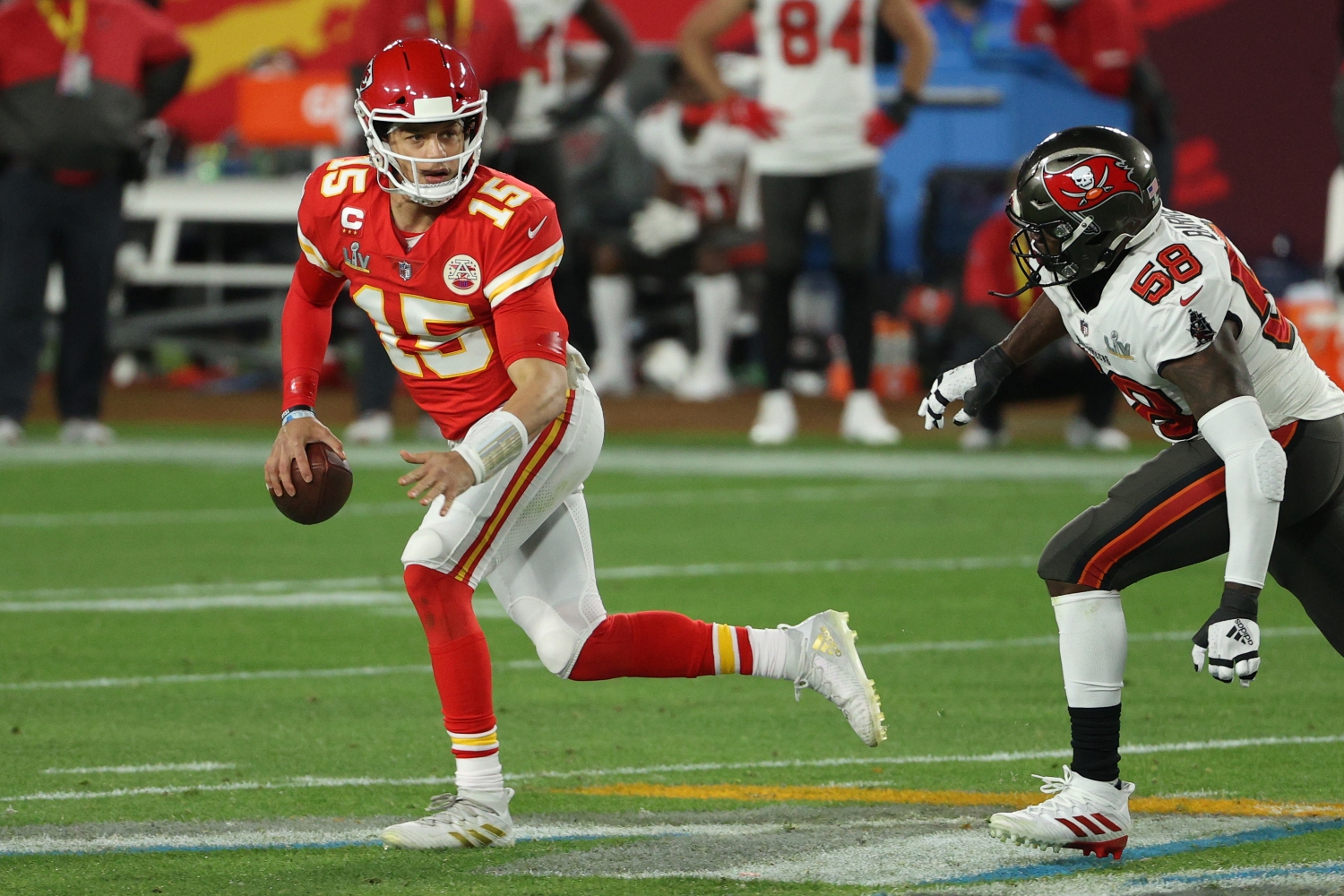 The Kansas City Chiefs Are Putting Their Future at Risk to Protect Patrick Mahomes
Patrick Mahomes should be pleased by how the Kansas City Chiefs have rebuilt their offensive line. But if the Orlando Brown trade backfires, the future of the franchise won't look so bright.
The Kansas City Chiefs suffered a crushing loss in Super Bowl 55 due largely to their inability to protect Patrick Mahomes. So heading into the offseason, general manager Brett Veach had to formulate a plan to upgrade an offensive line that got badly exposed in the biggest game of the season.
And after committing significant financial resources in free agency, Kansas City has executed another move to improve up front. But in this case, the Chiefs have taken quite a risk by acquiring a player whose cost includes much more than just draft capital.
The Chiefs have been busy making moves along the offensive line this offseason
The Tampa Bay Buccaneers showed how a bad offensive line can make even the most talented quarterback in NFL history look ordinary. That set the stage for an offseason overhaul of a unit that got decimated by injuries in 2020.
The Chiefs started by cutting ties with longtime tackles Eric Fisher and Mitchell Schwartz. Releasing both Pro Bowlers helped Kansas City gain much-needed salary cap space. And it didn't take long for the reigning AFC champions to use that financial wriggle room to land a premium free agent.
Joe Thuney signed a five-year, $80 million contract that makes him the highest-paid guard in the NFL. He established a reputation as a hard-working, dependable leader during his time with the New England Patriots. The 28-year-old should provide a major boost both on and off the field.
Kansas City also brought in Kyle Long to play right guard. He and Thuney will flank Austin Blythe, who joined the Chiefs on a one-year deal after spending the last four seasons with the LA Rams.
Kansas City goes all-in on protecting Patrick Mahomes
Kansas City found three new starting linemen in free agency, but the team entered Friday without a clear answer at the most important position on offense other than quarterback: left tackle. Even for a player as talented as Patrick Mahomes, the absence of an adequate blindside protector can lead to major issues.
Rather than looking for a long-term option in the 2021 NFL draft, the Chiefs decided to go in a different direction Friday. ESPN's Adam Schefter first reported Kansas City has agreed to trade the 31st pick, their third- and fourth-round selections, and a 2022 fifth-rounder to the Baltimore Ravens for Orlando Brown Jr., the 58th pick, and a 2022 sixth-round choice.
The blockbuster deal gives the Ravens valuable draft capital heading into next week's three-day affair. The Chiefs now have a two-time Pro Bowler to keep Mahomes upright. However, the Brown trade still carries significant risk for Kansas City. Because even though the towering tackle didn't allow a sack last season, he joins an offense that couldn't be more different than Baltimore's run-heavy scheme. After spending the first two years of his career at right tackle, he must prove he can maintain a high level of play on the left side in a pass-oriented attack.
The Orlando Brown trade has massive short- and long-term ramifications for both teams
The Chiefs are taking a risk with the Orlando Brown deal in more ways than one. Because even though he only played left tackle for one season, the soon-to-be 25-year-old will require a top-of-the-market contract to remain in Kansas City in the long term. Considering an aging version of Trent Williams just signed a six-year deal with an average annual salary of $23 million, Kansas City will undoubtedly have to pay Brown somewhere close to that mark to secure his services.
Of course, the Chiefs could have tried to address the position in the draft for a much lower cost. But instead of using the 31st pick on a left tackle—or even trading up to land one—they have basically gone all-in on Brown. If they commit $40-plus million in guaranteed money on him and he doesn't live up to expectations, the team will have traded away valuable draft capital and burned significant financial resources. So while the move certainly could pay off, it could also backfire badly and inflict long-term damage.
As for Baltimore? The trade actually opens the door for the team to break in a new right tackle. With Ronnie Stanley returning from injury, Lamar Jackson doesn't have to worry about pressure coming from his blind side.
Meanwhile, the Ravens now possess the resources to move into striking range to land a top-flight receiver for their star quarterback. Let's just hope whoever fills Brown's shoes can keep Jackson safe, too.
All statistics courtesy of Pro Football Reference.