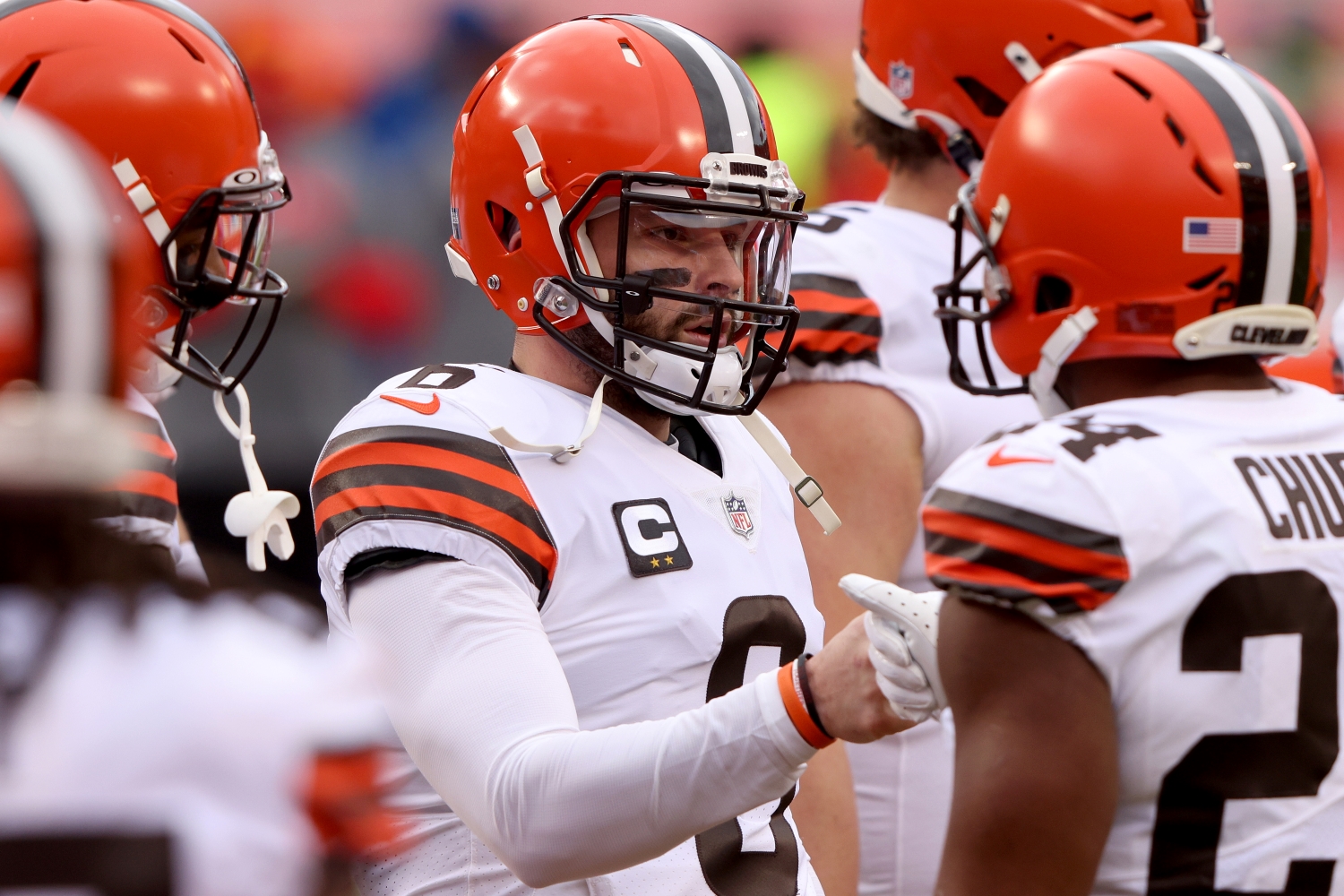 The Cleveland Browns Have Officially Made a $19 Million Decision About Baker Mayfield's Future
The Cleveland Browns just gave quarterback Baker Mayfield a $19 million vote of confidence. But will they commit more money to his future?
Coming off a disastrous season, Baker Mayfield had a chance to make a good first impression on new Cleveland Browns head coach Kevin Stefanski. He responded with a strong campaign in which he consistently took care of the football and put his team in a position to win.
However, the former Heisman Trophy winner heads into the summer without the security of a long-term contract. While that still remains the case, Mayfield just received a valuable vote of confidence from the Browns.
Baker Mayfield bounced back in a big way after a rough 2019 season
Baker Mayfield entered the 2020 season with a sizable chip on his shoulder. After all, his 2019 campaign inspired little confidence about his long-term future with the Browns. But in his first year playing in Kevin Stefanski's offense, the former No. 1 pick finally started to put all the pieces together.
Mayfield cut his interception total from 21 to just eight. Meanwhile, he threw four more touchdown passes on 48 fewer attempts. His improved ball security and decision-making helped Cleveland achieve success on a consistent basis.
Thanks in large part to Mayfield's third-year leap, the Browns posted a winning record for the first time since 2007. The offense finished 14th in scoring—the team's best mark since that magical year. Plus, the Browns even made some noise in the playoffs.
A high-scoring showdown against the Pittsburgh Steelers ended with Mayfield and Stefanski walking out of Heinz Field with a victory. Although the Kansas City Chiefs brought their Super Bowl hopes to an end the following week, the Browns definitely gave their fans plenty to cheer about last season.
The Browns make a $19 million decision about their young quarterback's future
Baker Mayfield hasn't completely proven he deserves to become one of the highest-paid quarterbacks in the NFL. At the same time, he has demonstrated enough promise to warrant a significant raise. On Friday, the Browns ensured their starting quarterback will receive a big-time bump in pay for the 2022 season.
General manager Andrew Berry confirmed in a video conference call with the media that the team exercised the fifth-year options for both Mayfield and cornerback Denzel Ward. He noted the two former first-rounders enjoyed "very strong seasons for us in 2020" and will "be a big part of what we do moving forward."
By picking up Mayfield's option, the Browns just committed to paying him almost $19 million next year. Based on the new Collective Bargaining Agreement, his $18.858 million salary for 2022 is now fully guaranteed.
That should give him confidence in the short term. But Mayfield has to take care of business on the field to ensure he remains the face of the franchise for years to come.
Baker Mayfield can break the bank by leading a stacked Browns team to a Super Bowl title
Could everything come together for Cleveland in 2021? It certainly looks that way.
Looking at their roster, the Browns might be the most complete team in the NFL. Their offense features so many skilled pass-catchers that Odell Beckham Jr. almost seems like an afterthought. Nick Chubb and Kareem Hunt form a dynamite backfield duo that's capable of taking over a game. And the offensive line has the ability to dominate the line of scrimmage on a weekly basis.
As for the defense? If Jadeveon Clowney can put his injury woes behind him, he can inflict major damage lining up opposite Myles Garrett. The addition of John Johnson III—along with the return of a healthy Grant Delpit—should solidify the safety spot. Ultimately, an improved pass rush will give a secondary teeming with talent more opportunities to force turnovers.
Of course, the Browns' Super Bowl chances rest on the right shoulder of Baker Mayfield. If he can build off his promising 2020 campaign, Cleveland has too good of a roster (at least on paper) not to make a deep playoff run. And if the Browns lives up to their scary potential, they will have every reason to break the bank to give the 26-year-old a life-changing contract extension.
All contract data courtesy of Spotrac. All statistics courtesy of Pro Football Reference.