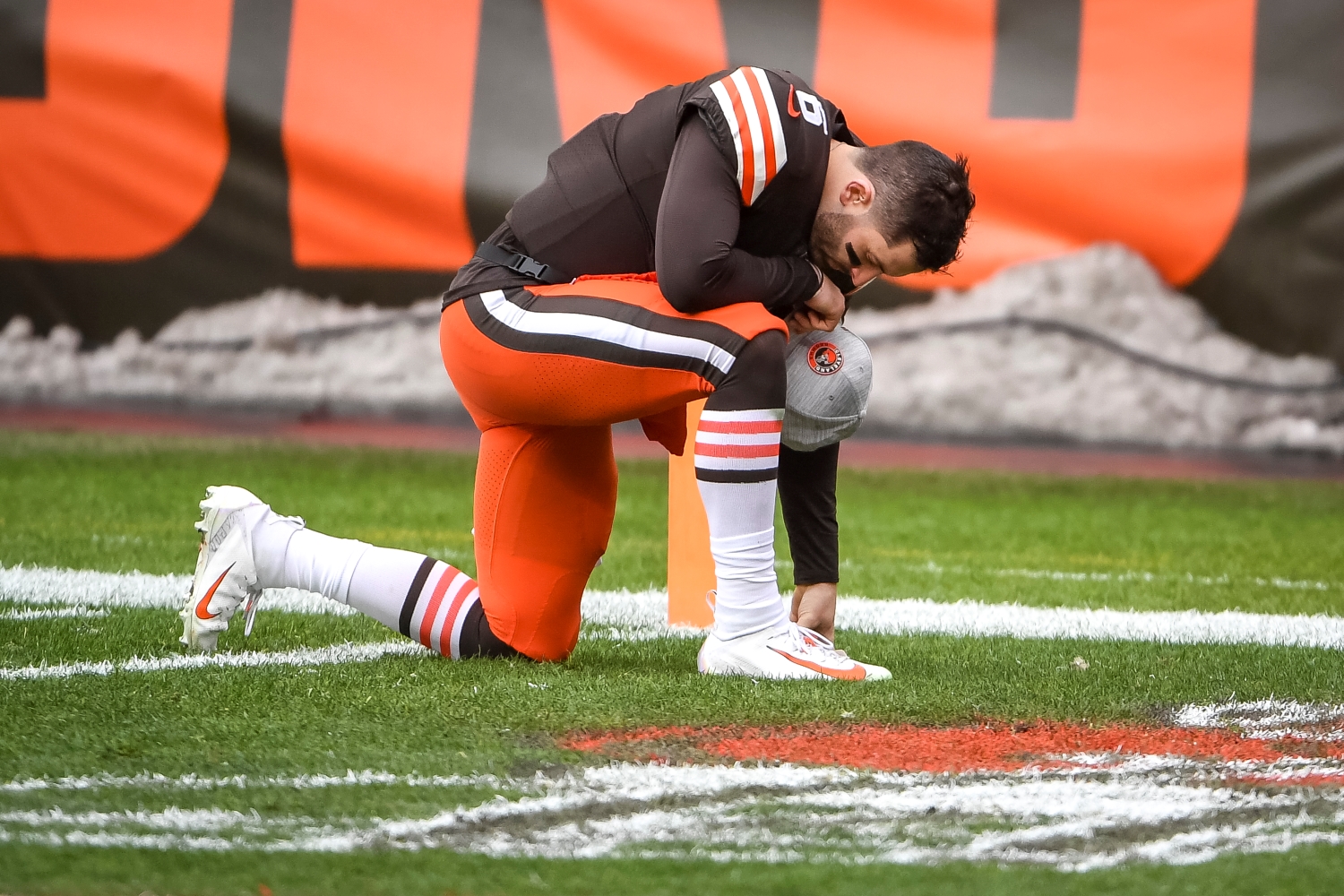 Baker Mayfield and the Cleveland Browns Suffer Heartbreaking Loss
Baker Mayfield and the Cleveland Browns just suffered a heartbreaking loss, as devoted fan Tom Seipel passed away after battling cancer.
Baker Mayfield has yet to turn the Cleveland Browns into Super Bowl champions, but he has certainly provided fans with some exciting moments since he became the No. 1 pick in the 2018 NFL draft.
Unfortunately for the talented quarterback and the rest of the Browns organization, they just suffered a heartbreaking loss that robbed the NFL franchise of one of its most devoted fans.
Baker Mayfield has entertained Browns fans since he arrived in 2018
The Browns deviated from the norm and by selecting a quarterback with less-than-ideal measurables. However, thanks to his accuracy and toughness, Baker Mayfield has always seemed to play bigger than his 6-foot-1, 215-pound frame would suggest.
In his rookie season, the 2017 Heisman Trophy winner showed flashes of Pro Bowl potential. In 14 games, he completed nearly 64% of his passes for 3,725 yards, 27 touchdowns, and 14 interceptions. Cleveland went 6-7 in Mayfield's 13 starts—a respectable record considering the franchise's long history of losing.
Given his promising first year, Browns fans finally had a reason to be excited about the future of the team.
However, Mayfield and his teammates didn't live up to expectations in 2019. The former Oklahoma star regressed in every statistical measure other than total passing yards. But thanks to a smart coaching hire, he finally got back on track last season.
Playing in Kevin Stefanski's offense allowed Mayfield to put his talents on full display. He cut his interception total from 21 to just eight. His improved decision making led to much better results, as the Browns went 11-5 and earned a playoff berth for the first time since 2002.
Of course, it took a Week 17 victory to secure a spot in the postseason. And thanks to in large part to Mayfield's wife, a devoted Browns fan got a chance to watch his beloved team punch its ticket to the playoffs.
The former No. 1 pick made Tom Seipel's final wish come true
Most Browns fans have spent their lives watching the team routinely fall short of expectations. But in 2020, the perennial AFC North bottom-dweller finally put it all together and achieved a winning record for the first time since 2007.
For Tom Seipel, watching his team finally experience success provided some form of distraction from his ongoing battle with kidney cancer.
Diagnosed in 2017, the lifelong Browns fan made a Reddit post on Dec. 21 that included a picture of himself with the caption, "Thanks for the memories and fun. I'll keep rooting with Eric Turner and Otto Graham."
Two days later, Seipel received a video message on his phone from none other than Baker Mayfield that included a line about trying to make the fan's wish come true of seeing his favorite team play one more time.
Thanks to Mayfield's wife, along with the support of many others, Seipel traveled from Georgia to Cleveland to watch the Browns take on the Pittsburgh Steelers in the regular-season finale.
He witnessed one of the best performances in franchise history.
Mayfield threw three touchdown passes in a convincing 48-37 victory against the Steelers.
"If there was a good stopping point to the end of the book, after this game would be a good point," Seipel told Cleveland.com.
Mayfield and the Browns suffer heartbreaking loss
Although the Browns experienced a quick playoff exit, they gave their fans plenty of reason to be optimistic about the future of the franchise.
However, on Saturday, Baker Mayfield and the rest of the organization suffered a heartbreaking loss.
WKYC reported that Tom Seipel died after his lengthy battle with kidney cancer.
He was only 39 years old.
Seipel's friend confirmed the news via his Instagram account.
"Hi everyone. This is Tom's friend, Phil. I wanted to let you know that today Tom's suffering came to an end and he has entered into Heaven's gates. He is face to face with his maker. Thank you for loving and supporting my friend and his family through this trying ordeal. #Seipelstrong forever," his friend wrote.
With news emerging about Seipel's death, Mayfield took to Twitter to deliver a message of his own about the late Browns fan.
"Rest In Peace Tom. Your pure heart will never be forgotten," he wrote.
All statistics courtesy of Pro Football Reference.