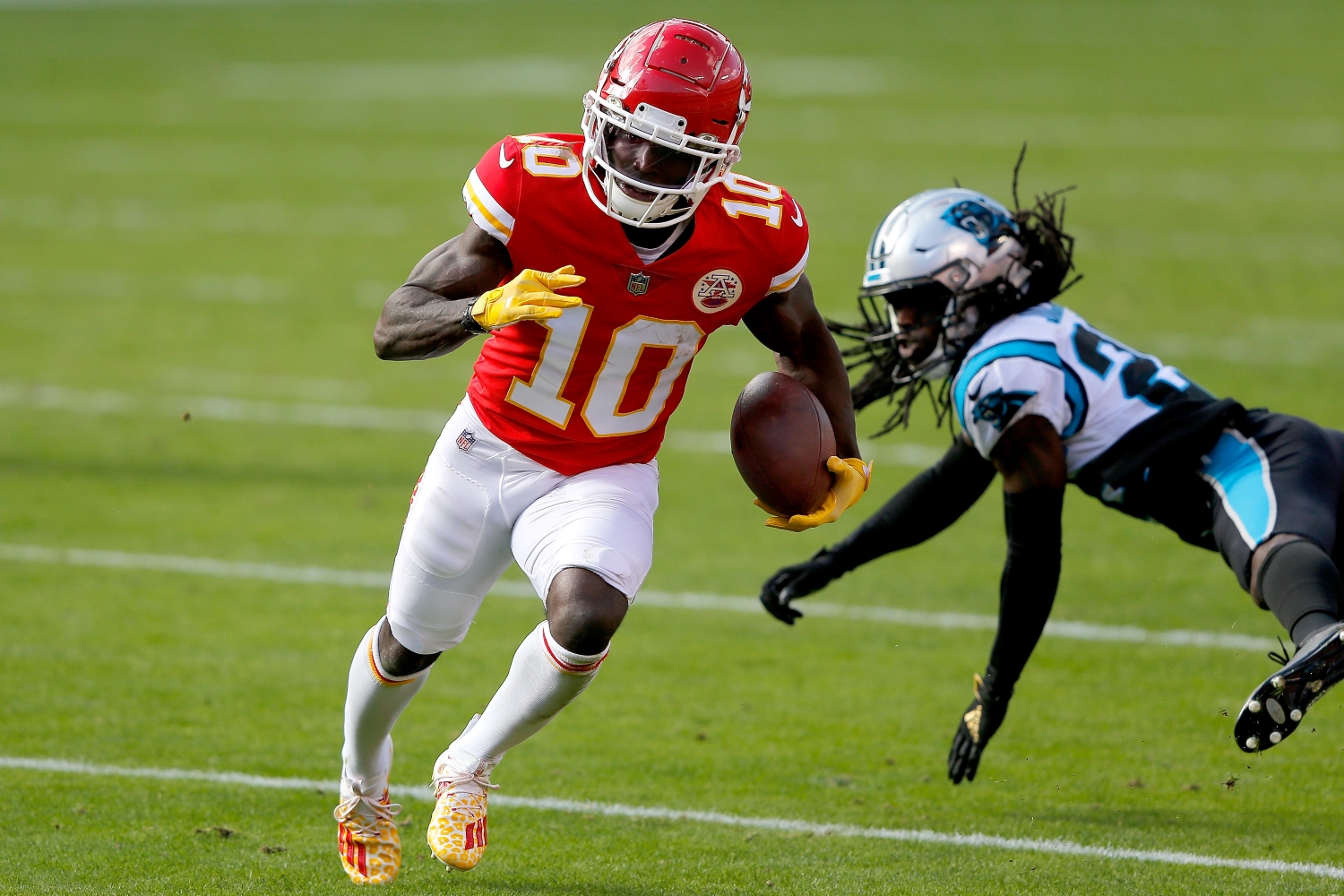 Tyreek Hill Has a $54 Million NFL Contract, But He Still Refuses to Give Up on a Lifelong Athletic Dream
Although he recently signed a $54 million extension with the Kansas City Chiefs, Tyreek Hill refuses to give up on a lifelong athletic dream.
Few NFL players possess the speed to keep up with Kansas City Chiefs receiver Tyreek Hill. After all, the 27-year-old has racked up 47 touchdown receptions in 74 games and arguably ranks as the most difficult one-on-one matchup in football.
However, even though he signed a lucrative contract extension not long ago, Hill still refuses to give up on a lifelong athletic dream.
Tyreek Hill scored a life-changing contract extension from the Chiefs in 2019
A fifth-round pick in the 2016 NFL draft, Tyreek Hill flashed dynamic ability as a rookie. However, he actually averaged more yards per punt return (15.2) than he did as a receiver (9.7).
But by the end of his second season with the Chiefs, it became clear Kansas City stole an elite talent with the 165th overall pick.
After totaling 75 catches for 1,183 yards and seven touchdowns with Alex Smith as his quarterback in 2017, Hill took his game to another level once Patrick Mahomes took over. By setting career-highs across the board, the 5-foot-10, 185-pound wideout proved he deserved a substantial raise.
Although a highly-publicized child abuse investigation appeared to threaten his chances of receiving life-changing money, the Chiefs ultimately signed Hill to a three-year, $54 million extension just before the 2019 season began.
Despite dealing with a shoulder injury early in the year, he stayed healthy the rest of the way and helped the Chiefs bring the Lombardi Trophy back to Kansas City. Hill caught nine passes for 105 yards against the San Francisco 49ers just a few months after putting pen to paper on a deal that includes $35 million guaranteed.
The speedy receiver still refuses to give up on accomplishing a lifelong athletic dream
Tyreek Hill "only" averaged 14.7 yards per catch during the 2020 NFL season, but he hauled in 15 touchdowns in 15 starts. The electrifying wideout continued to torch defensive backs with his rare combination of speed and quickness while helping the Chiefs make it back to the Super Bowl.
But before Andy Reid's team squared off against Bruce Arians' squad, Hill conducted an interview with TMZ Sports in which he revealed a lifelong goal he still wants to achieve.
Even though he has a $54 million NFL contract, the five-time Pro Bowler still has an eye on qualifying for the Tokyo Olympics as a track athlete.
"It is still an option 'cause it's always been my dream to do multiple sports at the highest level," he told TMZ. "It would be amazing. I just to want to prove a point, and also, I love competing."
Of course, Hill hasn't only utilized his speed on the football field. A world-class sprinter in high school, he reportedly once ran the 200-meter dash in a blistering time of 20.14 seconds. And even if it took a little help from some wind to help him break 10 seconds in the 100-meter dash, Hill obviously possesses rare speed.
However, he would have to lose weight and muscle mass in order to make the transition from NFL receiver to track runner. So as much as Hill wants to make his dream a reality, competing in the Olympics seems like a major longshot. After all, the Chiefs need him at his best if they plan on avenging their recent Super Bowl loss.
Will the Olympic hopeful call himself a two-time Super Bowl champion a year from now?
If Tyreek Hill didn't have to worry about beating NFL corners for a living, he very well could compete in the Olympics. But at the end of the day, the Chiefs don't pay him to outrun fellow sprinters.
While he deserves tremendous credit for having the work ethic and desire to want to make his dream come true, the chances of Hill representing his country on the track appear extremely low.
Still, he can accomplish another impressive athletic feat within the next year…with some help.
Coming off an ugly loss in Super Bowl 55, the Chiefs have plenty of motivation to fix their flaws this offseason. Improving the offensive line should rank as a top priority. General manager Brett Veach must also look to upgrade a pass rush that forgot to show up against Tom Brady.
With a few roster tweaks, Kansas City should have no trouble competing for the No. 1 seed in the AFC again. And as long as Patrick Mahomes doesn't suffer any setbacks with his surgically-repaired foot, Chiefs fans should expect the team to be right back in the mix to represent the conference in the biggest game of the season.
And as long as history doesn't repeat itself, Tyreek Hill will finally be able to call himself a two-time Super Bowl champion.
All contract data courtesy of Spotrac. All statistics courtesy of Pro Football Reference.