Seattle Seahawks Speedster DK Metcalf Looks to Add His Name to NFL's Long Legacy of Standout Sprinters
Last season, Seattle Seahawks wide receiver DK Metcalf sprinted his way into the franchise record books. This weekend, he's going to take those jets from turf to the track when he takes part in a USA Track and Field-sponsored event in Southern California. Metcalf dazzled at the scouting combine in 2019 with his 40-yard dash time. A chase-down tackle against the Arizona Cardinals last season following an interception further cemented his speed bona fides.
NFL players have a long history of crossover success in track and field, going back more than a century to Jim Thorpe's gold-medal performance in the decathlon at the 1912 Stockholm Olympics. Metcalf is looking to join that long list of football speedsters excelling against the world's best sprinters.
DK Metcalf and the tackle heard around the NFL
Last October, during a game between the Seahawks and Cardinals, Metcalf sprinted more than 100 yards to make the play. Arizona safety Budda Baker intercepted a Russell Wilson pass at the Cardinals' 2-yard line and topped 20 mph while heading the other direction. Metcalf was nearly 11 yards away from Baker but chased him down at the Seattle 8-yard line to save a touchdown. The Seahawks held Arizona on a fourth-down play from the 3-yard line. Perhaps they were inspired by Metcalf's hustle.
Metcalf played three years at Ole Miss, with seven touchdown receptions as a sophomore in 2017. According to the Seattle Times, he declared for the NFL draft after his junior year was cut short by what one doctor called a career-ending neck injury. Metcalf sustained a cervical neck fracture while blocking on a kickoff return in October 2018. However, another doctor told Metcalf surgery could correct the problem and allow him to continue playing football.
Combine hero Metcalf becomes a star on the field, too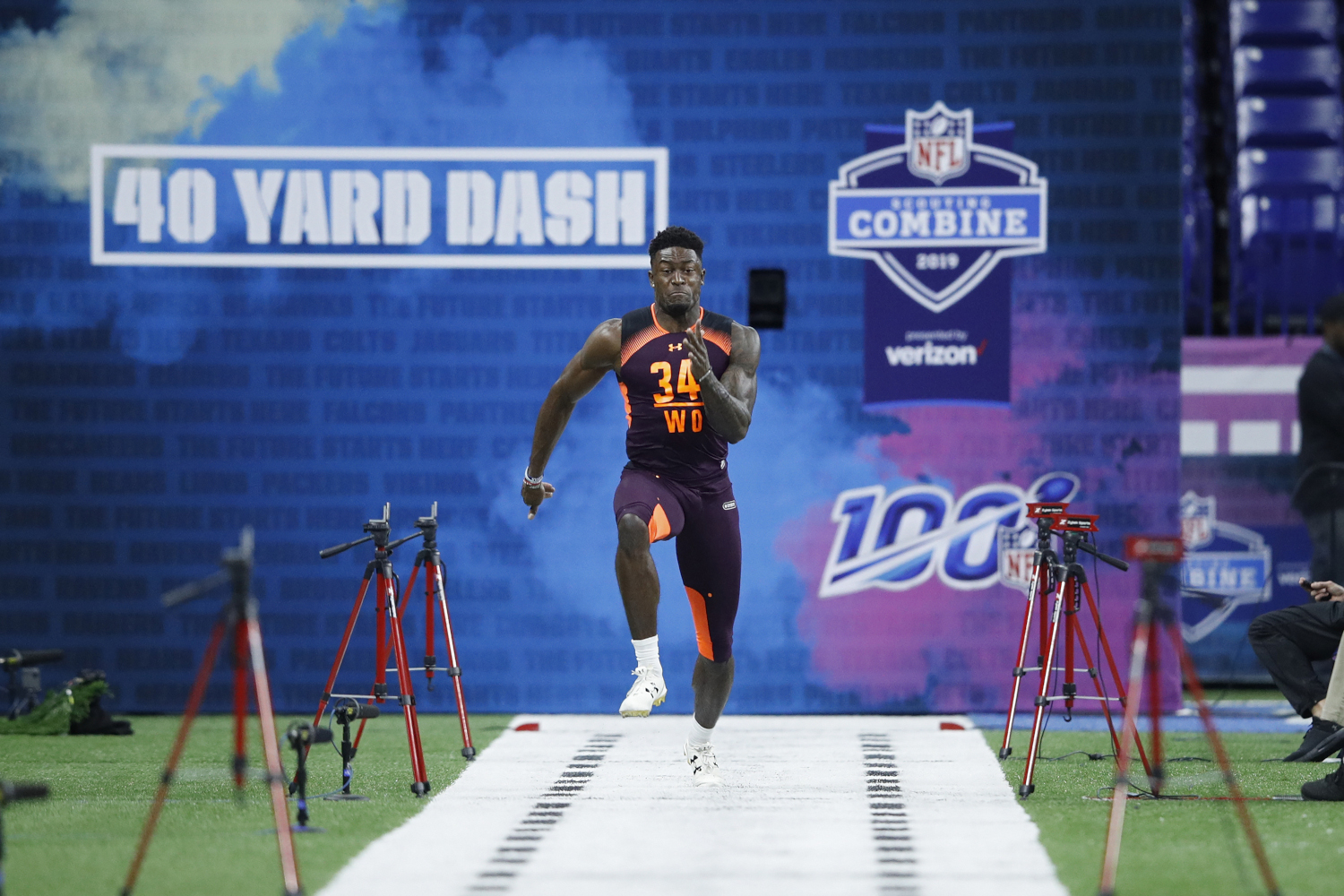 At the 2019 scouting combine in Indianapolis, Metcalf became a media darling with his performance. Not only did he put up a 4.33-second 40-yard dash, but he also pumped out 27 repetitions in the bench press (at 225 pounds). However, not every athletic specimen who wows the media at the combine turns into an NFL superstar. Lest we forget the tales of Vernon Gholston, Troy Williamson, Matt Jones, Mike Mamula, and other combine superstars who had, shall we say, less-than-stellar NFL careers?
Metcalf, however, used his combine showing as a springboard to NFL stardom. The last player selected in the second round of the 2019 draft, Metcalf started 15 games as a rookie. He finished with 58 receptions on 100 targets for 900 yards and seven touchdowns.
Last season, Metcalf broke out in a big way, joining Tyler Lockett as Wilson's most trusted targets. Metcalf caught 83 balls on 129 targets in 2020, scoring 10 touchdowns and gaining a franchise-record 1,303 yards, breaking a 35-year-old mark set by Hall of Famer Steve Largent in 1985. Metcalf scored both Seattle touchdowns in their 30–20 loss to the Los Angeles Rams in the NFC Wild Card Playoff.
Can DK Metcalf join a long line of NFL sprint success stories?
DK Metcalf will reportedly run the 100-meter dash in Sunday's USA Track and Field Golden Games and Distance Open in Walnut, California, per ESPN. Metcalf teased his participation in the meet with a tweet on Monday. He is following a fast track blazed by many other NFL players.
Return specialist Trindon Holliday ran a 10.00 100 at the USATF Outdoor Championships in 2007, finishing behind Tyson Gay, but skipped the world championships because of football. He fell short of an Olympic bid at the 2008 trials before playing four years in the NFL from 2011–2014.
In 2008, Jeff Demps posted a 10.01 at the 2008 Olympic Trials and ran the leadoff leg for the U.S. 4×100-meter relay in qualifying in Beijing. He was not part of the disqualified team that ran in the finals. Jacoby Ford also ran a 10.01 while at Clemson in 2009. Taking a trip in the way-back machine, Bob Hayes won a gold medal in Tokyo in 1964 with a 10.06 mark, and Hayes is the only man with Olympic gold also to win a Super Bowl, turning the trick with the Dallas Cowboys after the 1971 season.
Metcalf was a standout track athlete at Oxford High School in Mississippi, posting a 14.89 time in the 110-meter hurdles and a 46-foot-5 mark in the triple jump as a senior, per Athletic.net. It's a giant leap from there to national-level competition. But at the very least, Budda Baker probably likes DK Metcalf's chances to turn some heads this weekend.
Statistics courtesy of Pro Football Reference.