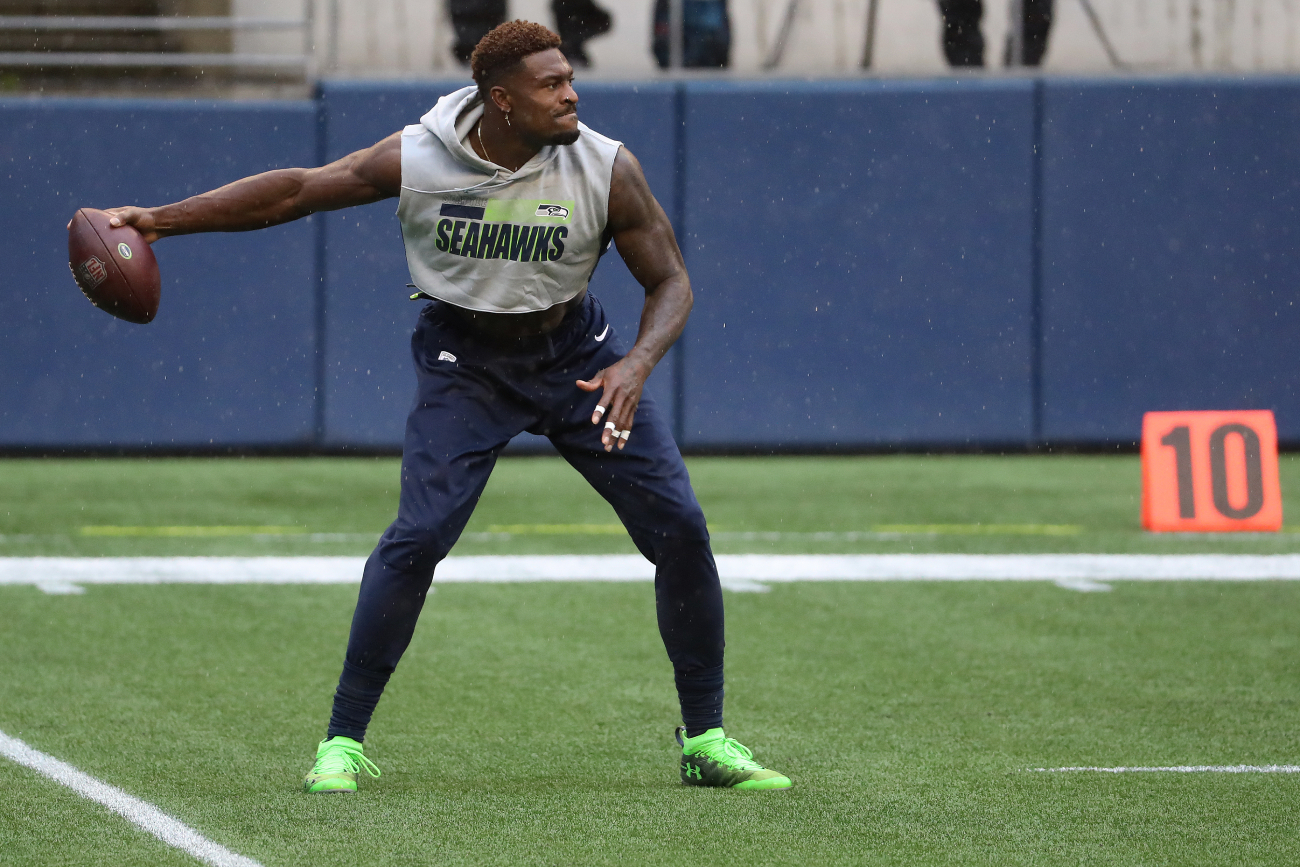 DK Metcalf Has a Message for Patrick Peterson Ahead of Sunday Night's Key Game
Seattle Seahawks wide receiver DK Metcalf felt like he was being tricked by Arizona's Patrick Peterson last year. This year is different.
The last time Seattle Seahawks star wide receiver DK Metcalf faced Patrick Peterson and the Arizona Cardinals, it wasn't pretty for Metcalf. Not only did the Cardinals win by two touchdowns, but Metcalf was also covered like a blanket by Peterson. He had zero catches and one ball thrown his way. Metcalf isn't expecting the same to happen Sunday night.
DK Metcalf is blossoming into a star
DK Metcalf is a physical specimen. The 6-foot-4, 229-pound wide receiver is coming into his own for the Seattle Seahawks. After a strong rookie season last year in which he finished with 900 receiving yards and seven touchdowns, he's well on his way to blow those numbers away in 2020.
Through five games, Metcalf has scored a touchdown in every game but one. In that one game, a victory over the Miami Dolphins, Metcalf still finished with four catches for 106 yards. Metcalf has become the Seahawks' top big-play receiver.
To date, Metcalf already had 495 receiving yards and five touchdowns. Metcalf had a pair of touchdown passes in Seattle's last game against the Minnesota Vikings. In that game, quarterback Russell Wilson hit Metcalf for a touchdown pass with 15 seconds remaining to help the Seahawks improve to 5-0.
Patrick Peterson blanketed Metcalf in their last meeting
In December, the Arizona Cardinals took it to the Seattle Seahawks, posting a 27-13 victory. In that game, Arizona Pro Bowl cornerback Patrick Peterson completely shut down Seahawks receiver DK Metcalf. Metcalf was held without a catch and was targeted just once.
"They kind of took me out the game," Metcalf told The News Tribune this week. "And you know, we just couldn't catch a rhythm on offense." Metcalf and the Seahawks face the Cardinals this week in a Sunday night game in Arizona.
If the Cardinals viewed Metcalf as Seattle's top receiver last year, they'll likely do so again this year. That means Metcalf will likely see a whole lot of Peterson once again. "We learn from those mistakes, learn from games like that," Metcalf said of last year's game.
Metcalf's message to Peterson and the Cardinals
Patrick Peterson knows he'll face off against a different DK Metcalf this time around. He's been keeping tabs on the Seahawks receiver. "DK is having a great year so far," Peterson said, according to The News Tribune. "He's definitely becoming the go-to guy for Russell. You can tell he's gained a ton of confidence."
Metcalf is eager for the rematch. He's already had a big game against another star corner, New England's Stephon Gilmore, and he's eager for the challenge. "Oh, yes, sir," Metcalf said. "Because you know he's studied me, as I've studied him. It's just a big matchup that we are going to see who wins."
Metcalf believes Peterson was playing mind games with him. It won't happen again. He's ready for Peterson. "We're going to see about it Sunday," Metcalf said. "Last year a lot of vets tricked me (with) them not talking, trying to be my friend (on the field) – and then they'd punk me. But this year is different. So, we'll see."