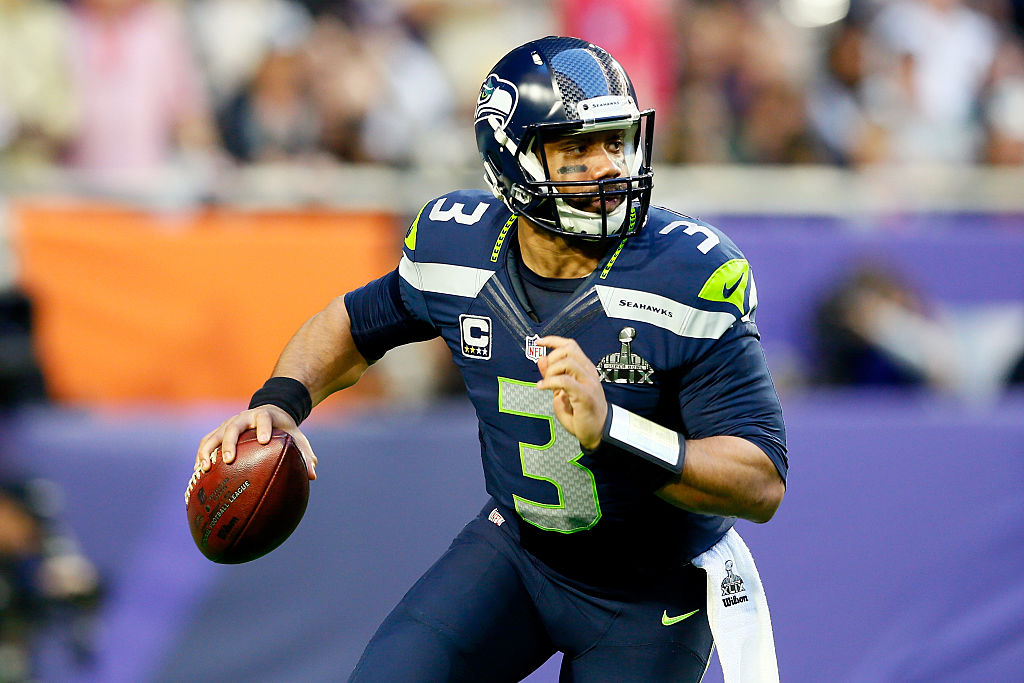 Russell Wilson's College Coach Told Him to 'Give It up' and Said He'd Never Make the NFL
Seattle Seahawks quarterback Russell Wilson's college coach once told him to give up football and he'd never make the NFL.
Russell Wilson is a Super Bowl champion. He is a six-time Prow Bowler. Yet, Wilson has heard it all. He's too short. He's not good enough. Wilson even heard it from his former college football coach who once told him he was never going to make it to the NFL.
Russell Wilson has made his mark in the NFL
Drafted in the third round in the 2012 NFL draft by the Seattle Seahawks, the 5-foot-11 Russell Wilson has proven to be a draft-day steal. In his first season with the team, Wilson outplayed Matt Flynn during training camp in 2012 and played all 16 games for the Seahawks that year.
Wilson guided the team to an 11-5 record and threw for 3,118 yards and 26 touchdowns. He added 489 rushing yards and four more scores. In 2015, the Seahawks rewarded Wilson with a four-year contract worth $87 million. After his first three seasons with the team, Wilson was headed into his fourth season making just $1.54 million in the final year of his rookie deal.
Wilson has not missed a game as a starting quarterback for the Seahawks. He guided the Hawks to a 43-8 victory over the Denver Broncos in Super Bowl XLVII. In his eight seasons with the team, he has a record of 86-41-1. He has thrown for 227 touchdowns and nearly 30,000 yards. In April of 2019, the Seahawks gave Wilson another hefty pay raise, extending him for four more years at $140 million.
Wilson was a two-sport star
Russell Wilson was a two-sport star in college, playing both baseball and football at North Carolina State. In 2010, Wilson was drafted by the Colorado Rockies in the fourth round while he was playing quarterback for the Wolfpack.
In his junior year at North Carolina State in 2010, Wilson led the Wolfpack football team to a 9-4 record, throwing for 28 touchdowns and 3,563 yards. He also rushed for better than 400 yards and nine touchdowns. In 2011, Wilson said he was going to report to spring training with the Rockies. That decision didn't sit well with North Carolina State football coach Tom O'Brien.
"Russell and I have had very open conversations about his responsibilities respective to baseball and football," O'Brien said in a statement in April of 2011. "While I am certainly respectful of Russell's dedication to baseball these last several years, within those discussions I also communicated to him the importance of his time commitment to NC State football. My staff and I thank him for his contributions as a member of Wolfpack football and to this university and wish him only the best in the future.
Wilson told 'give it up' and transferred to Wisconsin
In 2016, when Russell Wilson was giving a commencement speech at the University of Wisconsin, he told the graduates of the day he transferred to Wisconsin for his final season after the Wolfpack decided to go with Mike Glennon at quarterback.
While Wilson was away playing baseball, he called his coach, Tom OBrien, at North Carolina State to tell him he wanted to return for his senior year. "I called my football coach at N.C. State and said, 'Hey coach, I'd like to come back for my senior year,'" Wilson said. "He told me I wasn't coming back. He said, 'Listen son, you're never going to play in the National Football League. You're too small. There's no chance. You've got no shot. Give it up.'"
Wilson continued, "Now, this was everything I had worked for and now it was completely gone. If I wanted to follow my dream, I had to leave NC State. I had no idea if I would get a second chance somewhere else," he said.
Wilson made the most of his second chance at Wisconsin before he moved on to Seattle.