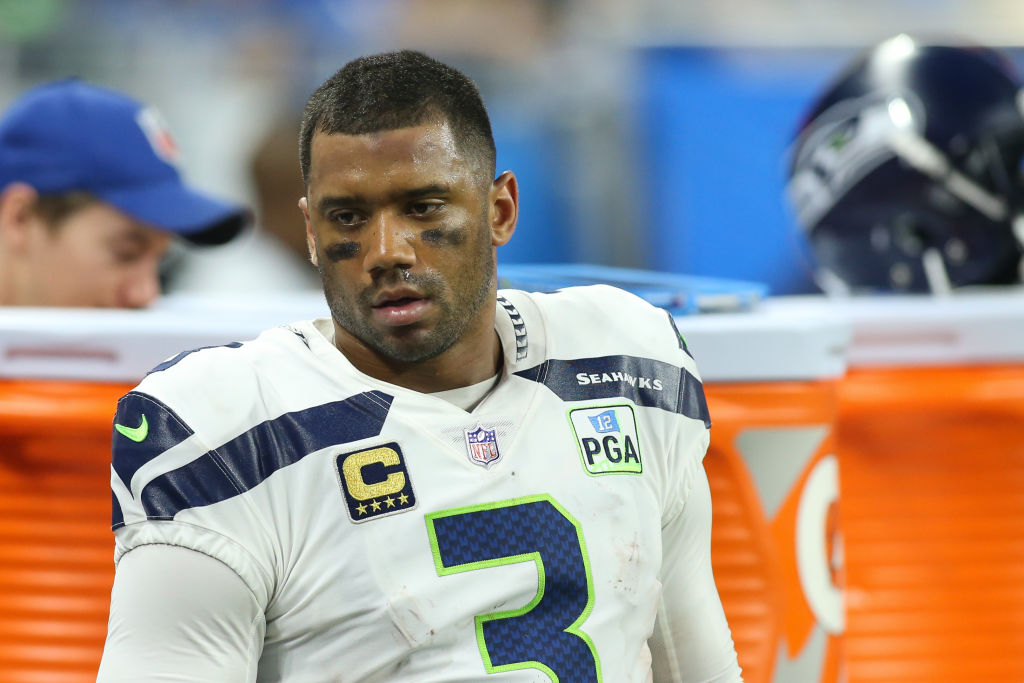 The Seahawks and Russell Wilson Are Running Out of Time to Win Another Super Bowl
Russell WIlson continues to perform at the highest level, but Seattle has been finding it increasingly difficult to get beyond the divisional round of the playoffs.
It's so easy to play the "what if" game in the offseason when there's not much going on. It becomes especially tempting now that just about everything is shut down.
So we pose this question: What if the victory in Super Bowl XLVIII after the 2013 season turns out to be the only one that the Seattle Seahawks capture in the Russell Wilson era? He'd leave the game with gaudy statistics, but how much of a dent does the lack of a second championship despite so many years with double-digits in the wins column put into his legacy?
Is the window for winning closing on the Russell Wilson?
The Seattle Seahawks have posted eight straight winning seasons with Russell Wilson as their quarterback, including seven years with 10 or more victories. However, there's been only one division title in five years as the Los Angeles Rams and San Francisco 49ers have had their moments at the top.
That's meant the Super Bowl ambitions have begun with the wildcard round for Seattle in its last four playoff appearances. None of those journeys have gotten as far as the NFC Championship Game, and it's one more reason to ask whether there should be a greater sense of urgency now.
Wilson resides on the shortlist of genuine NFL star performers. He has started every game in an eight-year pro career and has posted an 86-41-1 record with 227 touchdown passes, just 68 interceptions, and a 101.2 passer rating. Though he turned 31 last season, Wilson remains a dangerous runner with 19 career touchdowns and an average pickup of 5.5 yards per carry.
One of the few reasons for concern with Wilson is the pounding he takes by carrying the ball an average of nearly six times again while also being sacked at least 41 times in each of the past seven seasons. It feels as though time is running short if for no other reason than Wilson's contract averaging $35 million a season through 2023 has a direct effect on team depth.
The Seahawks haven't made a splash this offseason
The Seattle Seahawks are a middle-of-the-pack team in terms of remaining available cap space and they had the NFL's fourth-youngest roster a season ago. That's a good combination because it generally translates into fewer players to replace and more resources to use.
Still, their 11-5 record in 2019 hid the fact that only eight teams in the league surrendered more points. The return of outside linebacker Bruce Irvin, who's been with three teams in four years since leaving Seattle, may beef up a defense that was next-to-last in the NFL in sacks while Russell Wilson had to run for his life at times on the other side of the ball.
No Seattle defender had more than four sacks last fall, but Irvin returned from a hamstring injury to post a career-best 8.5 sacks in 13 games for the Carolina Panthers. Bringing Irvin in and re-signing defensive tackle Jarran Reed are steps in the right direction, but Seattle risks decline if it can't re-sign Jadeveon Clowney.
Fellow lineman Quinton Jefferson left for the Buffalo Bills, but Clowney isn't finding the free-agent market to be as generous as he'd hoped. He's reportedly received interest from the New York Jets and Tennessee Titans, but the Seahawks remain in contention.
Russell Wilson doesn't need much more help on offense
The key acquisition on offense to protect Russell Wilson thus far has been tackle Brandon Shell, coming over from the New York Jets after starting 37 games over the past three seasons to make up for the departure of George Fant via free agency. Seattle also added former Pittsburgh Steelers left guard B.J. Finney.
Whatever shortcomings that existed on offense a year ago were more a function of injuries rather than poor production. Seattle is unlikely to see as many issues at running back, where a veteran like Todd Gurley could conceivably fit in regardless of whether there is another Marshawn Lynch sighting.