Jerry Rice's Brief Tenure With the Seahawks Created an Awkward Situation for Steve Largent
The mental image most people have of Jerry Rice has him wearing a 49ers uniform. This makes sense, as he played 16 of his 19 NFL seasons there and won four Super Bowls. But like Tom Brady has this season, Rice found life after his original team, reaching another Super Bowl and recording two 1,000-yard seasons with the Oakland Raiders.
Even his brief stay in Oakland wasn't quite the end of his career. Jerry Rice still had some football left in him, enough to play half of a season for the Seattle Seahawks. His trip to Seattle, however, created an awkward situation for another Hall of Fame receiver.
Jerry Rice reaches twilight
2004 was Jerry Rice's fourth season with the Oakland Raiders. His tenure there had started off promising, as he formed a formidable receiver duo with fellow veteran Tim Brown. Together with MVP quarterback Rich Gannon, the Raiders won two AFC West titles and reached Super Bowl XXXVIII.
After they lost that game badly to the Tampa Bay Buccaneers, the Raiders went into a tailspin. They finished tied for the NFL's worst record in 2003 at 4-12, and Rice found himself in a reduced offensive role. He caught "only" 63 passes that season, his lowest total in a non-injury season since his rookie year of 1985.
Midway through the 2004 season, the 42-year-old Rice requested a trade out of Oakland. By the season's seventh week, he had joined the Seattle Seahawks and reunited with a familiar face. The head coach in Seattle that season was Mike Holmgren, whom Rice knew well as an assistant coach during the 49ers' Super Bowl years.
Holmgren brought Rice into Seattle primarily to boost Seattle's receiving corps. That season, Seahawks receivers such as Darrell Jackson and Bobby Engram had a bad habit of dropping catchable passes. The Seahawks offense primarily relied on Shaun Alexander, who finished second in the league that year in rushing with 1,696 yards.
Two number 80s in town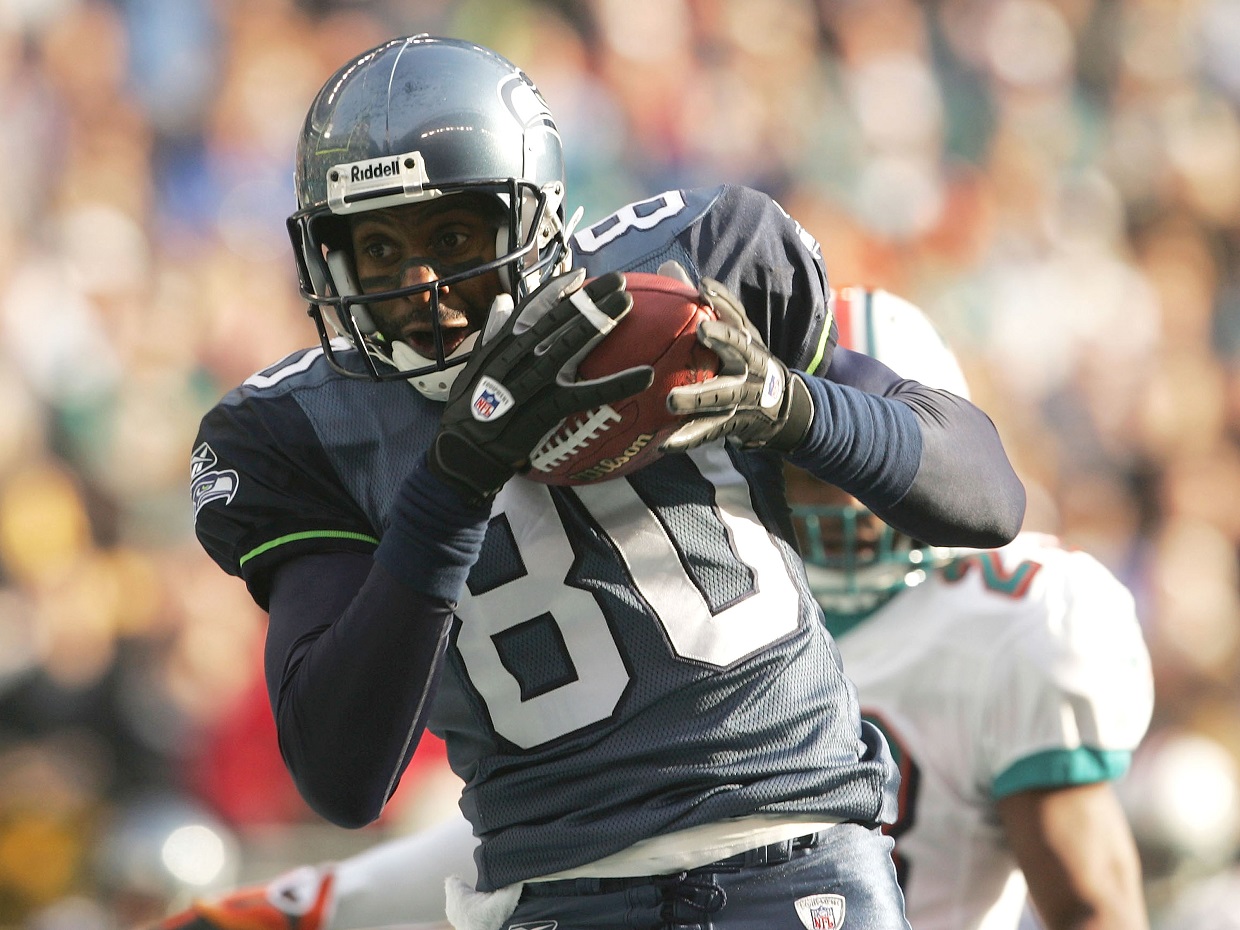 There was one slight problem with Rice's preferred destination.
Throughout his career, in both San Francisco and Oakland, Rice had worn a jersey with the number 80. It would be almost impossible to associate him with any other number. Unfortunately, the Seahawks had already retired their no. 80 jersey in honor of another legendary wide receiver, Steve Largent.
Before Rice, Largent had been considered one of the greatest receivers — if not the greatest — of all time. He was the first face of the Seattle franchise, helping guide them to their first years of success in the early 1980s. In 1989, Largent made history by becoming the first receiver to record 100 career touchdown receptions. His years of service to the team were rewarded when the Seahawks retired his no. 80 jersey in 1992.
According to Rice, he had not actually considered which jersey number he would wear when he joined the Seahawks.
"I had no intent on wearing his jersey when I went to Seattle," he told NFL Network in 2019. "He's a legend, and I would never cross that line."
Team president Bob Whitsitt, however, did take notice.
Two famous wideouts get played
According to Largent, who recounted the story to the Talkin' Seahawks podcast, Whitsitt called Rice and initiated a conversation between the two receivers.
It was a little bit of a scam in that [Whitsitt] called Jerry and said, "Hey, Jerry, Steve Largent really wants you to wear his number in Seattle." Jerry wasn't even thinking about that. And then he calls me, and he said, "Hey, Steve, uh, Jerry really wants to wear your number, can he wear it?" And I said, "Well, you know, that's fine." At the same time, I'm thinking, you know, "You retired my number."

Steve Largent, former Seattle Seahawks wide receiver (1976-1989)
This did not have the desired result. Fans reacted to Rice's arrival not with anticipation, but with contempt. As far as they were concerned, he had stolen their hero Largent's "sacred" number. Years later, both Rice and Largent admitted that neither was comfortable with the idea of Rice wearing Largent's number and that both were tricked.
"I guess we both got played by management," said Rice.
As for Rice, he played a marginal role in the Seahawks offense. He caught 25 passes for 362 yards and three touchdowns. The team won the NFC West with a 9-7 record but lost in the wild-card round to the St. Louis Rams. Rice did not catch a pass in that playoff game, which turned out to be his last NFL game.
After a failed attempt to make the Denver Broncos' roster in 2005, Jerry Rice finally hung up his helmet. No one has worn no. 80 for the Seahawks ever since.