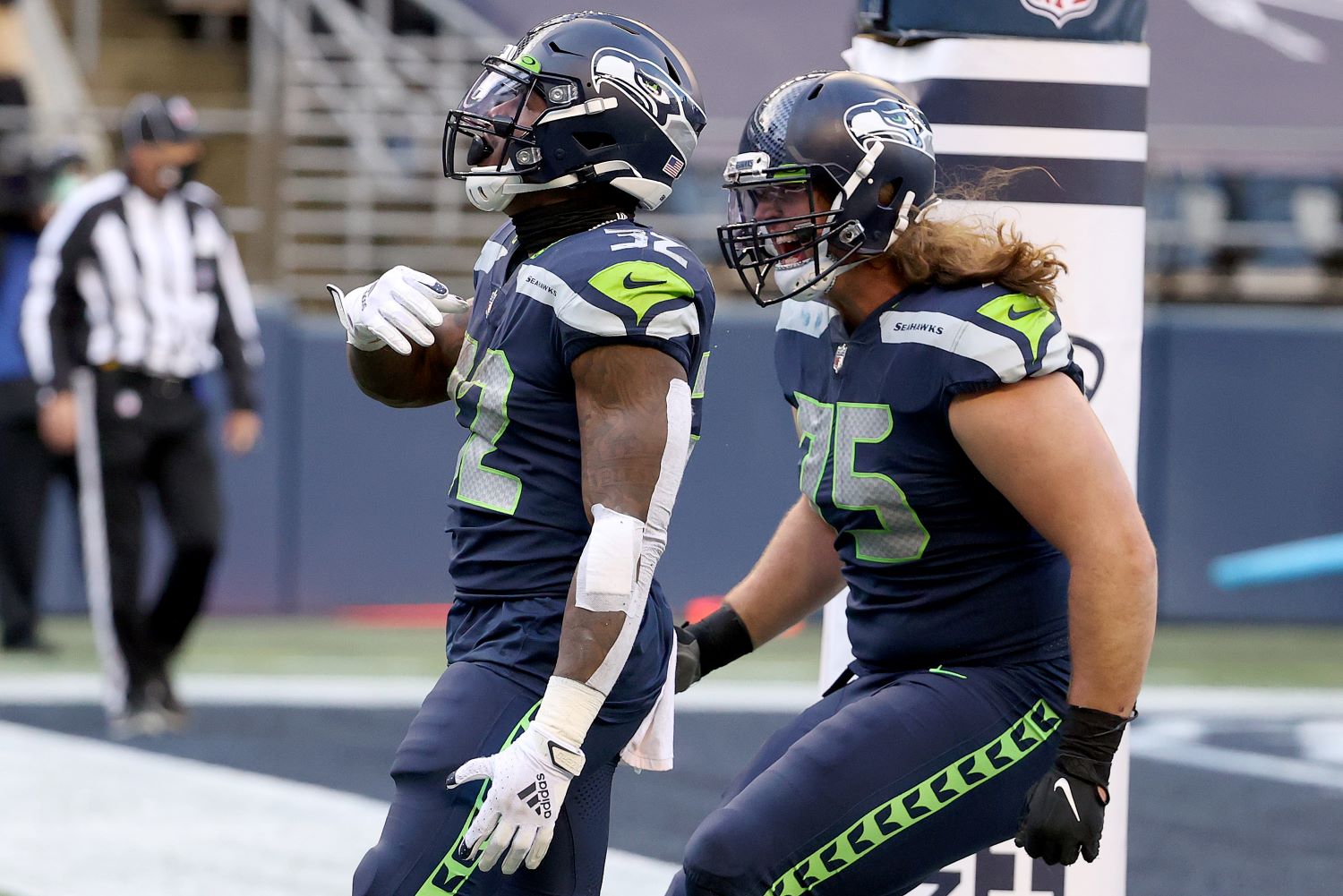 Frightening Details About Chad Wheeler's Wild Struggle With Police Include a Scary Moment With a Taser
Former Seattle Seahawks offensive lineman Chad Wheeler reportedly had a wild struggle with police during his recent domestic violence arrest.
A week ago, Chad Wheeler got waived by the Seattle Seahawks after he got arrested on domestic violence charges. Ironically, the size that made him an attractive commodity to NFL teams turned out to be a major problem for the Kent Police Department officers who arrived at a brutal crime scene.
In fact, as more details have emerged about the wild struggle between the towering offensive lineman and law enforcement, we learned about a scary moment involving a taser.
Chad Wheeler's NFL career may already be over after his recent arrest
Chad Wheeler possessed next-level talent, yet he never heard his name called during the 2017 NFL draft.
Of course, part of that had to do with character concerns stemming from a bizarre incident at USC that resulted in Los Angeles Police shooting him with multiple bean bag rounds. The California native also suffered several major injuries in college, which didn't help his draft stock.
Still, Wheeler drew plenty of interest and quickly signed with the New York Giants.
After starting 19 games for the NFC East franchise, he got waived right before the beginning of the 2019 season. He signed with the Seahawks practice squad in October but did not play a single game. Wheeler appeared in five games this past season.
However, Seattle released the backup offensive tackle on Jan. 27 after he got formally charged with criminal charges of first-degree domestic violence assault, domestic violence unlawful imprisonment, and resisting arrest.
He had been arrested on Jan. 23 in Kent, Washington, on suspicion of felony assault-domestic violence. Wheeler reportedly had not been taking his medication for bipolar disorder and experienced a "manic episode."
The incident allegedly began with the now ex-NFL lineman asking his girlfriend to bow to him. When she refused, the situation turned violent.
Wheeler was accused of throwing the woman on a bed and strangling her before she lost consciousness. After she came to, she locked herself in a bathroom to call 911.
However, he picked the lock.
Scary details emerge about his wild struggle with police
Tipping the scales at 6-foot-7, 315 pounds, Chad Wheeler's massive frame, along with his NFL-caliber strength, became a problem during his arrest.
According to TMZ Sports, when officers arrived at the scene and saw Wheeler's girlfriend badly injured, they "raced to subdue" him.
Only they met significant resistance.
"When I grabbed ahold of Chad, I could tell that he was very solid and muscular, as he was not easy to move," one officer said, according to police reports.
Even when two more officers joined in, they still couldn't gain control over the towering NFL lineman.
"As the three of us (with a combined weight of about 700 pounds) were on top of Chad, I could feel him lifting his body up like he was pushing up to get away," said one officer.
Wheeler reportedly lifted his body three to six inches off the ground with what one officer described as "what appeared to be little effort from him."
In a scary moment that shows just how badly the situation escalated, police resorted to using a taser to try and subdue an uncooperative Wheeler.
But that didn't work, either.
According to the police report, the taser had "little to no effect."
Finally, after all three officers combined to put him in handcuffs, Wheeler got taken to the local station in a larger jail van to accommodate his size.
What's next for the former Seahawks lineman?
Chad Wheeler sent out a series of tweets on the day he got formally charged and subsequently cut by the Seahawks.
"Events happened over the weekend that transpired from a manic episode.  I am deeply sorry for the pain and suffering that I have caused to Alleah and her family," he first wrote.
He followed with, "I apologize profusely for the turmoil that I have caused to my family, teammates, fans and those closest to me. The most important thing right now is that Alleah gets the care she needs and I get help.  Both are happening."
Wheeler then announced that he's walking away from football to get help and that he's "truly ashamed."
On Monday, he pleaded not guilty to all three charges brought against him. He has a case-setting hearing scheduled for Feb. 11.
Wheeler's trial is scheduled to start on April 6.
Like Sportscasting on Facebook. Follow us on Twitter @sportscasting19.