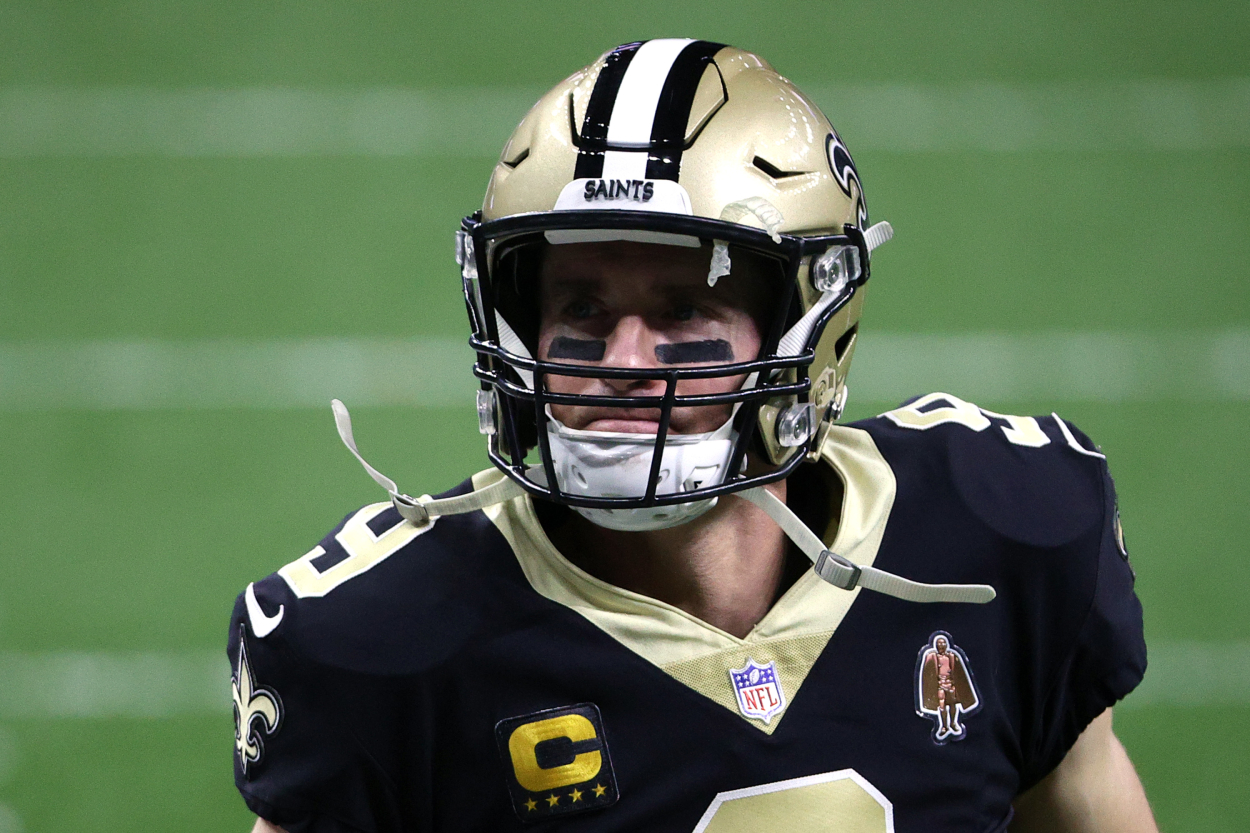 Drew Brees Makes Stunning Admission About Playing With 11 Broken Ribs: 'I'm Having Trouble Breathing'
New Orleans Saints legend Drew Brees did not just retire as a great quarterback, but he was also maybe one of the toughest, as he played with 11 broken ribs in 2020. This is a look at Brees' injury, what he recently said about it, and his career in the NFL overall.
After 20 seasons overall and 15 with the New Orleans Saints, Drew Brees recently announced his plans to retire from the NFL. Brees certainly leaves the league as one of the greatest quarterbacks of all-time, but he may have also been one of the toughest. He proved that this past season, too, by playing through injury. In fact, Drew Brees recently discussed how it felt playing with multiple broken ribs during the 2020 season.
Drew Brees suffered 11 broken ribs during the 2020 NFL season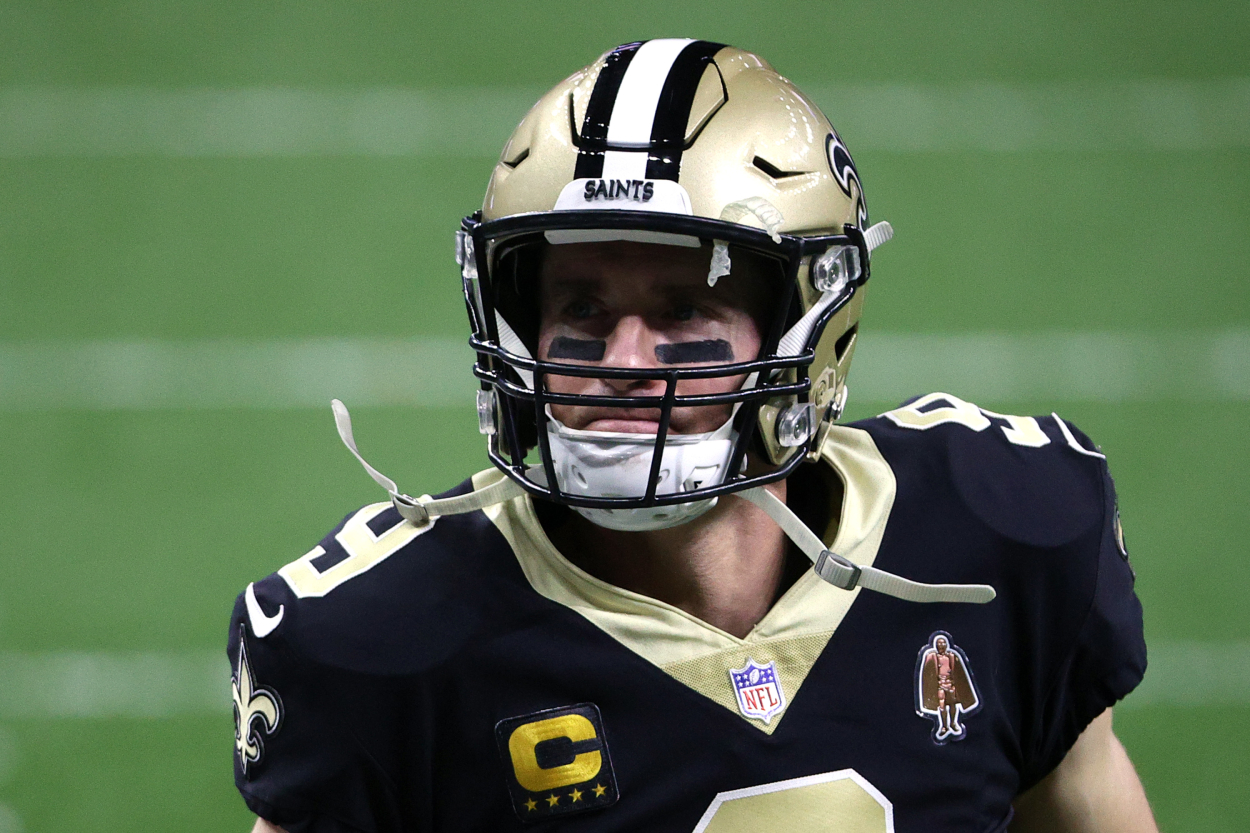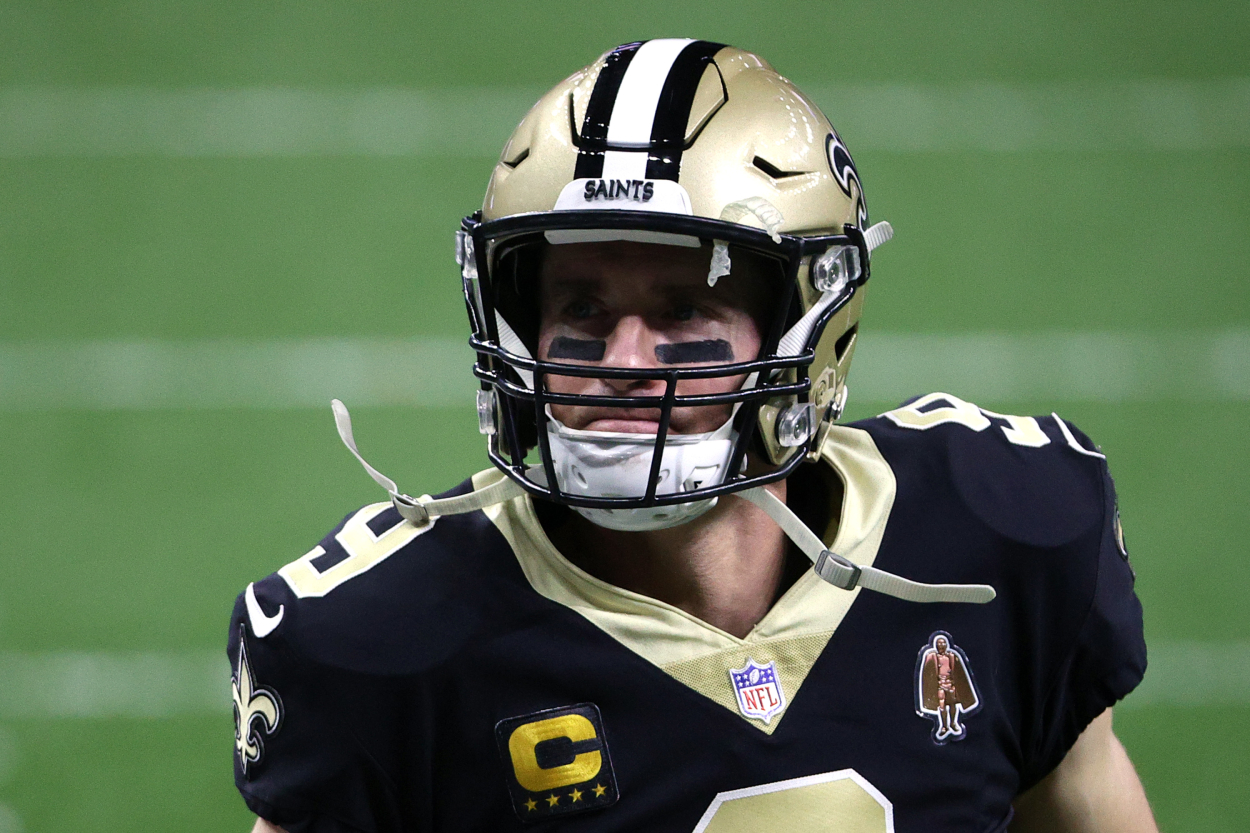 Drew Brees had a nice season in 2020 with the New Orleans Saints, despite playing at 41 years old. He led them to the playoffs for the fourth consecutive season, and New Orleans won 12 or more games for the third straight year.
However, Brees missed four games in 2020 with 11 broken ribs and a punctured lung. He broke the first eight during a game against the Tampa Bay Buccaneers, a game in which he finished. Brees then actually played the following week against the San Francisco 49ers but broke three more on the other side during that game and then also punctured his lung. He ultimately finished that half against the 49ers but missed the second half and the next four games.
Brees then later returned and played in the final three regular-season games for the Saints. He finished the year with 2,942 yards, 24 touchdowns, and six interceptions. He also ultimately led New Orleans to a wild-card round win over the Chicago Bears before losing to the Buccaneers in the divisional round.
Finishing the season at all was an incredible feat for Brees to accomplish, but the fact that he played in multiple games with several broken ribs really proved his toughness.
So, what was it like to play through that gruesome injury?
The Saints legend revealed how it felt to play with broken ribs
Drew Brees recently appeared on the Dan Patrick Show, and he discussed how it felt to play with broken ribs.
"It was a crazy deal," Brees said on the March 29 episode. "I obviously never felt anything like that, and yet at the same time it wasn't — it sounds crazy — your mindset is such that, man, nothing's going to take you off the field. You don't even recognize the severity of anything because you're pushing through. … [The first eight broke] second quarter (against the Buccaneers), I kind of get slammed to the ground on the left side. I knew something was wrong. It was a feeling I hadn't had. The wind gets knocked out of you; that happens a lot. But all of a sudden, I felt like, 'Man, I'm having trouble breathing. I can't rotate.' I had a hard time throwing the ball in the second half of that game."
Brees later found out about his broken ribs, but continued preparing for the next game. He ultimately said that he was in "so much pain on Friday" but felt "decent" on Sunday heading into the game against the Niners.
"Then, sure enough, in the second quarter of that game, I get thrown down on the other side, and that's what fractured the three ribs and then punctured the lung," Brees, who ultimately finished the half, said. "It's one thing to have all that going on on one side of your body, but then to have it on both sides."
After halftime, Brees then chose to sit out the rest of the game, one in which the Saints won.
"When you sit at halftime for 25 minutes and then come back out, I couldn't rotate; I couldn't do anything," he said.
The future Hall of Famer then rested up over the next four weeks and was back in time for New Orleans' postseason run.
These were truly some heroic efforts by Brees. Now, though, he no longer has to worry about suffering broken ribs or any other football-related injuries as he is heading into retirement.
Drew Brees leaves the Saints as a legend after choosing to retire
Drew Brees announced his decision to retire from football earlier this offseason. He leaves football as one of the greatest QBs of all-time, too.
Brees was a 13-time Pro Bowl selection, a two-time AP Offensive Player of the Year, and won one Super Bowl. Brees also led the NFL in passing yards in seven different seasons — throwing for as many as 5,476 in 2011 — and led the league in passing touchdowns in four different seasons.
Overall, the Saints legend threw for 80,358 passing yards, which is No. 1 all-time. He also threw for 571 career touchdowns, which is second all-time.
Drew Brees is one of the greatest football players ever. His talent wasn't the only thing that made him so great, though, as he also became a legend because of his incredible toughness.
Stats courtesy of Pro Football Reference