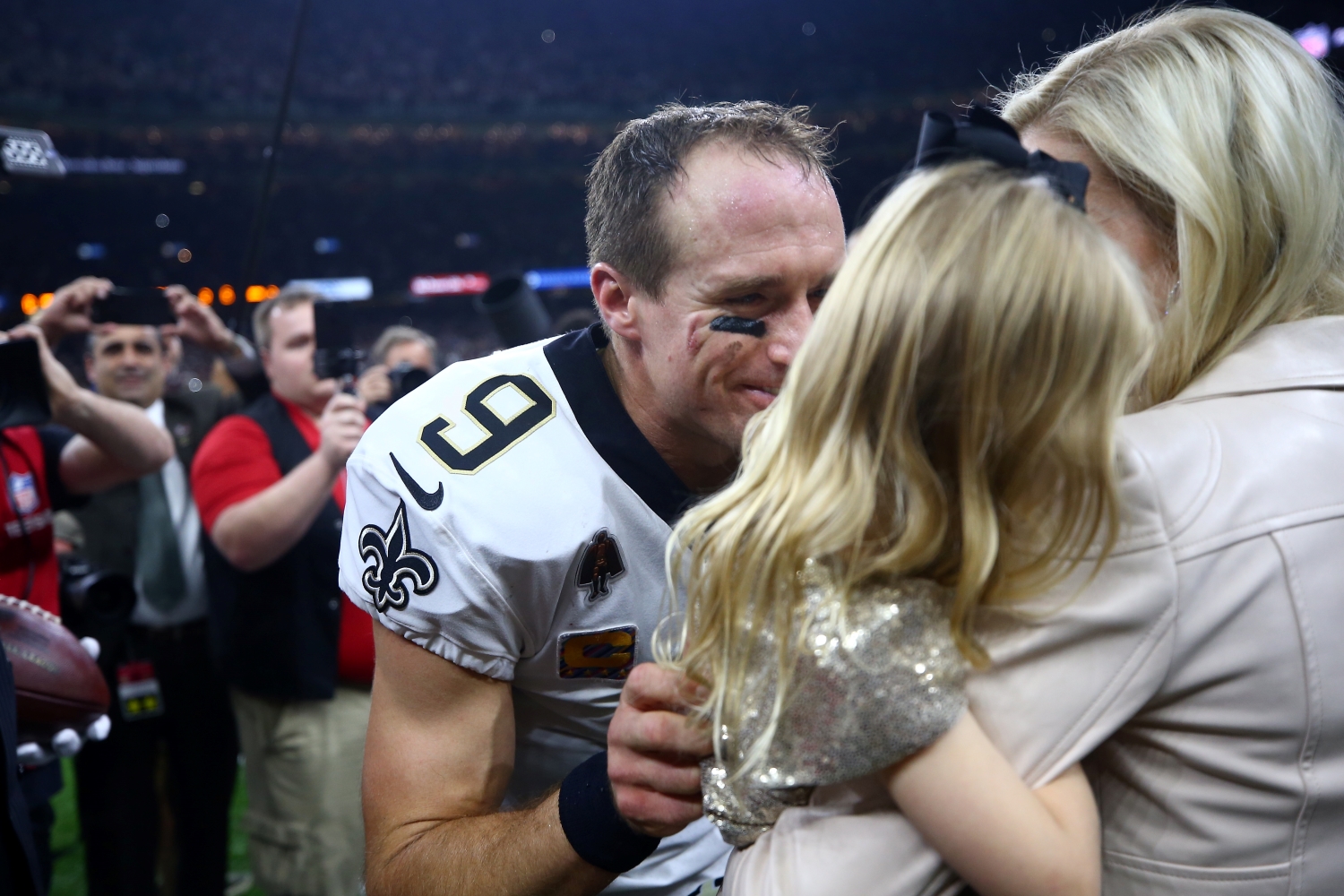 Drew Brees Received Some Brutally Honest Retirement Advice From His Kids
Even Drew Brees' family had to tell the Saints legend the brutal truth about the next step he needed to take in his NFL career.
Drew Brees gave everything he had during his impressive run with the New Orleans Saints. Along the way, he brought a Super Bowl title to a city that desperately needed something to cheer about. And he certainly provided plenty of other memorable moments throughout the course of a career that will earn him a spot in the Pro Football Hall of Fame.
However, after enduring a particularly painful season, Brees finally decided to hang up his helmet and shoulder pads for good. As it turns out, the 42-year-old received some brutally honest retirement advice from his kids that ultimately convinced him to say goodbye to Saints fans.
Drew Brees made the tough decision to walk away from football after a challenging year
Drew Brees entered the 2020 season with a chance to win a second Super Bowl ring. Unfortunately for the aging quarterback, his age-41 campaign got significantly impacted by injuries. And when he finally returned to the lineup in Week 14, the Saints signal-caller didn't look nearly the same.
Although Brees played well against the Chicago Bears, he got thoroughly exposed in a losing effort to the Tampa Bay Buccaneers in the divisional round of the playoffs. The 13-time Pro Bowler completed just 19 passes for 134 yards with one touchdown and three interceptions in what amounted to his final NFL game.
With speculation swirling about his future, Brees gave New Orleans much-needed salary-cap relief by renegotiating his contract in early February.
And in fitting fashion, he finally announced his retirement (with some help from his kids) 15 years to the day he signed his first contract with the Saints.
The NFL legend received some brutally honest retirement advice from his kids
During a recent appearance on The Ellen DeGeneres Show, Drew Brees relayed how his retirement conversation with his kids went before the 2020 season.
"No! You can't retire. We're not going to be able to go to the games anymore," they told their dad. "We're not going to be able to go to the Saints facility."
Even after pointing out that he'd be able to spend more time with them, Brees' kids told him to keep playing.
Heeding his family's advice didn't lead to the ultimate payoff for the future Hall of Famer. Between the COVID-19 pandemic and a string of injuries that included multiple cracked ribs and a collapsed lung, he endured a tough season that once again ended with a premature postseason exit.
Once again, Brees brought up the topic of retiring with his kids again.
This time, they gave their father some brutally honest advice.
"They just looked at me and said, 'OK dad, we're ready,'" Brees told DeGeneres.
Even though his kids may not qualify as football experts, it didn't take a pro scout to see how the longtime Saints star lost some of his magic touch in recent years. Ultimately, an argument exists that New Orleans needed to move in a new direction after failing to make the Super Bowl in 11 straight seasons.
Will the Saints suffer a dramatic dropoff without their star quarterback?
Drew Brees took his children's advice to heart by deciding to retire from the NFL. And while it may have been a surprise to hear them pull a 180 from a year ago, he ultimately made the best decision for all parties involved.
On one hand, Brees gets to enjoy more quality time with his family. After dedicating so much of his time to his pro football career, he now has a chance to simply be a dad.
And while he will always remain a beloved figure in the eyes of Saints fans, Brees clearly lost some of the physical ability that made him one of the most prolific quarterbacks in league history. So as much as it hurt to say goodbye to their longtime leader, the Saints needed to transition to a new starting quarterback.
However, will a new signal-caller lead to better results for New Orleans?
The battle between Jameis Winston and Taysom Hill remains one of the top storylines to follow this spring and summer. Can Sean Payton still win double-digit games with one of those two (or perhaps a combination of both) under center? Or will the loss of Brees cause the Saints to tumble down the NFC South standings?
It will certainly be interesting to see how New Orleans responds in its first year without No. 9 under center.
All statistics courtesy of Pro Football Reference.