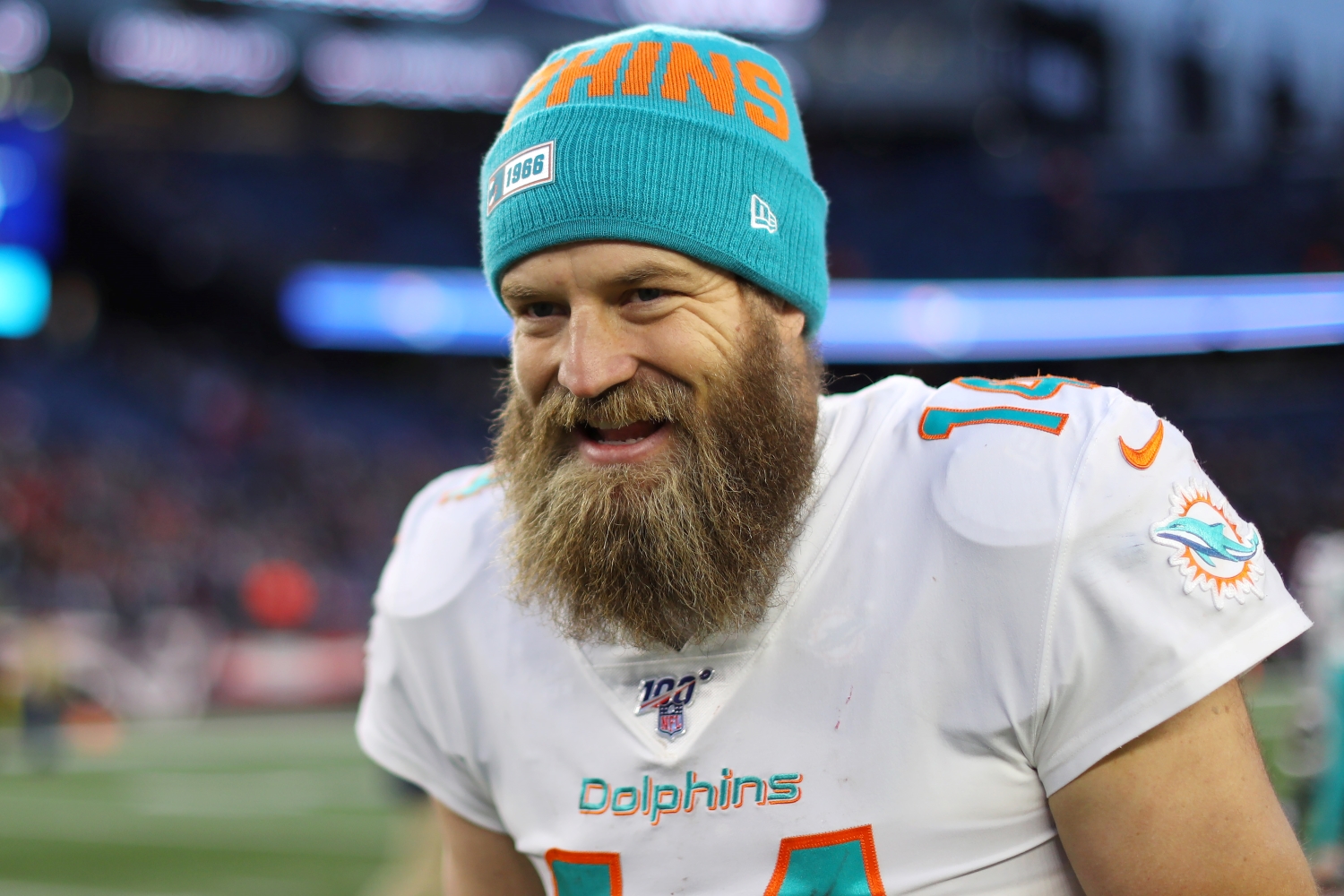 Ryan Fitzpatrick's Hilarious Wedding Proposal Involved a Winter Coat, a Joint Bank Account, and Sweet and Sour Sauce
Washington Football Team fans better hope Ryan Fitzpatrick can adapt on the fly on the football field like he did during his hilarious wedding proposal.
Ryan Fitzpatrick may not be a star, but the veteran NFL quarterback has made magic happen on more than a few occasions throughout the course of his lengthy career. But his finest moment of improvisational brilliance came away from the football field.
Ironically, the Washington Football Team signal-caller had to think fast on his feet in order to pop the most important question of his life. And as it turns out, Fitzpatrick's hilarious wedding proposal involved a winter coat, a joint bank account, and sweet and sour sauce.
Ryan Fitzpatrick has used his improvisational skills to his advantage during his football career
Although it took a while for Ryan Fitzpatrick to earn a full-time starting gig, he eventually made a name for himself once he landed with the Buffalo Bills.
While his penchant for turning the ball over hurt him in the long run, the former Harvard star also made plenty of big plays during his first experience playing for an AFC East team. He threw 80 touchdown passes and staged six game-winning drives while playing for the Bills from 2009-12.
And after suiting up for two other franchises, Fitzpatrick returned to the division in 2015 as a member of the New York Jets. He enjoyed his finest campaign to date by throwing for 31 touchdowns and nearly 4,000 yards. And thanks to his playmaking skills, the Jets went 10-6, which represents their last winning season.
Following a two-year stint with the Tampa Bay Buccaneers that included several "Fitzmagic" moments, the well-traveled quarterback took his talents to the southern part of the state to lead the Miami Dolphins. His solid play and terrific leadership helped shape the culture Brian Flores has built.
Ironically, while Fitzpatrick has made a career out of adapting on the fly and getting used to new surroundings, the Washington Football Team quarterback had to figure out a way to escape from another pressure-packed situation just months after his first NFL season began.
Fitzpatrick's wedding proposal included a winter coat, a joint bank account, and a McDonald's dipping sauce
During his appearance on the "Ross Tucker Football Podcast" on Monday, Ryan Fitzpatrick relayed a hilarious story about his wedding proposal. In unsurprising fashion, the man known as Fitzmagic had to improvise to avoid a potentially sticky situation.
And somehow, asking the big question of his life involved a winter coat, a joint bank account, and sweet and sour sauce.
"It's a very long story, but the quickest I could tell it is I bought her a ring," Fitzpatrick explained on the podcast. "We had a joint bank account. We went to The Gap to get a winter coat. She thought they double-charged her."
His college sweetheart, Liza Barber, wanted to use a laptop to verify the transaction once they got home.
Left with no choice but to quickly find a solution to propose before she realized he bought her an engagement ring, Fitzpatrick said he asked Barber if she wanted to go to a steakhouse near a lake.
But his soon-to-be fiancée had another idea.
After stopping at a McDonald's that's part of a gas station, Fitzpatrick finally found the opening he needed.
"I was looking her in the eyes. She's doing the sweet and sour sauce everywhere, licking her fingers," he explained. "So the ring slid right on. It was wonderful."
Can the veteran quarterback work his magic to help turn around the Washington Football Team?
Ryan Fitzpatrick didn't exactly go all-out with his wedding proposal. However, the journeyman quarterback still secured the most important commitment of his life.
More than 15 years later, he and his wife have seven children together.
After signing a one-year, $10 million contract with the Washington Football Team, Fitzpatrick's family will get to watch him play for his ninth NFL franchise. He joins an offense that just added Curtis Samuel on a three-year, $34.5 million contract.
If the former Carolina Panthers wideout stays healthy, he should form a dangerous duo with fellow Ohio State product Terry McLaurin.
Washington still needs to add more talent at running back and along the offensive line to fortify a unit that finished 25th in scoring in 2020.
Let's see if Fitzpatrick can bring some magic to a team that hasn't won a playoff game since his rookie season.
All statistics courtesy of Pro Football Reference.