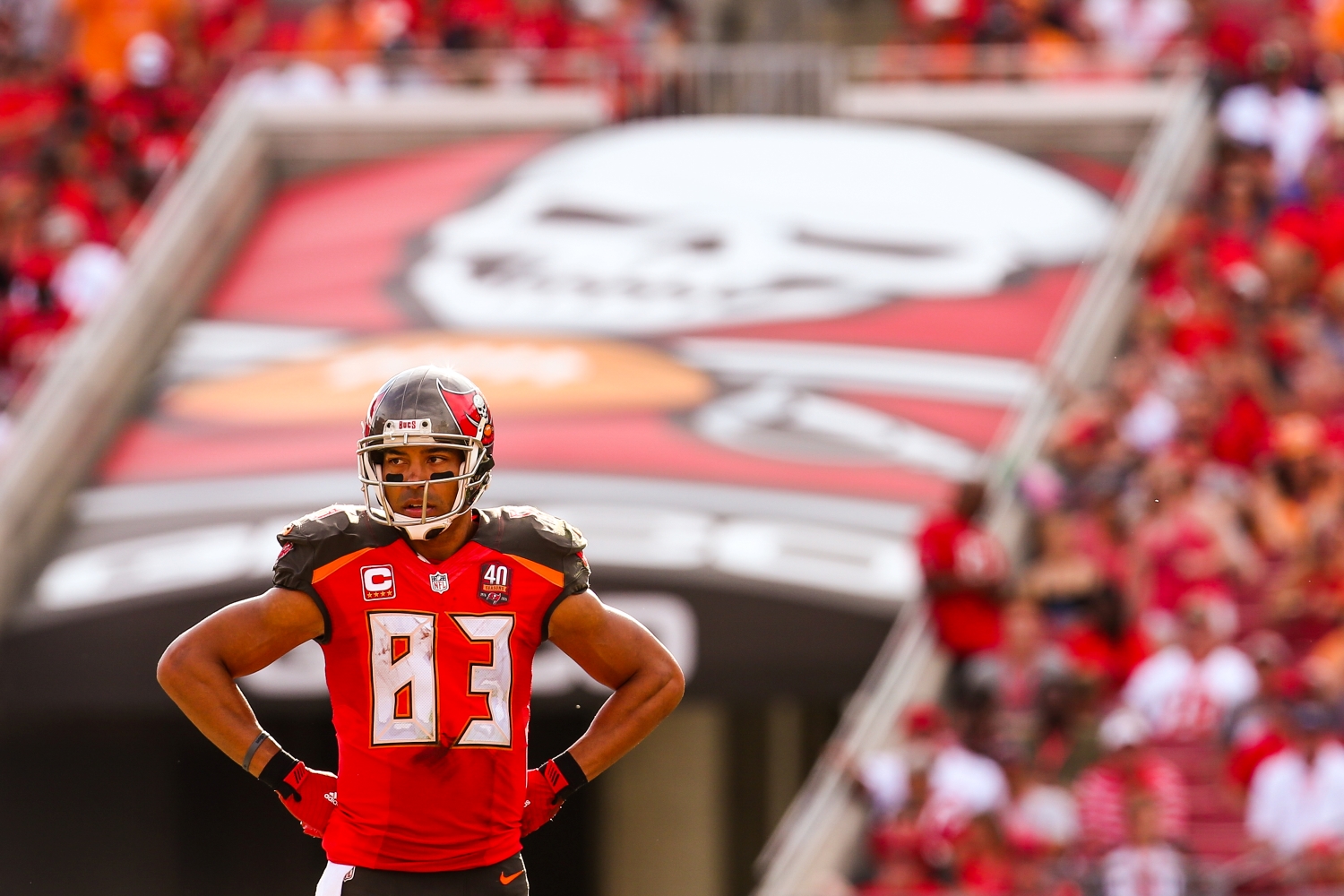 Vincent Jackson's Shocking Death Has Shed Much-Needed Light on a Life-Threatening Problem Pro Athletes Often Keep Hidden
Vincent Jackson's shocking death shed light on the issue of alcoholism. Former NFL tight end Derek Price believes many pro athletes keep their internal battle with the disease hidden from the public for a multitude of reasons.
When news broke about the unexpected death of former Tampa Bay Buccaneers star Vincent Jackson, it immediately raised questions about how the 38-year-old ended up taking his final breath inside of a Homewood Suites hotel room in Florida.
It turns out he may have been dealing with an issue pro athletes often keep hidden. But whether Jackson suffered from chronic alcoholism or not, his tragic passing has shed light on a problem with life-threatening consequences.
And that is exactly why former Detroit Lions tight end Derek Price refuses to give up on changing the stigma surrounding alcoholism and addiction. Because as long as fellow former NFL players—along with people from all walks of life—continue to battle addiction alone, the current CEO of Desert Hope Treatment Center won't stop trying to prevent further tragedies from occurring.
Vincent Jackson shockingly died at the age of 38
Anyone who watched Vincent Jackson during his NFL days saw someone who worked tirelessly to become one of the league's best receivers. But after catching 540 passes for 9,080 yards and 57 touchdowns, he retired from playing pro football following his age-33 season.
Although Buccaneers fans didn't get a chance to see the dazzling wideout star on Sundays any longer, Jackson remained a fixture in the Tampa area. A dedicated family man who also earned widespread respect for his work within the community, the 38-year-old seemingly had a bright future ahead of him.
But on Feb. 15, a housekeeper found Jackson deceased in a hotel room in Brandon, Fla. Speculation immediately swirled about what exactly happened to the retired NFL player.
After all, it didn't make much sense for a seemingly happy person with a wife, four children, and plenty of financial security to die well before his 40th birthday.
It turns out Jackson may have suffered from a disease many pro athletes often keep hidden from the world.
His tragic passing has shed light on a life-threatening issue pro athletes often face alone
Two days after the world learned of Vincent Jackson's shocking death, Hillsborough County Sherriff Chad Chronister appeared on a Tampa radio station and said an autopsy report revealed the former NFL receiver suffered from chronic alcoholism. He also said Jackson had "a lot of longstanding health conditions."
A family spokesperson told ESPN that Chronister "does not speak on behalf of the Jackson family" and that the full autopsy report would not be available for weeks. His family donated his brain to the Boston University CTE Center for further examination.
Jackson's tragic passing sheds light on a life-threatening problem pro athletes too often face alone…if at all.
Because according to former NFL tight end Derek Price, alcoholism, along with drug addiction, carries a negative stigma that prevents athletes (and everyday people) from speaking up or seeking help. So for the current CEO of Desert Hope Treatment Center, the Jackson case represents another tragic example of a fellow football brother lost far too early.
And during his exclusive interview with Sportscasting, Price relayed some critical points about why pro athletes may choose to hide their ongoing struggles with alcoholism or drug addiction.
Former Lions tight end Derek Price offers valuable insight about the stigma behind alcoholism and drug addiction
Like many former and current NFL players, Derek Price knows all too well about the "can't make the club from the tub" approach in sports. After all, his pro football career came to an abrupt end due to a neck injury.
According to the 48-year-old, that mentality creates a barrier for players to speak up about issues that go beyond just physical ailments.
Price explained that by conditioning athletes to "tough it out" and "rub some dirt on it" in order to stay available, that can lead to self-medication or other ways of managing pain. And with their jobs seemingly on the line at all times, that can cause NFL players to use alcohol and/or drugs to deal with mental, emotional, and physical stress.
"You kind of hide it, sneak it, and don't make a big deal of it," Price explained.
And after players like Vincent Jackson retire, that doesn't mean their issues necessarily go away.
"You leave the league and you're still self-medicating," Price said. "You're not telling anybody about it because you're conditioned that way. Then the pandemic breaks out, and we're now isolated and communicating less than we have been before. It only exacerbates that problem."
Ultimately, his vision involves bringing the stigma of hiding mental health issues and substance abuse "out of the dark" to make it looked upon as if it is a normal medical condition.
With the NFL Alumni Association propelling the conversation forward alongside the one-time Lions tight end, Price remains inspired to continue fighting to help pro athletes—along with many others—overcome addiction to alcohol or drugs.
"So long as there's one brother out there that is suffering addiction and not getting the help he needs, then we're not doing enough," he said. "Get help, and don't feel ashamed or embarrassed about getting the help."
How to get help: In the U.S., contact the Substance Abuse and Mental
Health Services Administration helpline at 1-800-662-4357.
American Addiction Centers offers help for those struggling with addiction. You can call their support line at 866-244-1070.