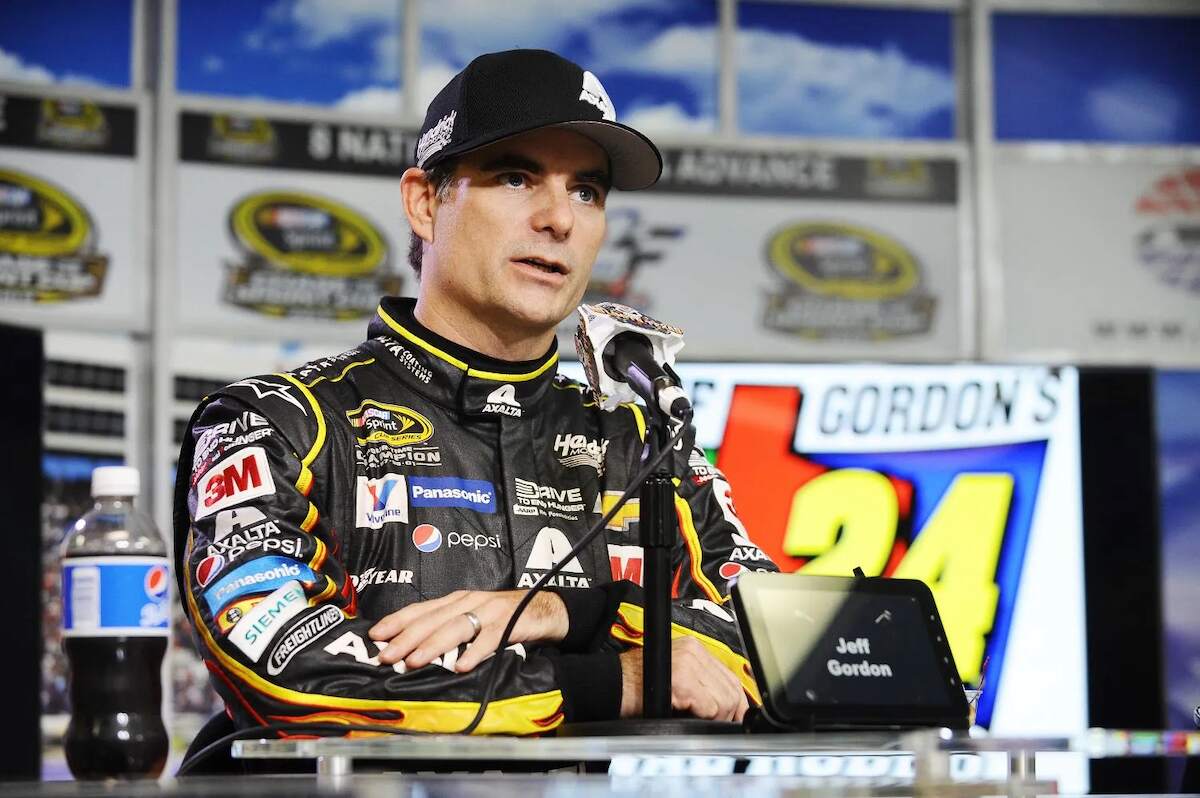 NASCAR Legend Jeff Gordon Is Missing More Than $30 Million From His Bank Account Because of His Ex-Wife
Jeff Gordon should have an extra $15 million in his bank account, but his ex-wife is responsible for the NASCAR legend's financial loss.
Now in his fifties, Jeff Gordon has already made more money than he'll ever need for the rest of his life. Thanks to his skills on the racetrack, the motorsports icon has amassed an impressive net worth that's allowed him to set up a pediatric cancer foundation and even open a children's hospital.
However, the NASCAR legend should have another $30-plus million in his bank account. Unfortunately for Gordon, he suffered a substantial financial loss with his first wife.
Jeff Gordon achieved financial success thanks to his driving skills
You can't talk about the sport of NASCAR without mentioning Jeff Gordon's name. After all, he got inducted into the NASCAR Hall of Fame in 2019 following a brilliant career that spanned from 1993 to 2015.
During his time on the track, Gordon routinely finished ahead of the pack. The four-time Cup Series champion became the youngest driver to win a NASCAR title when he accomplished the feat at the age of 24. He also won the Daytona 500 three times before he retired. Gordon amassed 93 victories during his legendary racing career.
His driving skills not only helped him win trophies and accolades but also helped him become a wealthy man. Gordon earned hundreds of millions of dollars in winnings and endorsements while establishing a legacy as one of NASCAR's all-time greats.
Of course, Brooke Sealey got a first-hand glimpse at Gordon's rise to fame. After all, she married him in 1994. But less than a decade later, Gordon's first wife pulled a move that would result in a huge financial loss for the NASCAR icon.
The NASCAR legend is missing more than $30 million from his bank account because of his ex-wife
For many NASCAR fans, Jeff Gordon and Brooke Sealey represented the perfect all-American couple. Yet, their supposedly blissful relationship came to an end well before they got a chance to celebrate a decade of marriage.
In March 2002, Sealey filed divorce papers in Palm Beach County. According to The Orlando Sentinel, she claimed her marriage to Gordon was "irretrievably broken as a result of the husband's marital misconduct."
She reportedly sought alimony, two luxury cars, and the use of her soon-to-be ex-husband's private jet. She also wanted exclusive use of their $9 million oceanfront home in Highland Beach, Fla. According to ESPN, Sealey even wanted Gordon to pay for the housekeepers, chef, and maintenance bills on the couple's mansion.
The Orlando Sentinel reported that in the papers his lawyers filed, Gordon claimed to be worth $48.8 million. Obviously, he felt he deserved to hold on to his earnings, given the risks he took on the racetrack. But his first wife stunningly stated in one of her court motions that, "NASCAR is a relatively safe occupation."
Ultimately, Gordon failed to keep Sealey from doing serious damage to his bank account. Although most reports state that his divorce cost him at least $15.3 million, Gordon suffered a much bigger financial blow than that.
According to Arizona Central, he said the divorce settlement "was actually way more than double that."
It doesn't take a math whiz to figure out how much money Gordon is missing from his bank account because of his ex-wife. Even though he didn't provide specifics, he definitely should have at least $30 million more to his name.
Gordon still has an impressive net worth despite his expensive divorce
Even though it cost him a pretty penny to permanently sever ties with his first wife, Jeff Gordon can still afford to buy pretty much anything he wants. He can celebrate having a net worth that makes that $30 million loss seem like a drop in the bucket.
According to Celebrity Net Worth, Gordon has an estimated net worth of $200 million. He's reportedly earned more than $500 million in winnings and endorsements.
The former professional racecar driver now works as an announcer for Fox NASCAR and is also a top executive for Hendrick Motorsports. It's estimated that Gordon makes between $20-$30 million per year.
Or, in other words … about the same amount of money he's missing from his bank account due to his ex-wife.
Like Sportscasting on Facebook. Follow us on Twitter @sportscasting19.