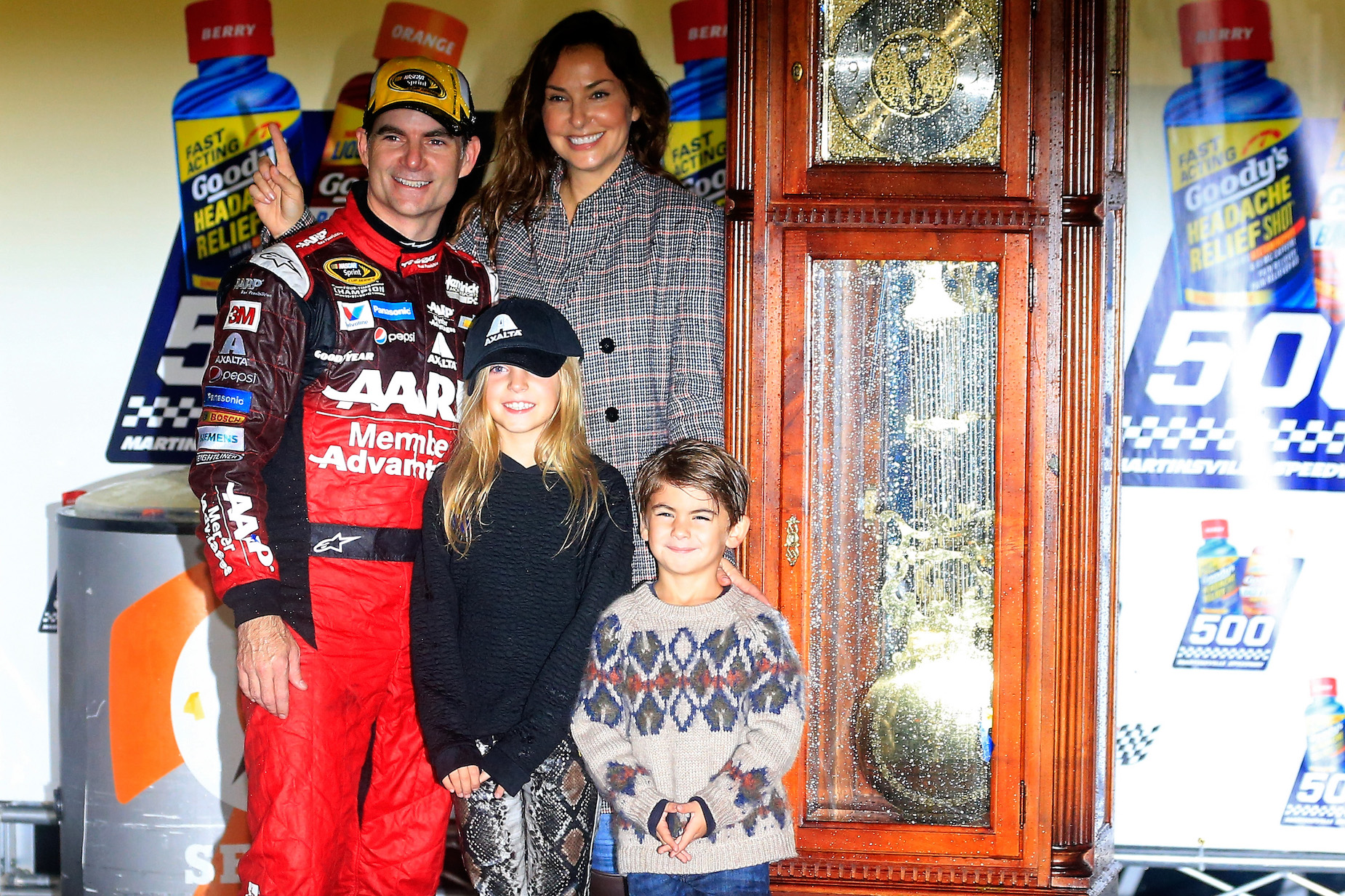 NASCAR Legend Jeff Gordon Retired for a Painful Personal Reason: 'I Don't Want To Live a Life Where I Can't Play With My Kids'
During his time on the NASCAR circuit, Jeff Gordon became one of the top drivers around. In retirement, though, he just wanted to play with his kids.
If you're a longtime NASCAR fan, you probably remember the sight of Jeff Gordon and his rainbow car tearing around the track. Whether you loved him or hated him, his Dupont number 24 car was an inescapable part of the motorsports landscape; more often than not, it found its way to the front of the pack.
Despite his success on the track, Jeff Gordon retired from racing in 2016. The living legend had a simple, personal reason for calling it a career: he didn't want to destroy his body and leave himself unable to play with his kids.
Jeff Gordon was a major player on the NASCAR scene
Over the course of NASCAR history, there have been plenty of big-name drivers to climb behind the wheel. Few of them, however, have had more success than Jeff Gordon.
After cutting his teeth on the kart and sprint car circuits, Gordon made the jump to NACAR in the early 1990s. He found immediate success, claiming the 1991 Busch Series Rookie of the Year title; that, however, would only be the beginning. Gordon claimed his first Winston Cup Series championship crown in 1995 but only kept getting better.
Things peaked in 1998 when Gordon won an unprecedented 13 wins en route to his second-consecutive series title; every time a race began, it seemed like a forgone conclusion that he'd finish at the head of the pack. While results declined after that historic campaign, he still managed to pile up plenty more victories over the years.
By the time Jeff Gordon rode off into the sunset at the end of the 2016 campaign, he had built up one of the most impressive resumes in NASCAR history. He piled up 94 Cup Series victories, 477 top-ten finishes, and four overall championships; even if you couldn't stand him, it was impossible to question his talent and consistency.
That successful career also had financial rewards
While NASCAR drivers might not be signing Patrick Mahomes-level contracts, there's still plenty of money to be made in motorsports. Thanks to his incredible on-track success, Jeff Gordon learned that firsthand.
In December 2017, Forbes' Kurt Badenhausen listed Gordon as one of the highest-paid athletes of all-time with a grand total of $525 million. While that's already an impressive number, it's likely grown since; he's only retired from driving, not from NASCAR work altogether.
As documented by motorsport.com, Gordon has a "lifetime agreement" with Hendrick Motorsports to become "an equity partner in the ownership of his No. 24 DuPont Automotive Finishes Chevrolet team." He's also a member of Fox's NASCAR broadcast team, which should also bring in a bit more pocket money.
Jeff Gordon called it a career before his health got in the way of family life
Based on his winning record and financial success, it's easy to assume that Jeff Gordon is living a pretty perfect life. No amount of cash and trophies, however, can compensate for missed opportunities and what-ifs.
As documented in a 2014 USA Today story, Gordon experienced "shooting pains" in his back; the driver also "had sporadic back issues over the past decade," which eventually played a role in his retirement.
"There's so many things it prevents me from doing," Gordon said in 2015, according to Viv Bernstein of the New York Times. "Jogging, cycling, working out on a regular basis with weights, playing with my kids — I have to be really careful with the things I do with them. … If I would race longer, am I going to be walking around on crutches or in a wheelchair? That's the real question."
Playing with his children is a consistent thread in the story of Gordon's retirement. While there's simply an element of a career running its course—no one, no matter how good they are, can keep racing forever—the driver didn't want to ruin his chance to be a dad.
"The back pain is constant now, so much so that even his children know not to jump on him when he isn't expecting it," Joe Posnanski wrote for NBC Sports. "This is a big reason why he's leaving racing. 'I don't want to live a life where I can't play with my kids,' he says."