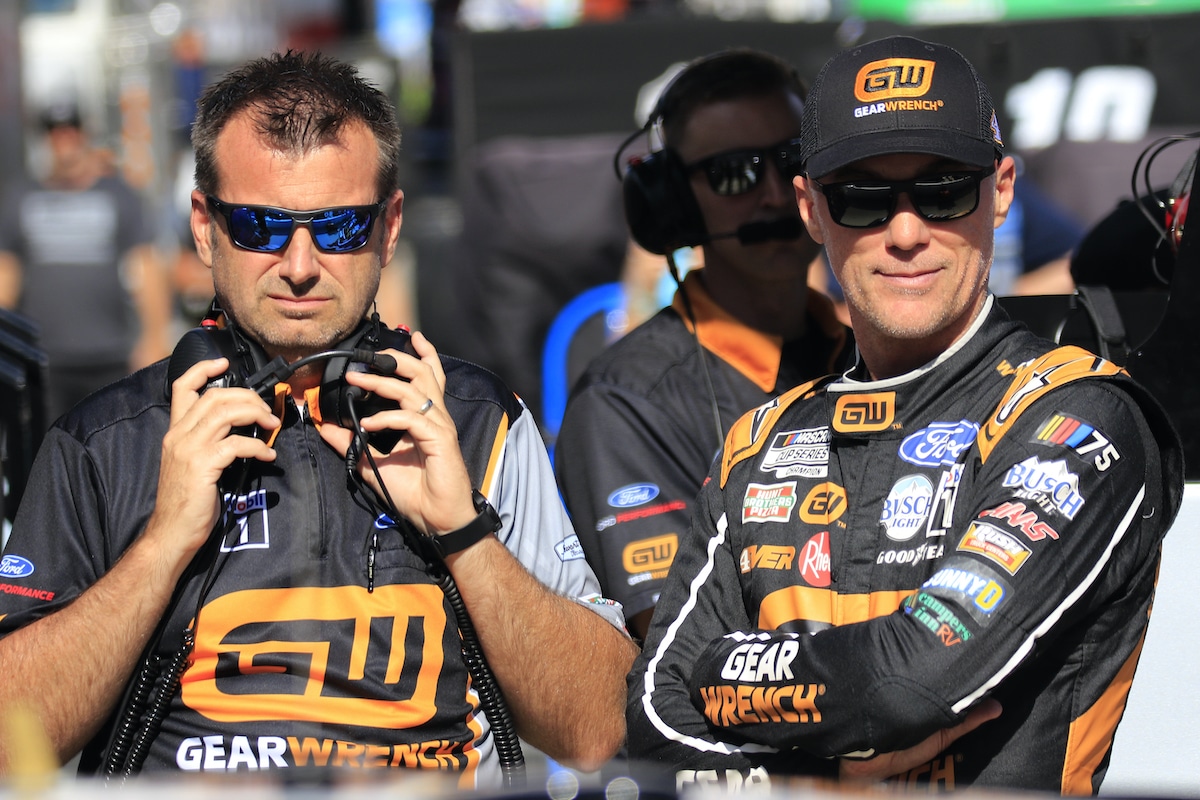 Fans Want to Believe Kevin Harvick's Crew Chief Rodney Childers, but Stewart-Haas Racing Has Been Caught Too Many Times Recently With Its Hand in Cookie Jar
Rodney Childers said fans don't want to know the truth about Kevin Harvick's disqualification, but it's his team and organization's recent history that make him hard to believe.
Kevin Harvick is heading down the backstretch of his NASCAR Cup Series career. It's universally agreed that everyone would like to see the Stewart-Haas Racing driver make one final trip to Victory Lane. 
He came close on Sunday at Talladega Superspeedway, finishing second — until he didn't. That's because NASCAR disqualified the No. 4 car after the race when it found unsecured windshield fasteners during post-race inspection. Since that announcement, crew chief Rodney Childers has pled his case in the court of public opinion. Unfortunately, a recent history of infractions within the organization makes everything he says hard to believe. 
Rodney Childers admits to cheating in past and then deletes post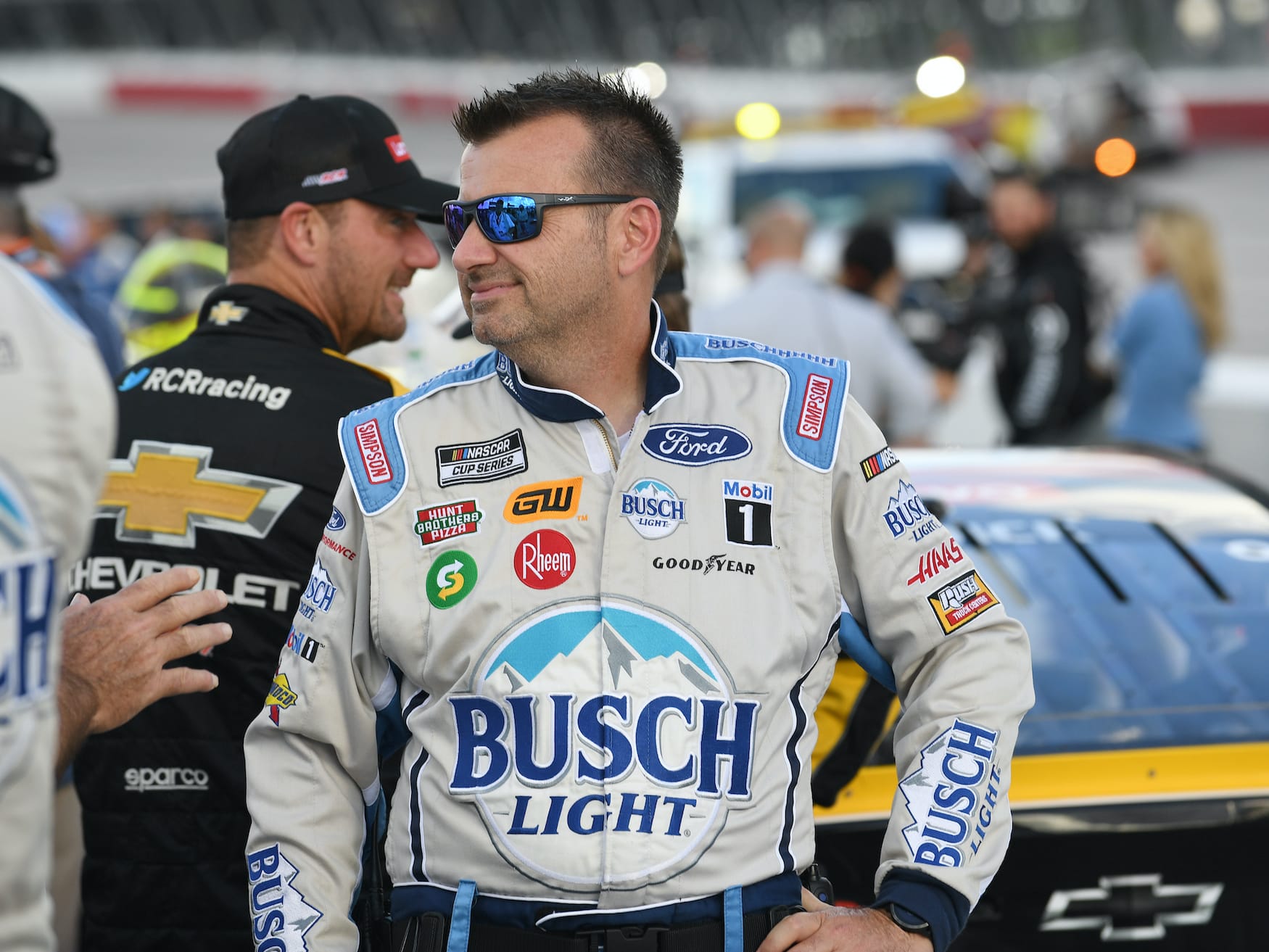 Hours after NASCAR disqualified Kevin Harvick at Talladega, his crew chief, Rodney Childers, who is active on social media, laid out the team's opening argument. 
"There have been times I've got caught doing something I shouldn't have," Childers wrote on X. "Today got DQ'd for the car buffering in the draft all day and some windshield bolts vibrating out. My guys had silicon on the threads and gobbed on the tip. Still came out. Not sure what else we could do."
While Childers offered his version of events on what happened, his admission of cheating was the headline. He then deleted the post.  
Childers offers another explanation of what happened
Despite that admission and subsequent deletion, Childers has, as expected, continued to defend his team and denied any wrongdoing. The veteran crew chief offered more details on the situation when responding to a fan who suggested he was lying in a reply to a post from The Athletic's Jordan Bianchi, announcing that Stewart-Haas Racing would not appeal the decision.
"Nope. I said exactly what happened, just like I always do," Childers said. "Sad thing is people don't want the truth. They just want to believe what they want. 
"30 to go every bolt was still in. 20 to go two were gone. So 448 miles we're good, and unfortunately 52 were not. It sucks for sure."
History doesn't lie
While Childers is a respected crew chief in the garage, and deservedly so, his remarks that people don't want to know the truth couldn't be further from the truth. The reason fans are questioning him about the truth is not only because of his since-deleted admission of cheating in the past, but, more significantly, because of Stewart-Haas Racing's track record.
It was just a year ago, a few days after racing on the same Talladega track, that Childers received a four-race suspension, a $100,000 fine, and the No. 4 team was docked points for modifying vendor-supplied parts. 
Is that an example of he "got caught doing something I shouldn't have?" His response at the time, which has also since been deleted, was "Shocker," suggesting NASCAR's penalty was in response to Harvick's criticism of the sanctioning body for its "crappy parts" and allowing drivers to get hurt. 
But even more recently, in May, the No. 14 team of Chase Briscoe felt NASCAR's wrath when crew chief John Klausmeier received a $250,000 fine and six-race suspension, along with points penalties for a counterfeit part on the car.
SHR said it was a quality-control lapse and a part that never should've been on a car but accepted NASCAR's decision and did not appeal. 
That brings us back to the latest incident. Childers may, in fact, be telling the truth. The bolts might have inexplicably come out during the race at the times he noted. However, it's hard to trust someone who has recently admitted to cheating and whose organization, including his own team, has been found guilty of multiple infractions in the last year. 
History doesn't lie.
To stay up to date on the latest happenings in NASCAR, including breaking stories you can't find anywhere else, follow Kyle on YouTube and Twitter.