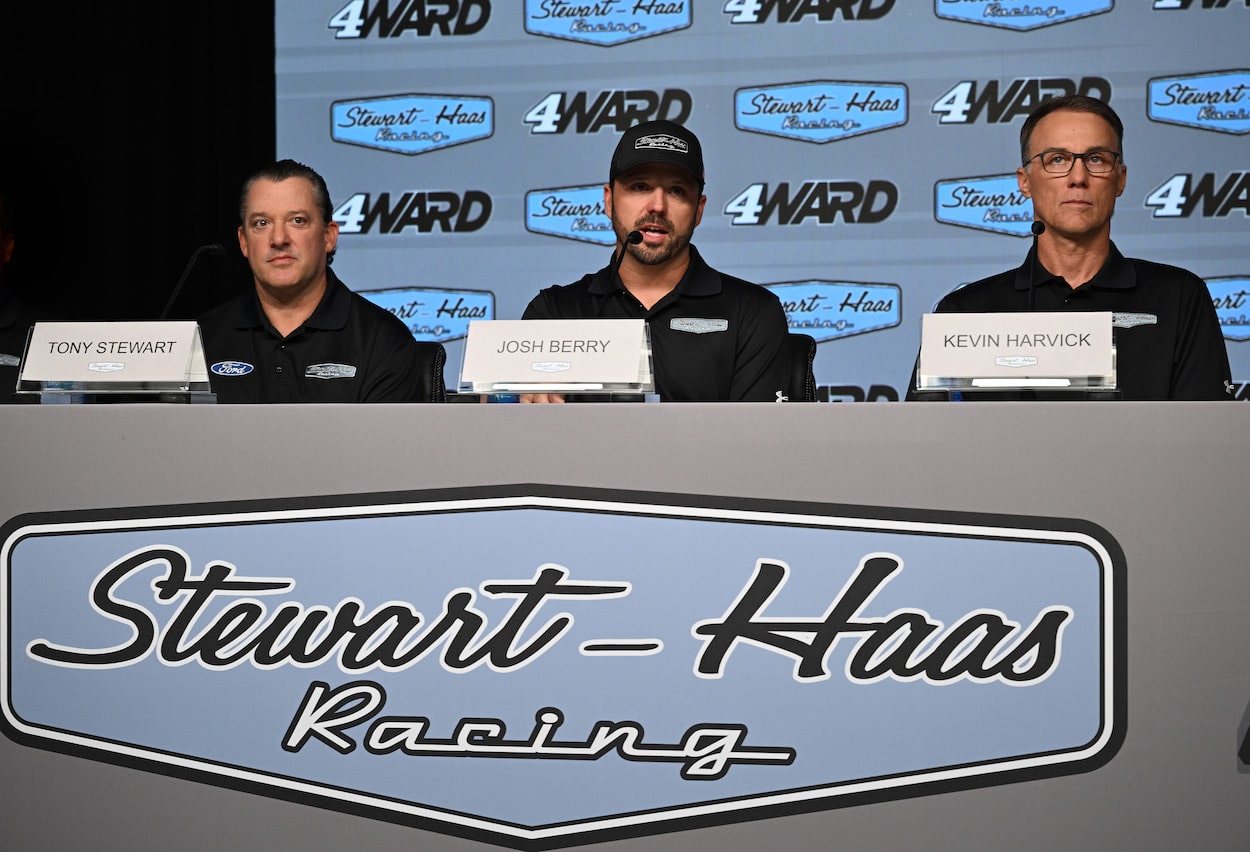 Stewart-Haas Racing Painfully Responds After Losing Longtime Sponsor in What Is Latest Setback in Growing Dumpster Fire at Organization
Stewart-Haas Racing has had a tough year and it got even tougher this week losing a major sponsor to Ross Chastain. The organization painfully responded to the loss.
Kevin Harvick has been the face of Stewart-Haas Racing for years. In his 23rd and final season in the NASCAR Cup Series, the 47-year-old driver's performance has unquestionably been the highlight for the four-team organization. No other driver has even been close.
That massive drop-off should be a major concern for SHR leadership in 2024, with the 2014 champion watching the races from the Fox broadcast booth. On Tuesday, the organization received another dose of bad news: Harvick's longtime sponsor, Anheuser-Busch, is leaving next year to partner with Ross Chastain. 
And the team painfully responded. 
Kevin Harvick is the lone highlight at Stewart-Haas Racing in 2023
Years from now, the 2023 season for Stewart-Haas Racing will be memorable, but for all the wrong reasons. Kevin Harvick started things rolling in the wrong direction when he announced before the season that it would be his last. 
In his swan song year, Harvick has been competitive through the season's first 19 races, recording seven top-10 finishes, four of them inside the top five. 
Conversely, his SHR teammates have been anything but that. Chase Briscoe, Ryan Preece, and Aric Almirola have combined for five top-10 finishes, with the No. 14 earning four of them. Hardly the numbers you'd expect for what is considered a top-tier organization. 
Josh Berry to replace Kevin Harvick in 2024
In June, Stewart-Haas announced that JR Motorsports driver Josh Berry would replace Harvick in the No. 4 car in 2024. That move was heralded by many as a good one. However, his performance in 2023 raises some questions because it's markedly down compared to his first couple of years in the Xfinity Series, including a part-time season in 2021. 
Berry has scored 11 top 10s in the first 17 races, including seven top fives, but none of them are wins. At this same point last year, the No. 8 car had already made a couple of trips to Victory Lane. He'd also won by this point in the 2021 season.
Now you take that driver, who did get some Cup experience subbing for Hendrick Motorsports a couple of times this season with Chase Elliott and Alex Bowman sitting out due to injury and put him with an underperforming organization like SHR, and it doesn't sound like a recipe for success. 
Stewart-Haas responds to Busch Light going to Ross Chastain in 2024
On Tuesday, SHR's already rough season got that much rougher when Trackhouse Racing announced a partnership with Anheuser-Busch and Ross Chastain, who will carry the Busch Light brand on the No. 1 car in 2024. 
Anheuser-Busch had worked with Harvick since the start of the 2011 season and carried over its sponsorship from the driver's final years with Richard Childress Racing, and continued when he joined SHR in 2014.
That switch in sponsorship to Trackhouse is a massive hit to the SHR bank account. Soon after the move, SHR responded. 
"Anheuser-Busch has been an outstanding partner in its nearly decade-long tenure with Stewart-Haas Racing," said Brian McKinley, chief commercial officer. "After promoting Budweiser for three years before transitioning to Busch and Busch Light in 2016, those brands have grown exponentially, proving our relationship to be mutually beneficial. 
"We value all of our partnerships and take great pride in seeing Anheuser-Busch's association with Kevin Harvick and Stewart-Haas Racing serve as a springboard for their overall marketing strategy. Our organization has been fortunate to have committed corporate partners, and we look forward to fostering new relationships with continued success and longevity."
What happens at SHR the rest of the 2023 season remains unclear, but based on what's occurred thus far, it's not hard to envision the organization pushing as hard as it can to send Harvick out on a high note with a deep run in the playoffs because anything beyond this year is a big question mark.
To stay up to date on the latest happenings in NASCAR, including breaking stories you can't find anywhere else, follow Kyle on YouTube and Twitter.