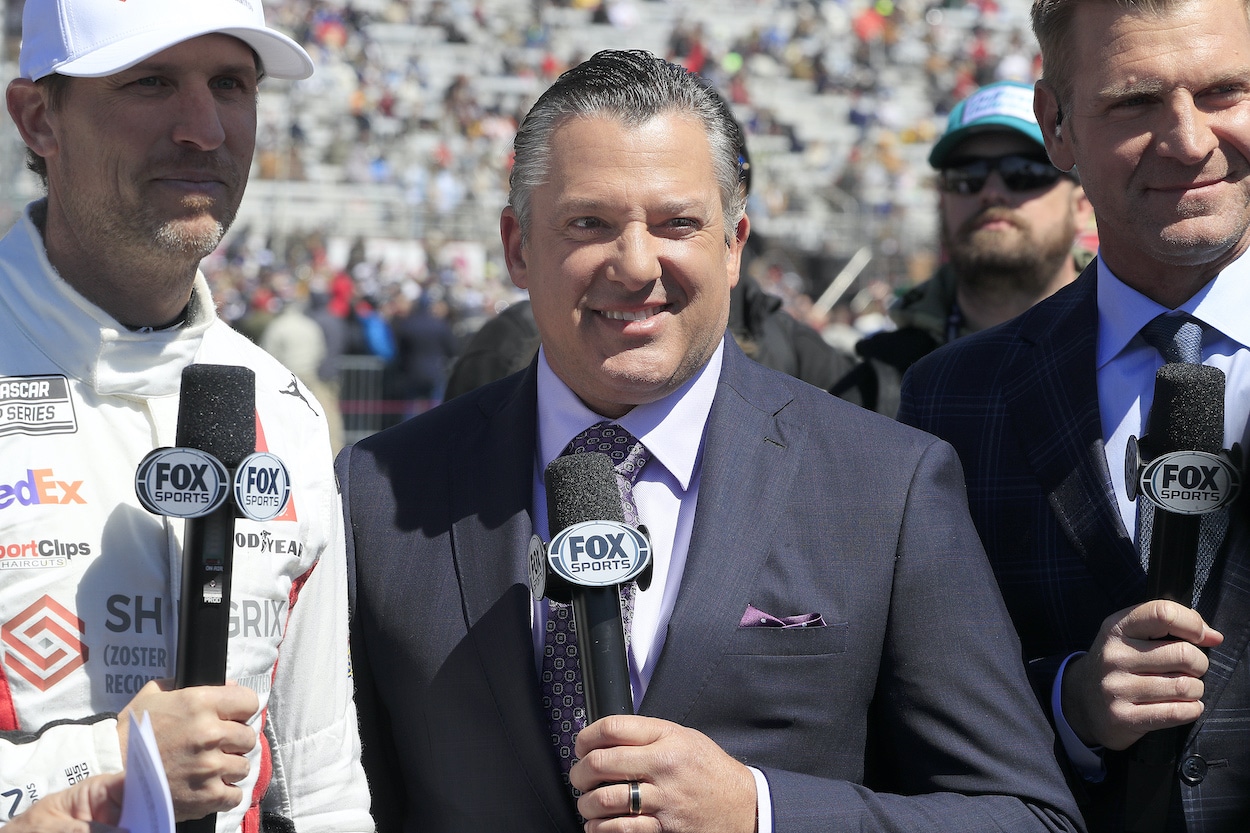 Tony Stewart Candidly Admits 'Sad Truth' About Stewart-Haas Racing and Its Struggles in 2023
Tony Stewart addressed the Stewart-Haas Racing team's struggles on Sunday during a rain delay at Charlotte Motor Speedway and confirmed the sad truth about his organization.
Tony Stewart won a lot during his racing career, including 49 times in the Cup Series. He captured three championships. In other words, he's used to winning. 
So it's been tough the last couple of years for the NASCAR Hall of Famer watching his Stewart-Haas Racing team struggle in the Next Gen car, with Kevin Harvick the only driver consistently running near the front. On Sunday at Charlotte Motor Speedway, the team owner addressed the situation and admitted the sad truth. 
Stewart-Haas Racing struggles in 2023
Halfway through the 2023 NASCAR Cup Series regular season and Joey Logano is the only Ford driver to make it to Victory Lane. Stewart-Haas Racing and its four Fords have a combined total of seven top-five results through the first 13 races, four by Harvick and the other three by Chase Briscoe. 
Aric Almirola and Ryan Preece have been on the struggle bus for most of the year, with the No. 10 scoring a single top-10 result while the No. 41 car has none. The pair have a combined total of nine top-20 finishes. 
By comparison, rookie Ty Gibbs has four top-10 finishes and eight top-20s. 
Tony Stewart addresses 'sad truth'
Tony Stewart joined Clint Bowyer and Chris Myers on Fox Sunday during a rain delay, where they talked about the first half of the season and the performance of the different teams and manufacturers. Back in the studio, Jamie McMurray called out the Fords for their lackluster year. 
"The ones that I'm worried about, and Tony's not going to want to hear this — I just am worried about the Fords," McMurray said. "I know that SHR has had some good runs. Logano has had a couple of good runs. Ryan Blaney has been somewhat there. But it just seems like Ford is really good at the superspeedways and struggling with a lot of these other tracks, guys."
"Yeah, I mean sad but true," Stewart candidly admitted. "Unfortunately, it's something that we obviously do every week at the shop; we go and, in the team debriefs in competition meetings, try to figure out how do we resolve this. 
"And it's literally like we talked about earlier today, the window was so small for what the teams are actually allowed to do and how creative they can be that it really puts us behind the eight ball, so it makes it that much more important for NASCAR to keep that parity between the three manufacturers again." 
Stewart has expressed concern about performance for years
What's interesting, or frightening if you're an SHR fan, is it was just a couple of years ago and the final year of the Gen 6 car, that Stewart said something similar about his team struggling.
"It's not been a season that we're proud of by any means," he said in 2021. "We definitely have a problem in our organization, and it's not with people. But there's something that we're missing on that's cost us the entire season up to this point and we can't find it, but we know there's something fundamentally wrong. So it's frustrating because we're all sitting there scratching our heads trying to figure out what is wrong and what's going on."  
The more things change, the more they stay the same.
To stay up to date on the latest happenings in NASCAR, including breaking stories you can't find anywhere else, follow Kyle on YouTube and Twitter.