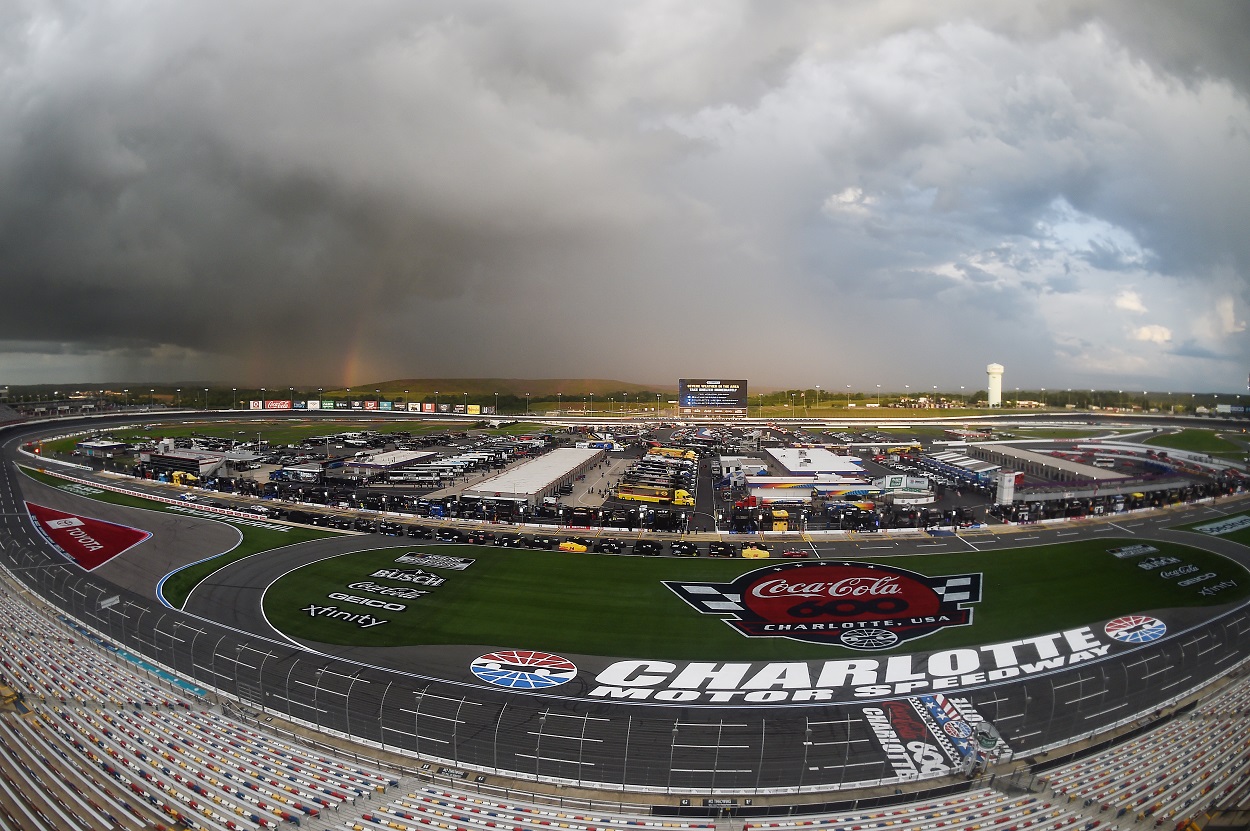 Who Has the Most NASCAR Cup Series Wins at Charlotte Motor Speedway?
A look at the drivers with the most NASCAR Cup Series wins at Charlotte Motor Speedway.
One of the most iconic venues in NASCAR, Charlotte Motor Speedway, which first opened in 1960, has hosted the fourth most races in Cup Series history, trailing only Daytona International Speedway, Martinsville Speedway, and Richmond Raceway.
The first NASCAR Cup Series race at Charlotte Motor Speedway took place on June 19, 1960, and was won by Joe Lee Johnson. Since then, more than 50 other drivers have taken the checkered flag on the 1.5-mile paved oval or the 2.28-mile Roval road course, six of whom have been fortunate enough to win five or more times.
Dale Earnhardt, Jeff Gordon, and Richard Petty each won five races at Charlotte Motor Speedway
Dale Earnhardt Sr., Jeff Gordon, and Richard Petty won a combined 369 NASCAR Cup Series races, 15 of those coming at Charlotte Motor Speedway, where each took five checkered flags.
Petty took part in the first Cup Series race in Charlotte in 1960 and made 63 more starts on the track before retiring in 1992. He recorded his first win there in 1961, took both races in 1975, and added victories in 1977 and 1983.
Earnhardt actually made his Cup Series debut in Charlotte in 1975 and made 47 additional starts there, his last coming in October 2000. "The Intimidator" took his first checkered flag on the track in 1980, the season he won the first of seven points titles. He won both races in 1986 and then won back-to-back spring races in 1992 and 1993.
Gordon made his first start in Charlotte on the day Earnhardt captured his final victory on the track in 1993 and made 45 additional starts on the 1.5-mile oval over the next 22 years. He won there for the first time in 1994, his first-ever Cup Series victory, and also in 1997, 1998, 1999, and 2007.
Bobby Allison and Darrell Waltrip captured six victories apiece
NASCAR Hall of Famer Bobby Allison made 43 starts at Charlotte Motor Speedway from 1961 to 1988, winning six of them. He won both races in 1971 and also captured victories in 1972, 1978, 1981, and 1984. Allison also holds the track record for most laps led with 2,330.
Darrell Waltrip made 55 starts in Charlotte from 1972 to 2000, also taking six checkered flags. His first win at the track came in 1978, and he also added victories in 1979, 1981, 1985, 1988, and 1989.
Jimmie Johnson won eight NASCAR Cup Series races at Charlotte Motor Speedway
Jimmie Johnson leads the way with eight NASCAR Cup Series victories at Charlotte Motor Speedway. The seven-time Cup Series champion made 37 starts on the track from 2001 to 2020 and took his first checkered flag there in his fourth career start in the Queen City in May 2003.
In both 2004 and 2005, Johnson won both races and nearly pulled it off again in 2006, finishing as the runner-up in each. He went on to add victories in 2009, 2014, and 2016 and ended his NASCAR Cup Series career with 16 top-five and 22 top-10 finishes in Charlotte.