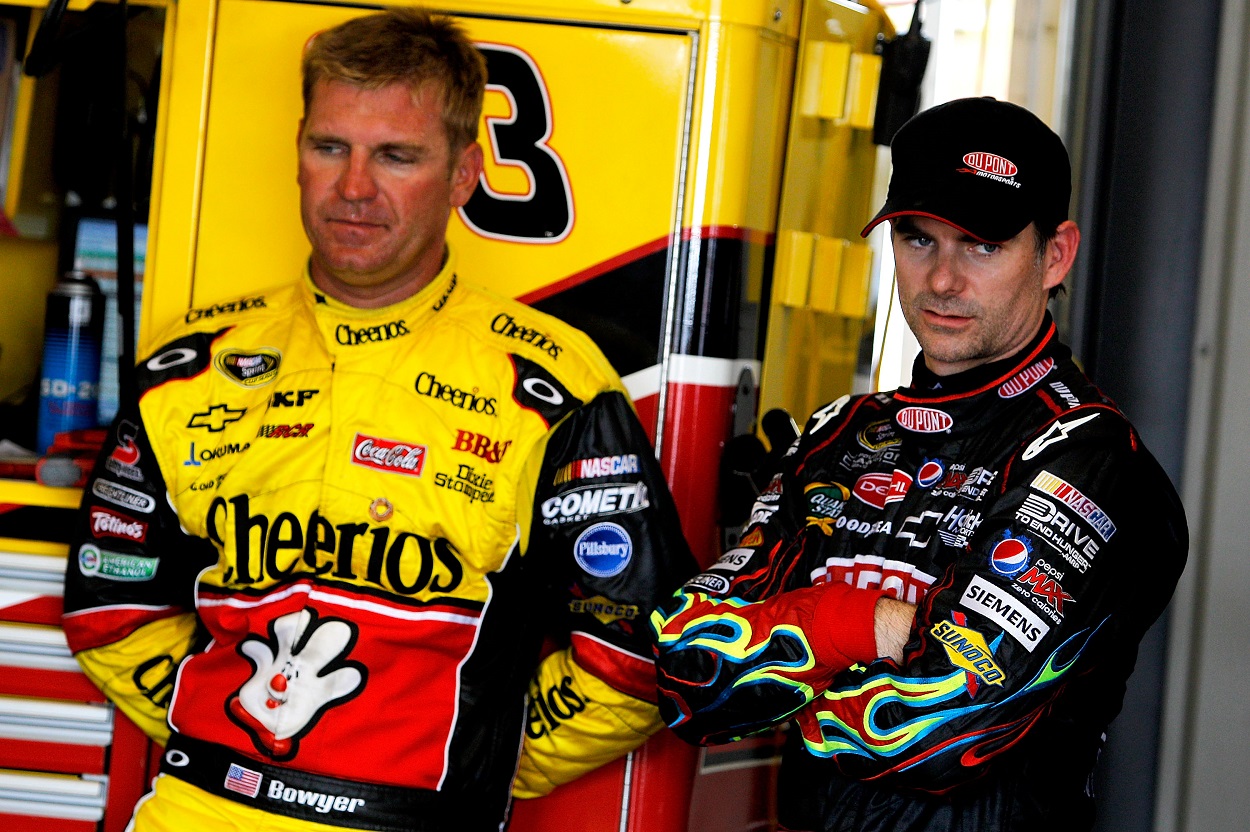 Jeff Gordon Was Viciously Attacked by Clint Bowyer's Pit Crew After the 'Rainbow Warrior' Purposely Wrecked His 'NASCAR on Fox' Broadcast Partner
As broadcasters for NASCAR coverage on FOX, Jeff Gordon and Clint Bowyer seemingly have a pretty solid relationship. But that certainly wasn't always the case when both were still behind the wheel and things reached a boiling point in 2012 in Phoenix at the AdvoCare 500 when Gordon purposely wrecked Bowyer, which led to a …
As broadcasters for NASCAR coverage on FOX, Jeff Gordon and Clint Bowyer seemingly have a pretty solid relationship. But that certainly wasn't always the case when both were still behind the wheel and things reached a boiling point in 2012 in Phoenix at the AdvoCare 500 when Gordon purposely wrecked Bowyer, which led to a massive brawl between their respective pit crews.
Jeff Gordon wrecked Clint Bowyer in the closing laps of NASCAR's penultimate race in 2012
As the 2012 NASCAR season came to a close, Clint Bowyer had put himself in a great position to win his first Cup Series championship and came to the AdvoCare 500 in Phoenix, the season's penultimate race, with high hopes. As for Jeff Gordon, he wasn't in contention for the points title but did put himself in position to win in Phoenix.
With seven laps remaining, Bowyer's No. 15 and Gordon's No. 24 were battling for fifth position when Bowyer accidentally clipped Gordon's left rear. When the two cars reached turn three, Gordon attempted to turn into Bowyer's car but things didn't go as planned and he ended up hitting the wall, which drew a black flag. But that certainly wasn't the end of it.
With two laps to go, Gordon, who was essentially just limping around the track at the time, waited for Bowyer to come back around and purposely put his rival into the wall at turn four, ending any chance Bowyer had to win the race. The incident also mathematically eliminated Bowyer from contention for the points title as he dropped to fourth in the standings.
A massive brawl between the two teams ensued
As soon as Jeff Gordon got his damaged No. 24 back to the garage, he was blitzed by Clint Bowyer's pit crew. One member of the No. 15 team shoved the "Rainbow Warrior" in the back and a massive brawl between the two teams broke out. Bowyer, however, was never involved in the melee but it certainly wasn't for lack of trying.
He saw the fight on a video board after noticing his crew wasn't around when he got back to pit road and went racing toward the scuffle. But by the time he got there, Gordon had already been escorted into his hauler. NASCAR met with both drivers following the incident and Gordon was subsequently fined $100,000 and was docked 25 points.
Both spoke following the incident with Gordon saying Bowyer "needed to be dealt with" while Bowyer slammed his rival, saying Gordon's actions were "completely ridiculous" and "pretty embarrassing for a four-time champion." Gordon later apologized for the incident.
Jeff Gordon and Clint Bowyer finished 1-2 in the NASCAR season finale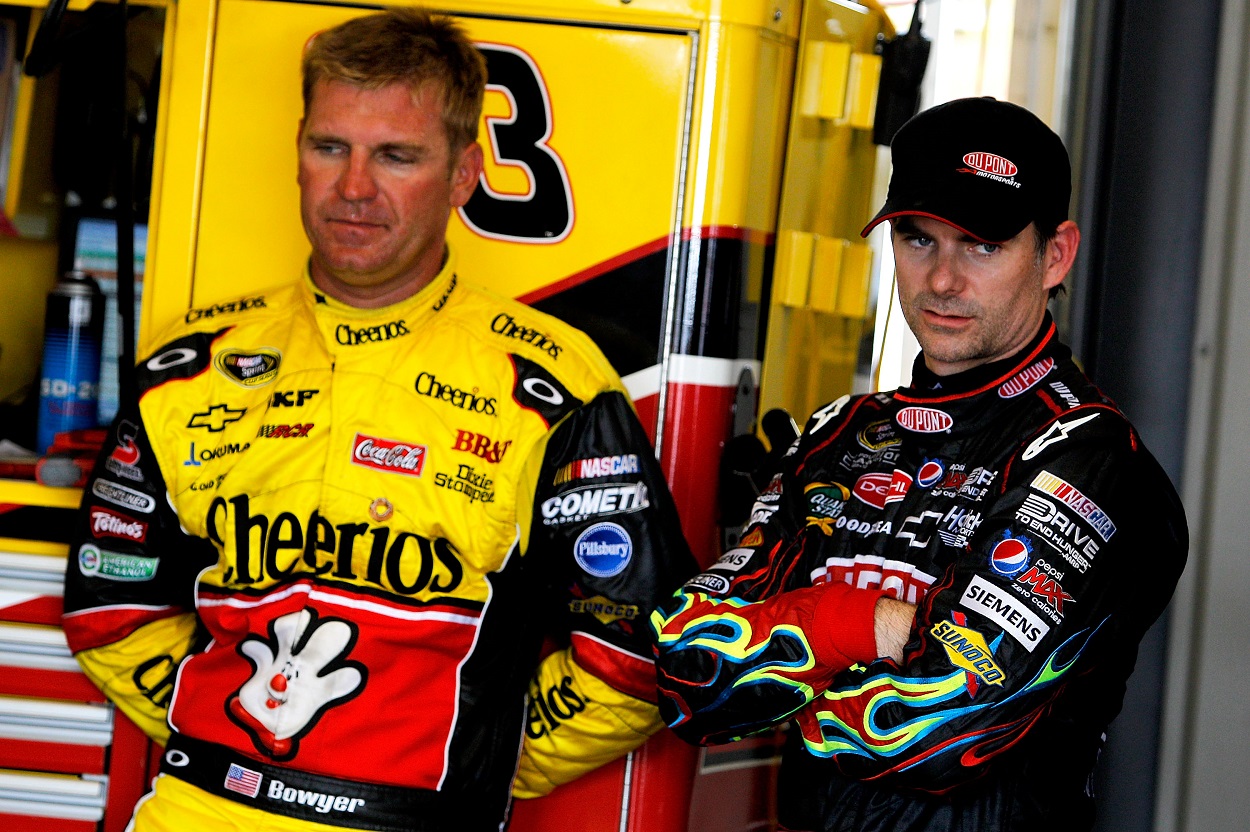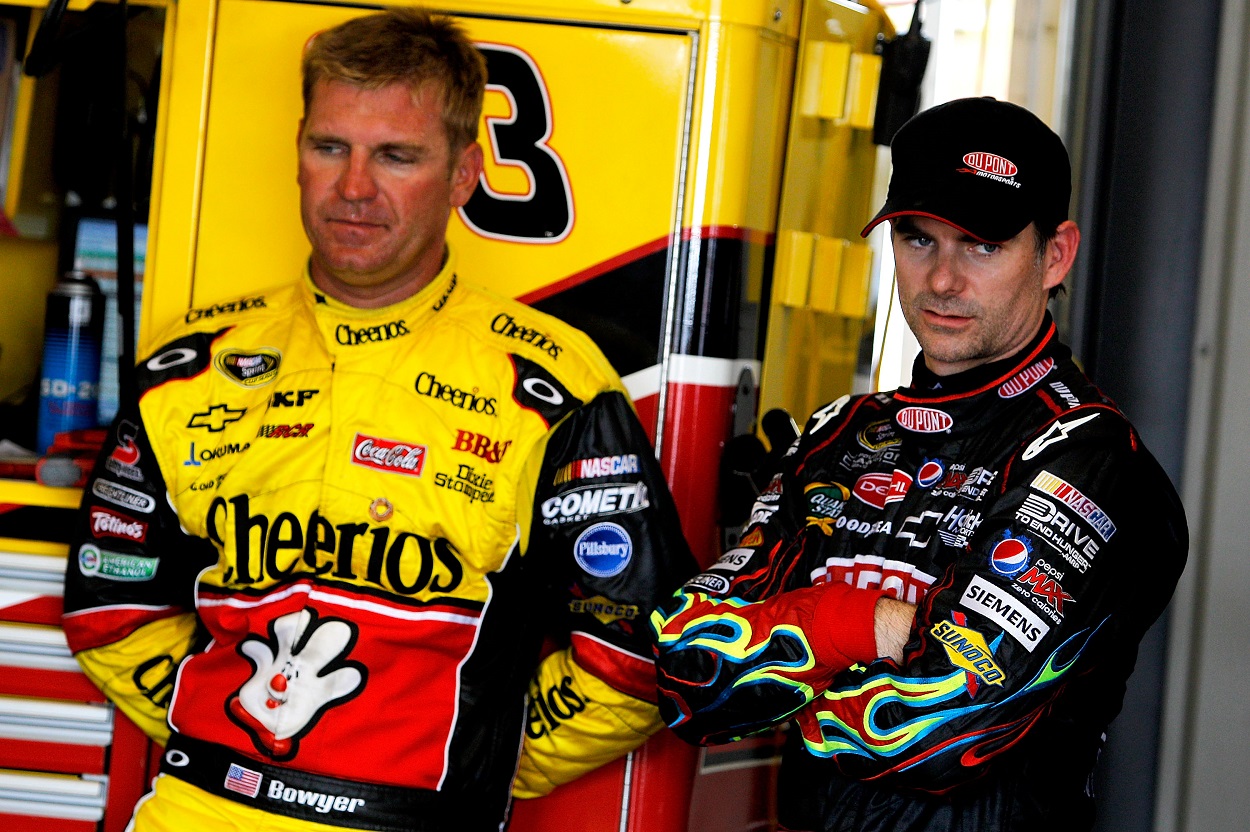 One week after the incident in Phoenix, Jeff Gordon and Clint Bowyer were back on the track for the NASCAR season finale in Homestead. While many were waiting to see Bowyer retaliate in some fashion, it never happened.
Bowyer went on to finish second in the race, which vaulted him into a career-high second place in the points standings behind Brad Keselowski. And the winner of the race that day? None other than Jeff Gordon.
Stats courtesy of Racing Reference