Why a Scheduled Dream Race Between NASCAR Legend Jeff Gordon and Formula 1 Star Michael Schumacher Never Took Place
Jeff Gordon and Michael Schumacher are easily two of the legendary drivers in motorsports history. While Schumacher was dominating Formula 1 throughout the 1990s and into the 2000s, Gordon was doing the exact same in NASCAR and fans wondered what would happen if the two ever met on the track.
Well, as it turns out, there was a plan for Gordon and Schumacher to battle in a one-on-one race back in 2004 in Paris. Unfortunately, however, some bad luck hit Gordon and the dream showdown never took place.
Jeff Gordon had 93 NASCAR Cup Series wins in his career
Inducted into the NASCAR Hall of Fame in 2019, Jeff Gordon amassed 93 Cup Series wins over the course of his 25-year career, good for third on the all-time wins list behind only Richard Petty (200) and David Pearson (105), three of those wins coming at the Daytona 500. He also won four NASCAR Cup Series titles (1995, 1997, 1998, 2001), which is good for solo second on the all-time list behind the trio that's tied at the top with seven — Petty, Dale Earnhardt, and Jimmie Johnson.
Not only was Jeff Gordon one of the best drivers in stock car history, he was also one of the most influential and is widely credited for helping to bring NASCAR into the mainstream during his prime years.
Michael Schumacher won 91 Formula 1 Grand Prix races
As Jeff Gordon was in NASCAR, Michael Schumacher was one of the best drivers in Formula 1 history. He began his F1 career in 1991 at the Belgian Grand Prix and picked up his first victory at that very same race one year later, one of 91 victories in his career, which were the most in history until Lewis Hamilton surpassed the mark in 2020.
However, Schumacher still holds the single-season wins mark as he recorded 13 victories during the 2004 season on the way to winning his seventh World Drivers' Championship, then a solo record that he now shares with Hamilton. And it was just after that historic '04 season that the dream race with Gordon was set to take place.
Jeff Gordon and Michael Schumacher were scheduled to race one another in 2004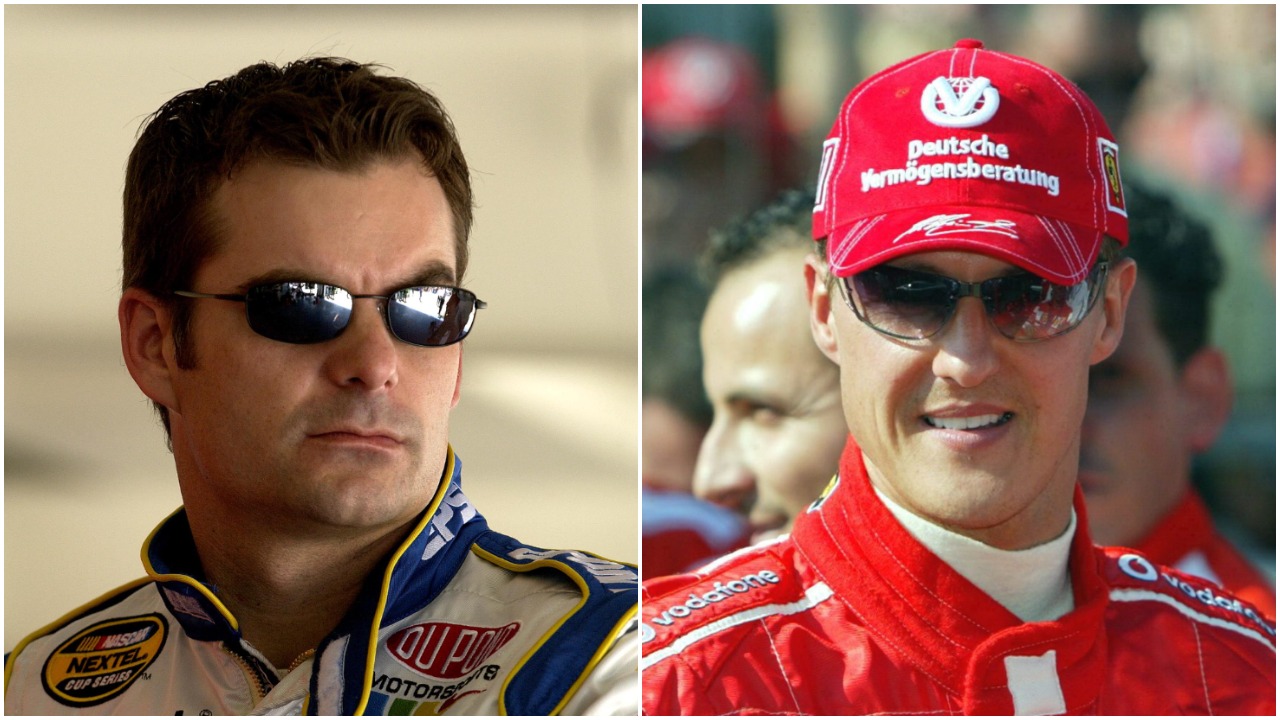 As the respective NASCAR and Formula 1 seasons were coming to a close in 2004, it was announced that Jeff Gordon and Michael Schumacher would be squaring off in a one-on-one race at the Race of Champions, an annual event in which drivers from different organizations compete in identical cars. In 1999, an element was added to the competition called the ROC Nations' Cup in which two drivers are on a team competing for their country.
Jeff Gordon and Jimmie Johnson had lead Team USA to the Nations' Cup title in 2002 and were set to go after it again in 2004 in Paris. But things went to an entirely new level when Michael Schumacher announced that he'd be competing in the event for the first time that year for his home country of Germany. A one-on-one race between Gordon and Schumacher was announced for December 4, which naturally had racing fans extremely excited.
An interesting element to the story was the fact that the annual NASCAR Awards Banquet was taking place on the night of December 3 in New York City, which meant that Gordon and Johnson would have to catch a plane right after the ceremony ended at around 10:00 p.m., sleep on the overnight plane ride to Paris, and then head right to the track upon arrival. But when that plane took off from New York, Jeff Gordon wasn't on it.
Just a few days earlier, Gordon had been hospitalized with a serious bout of the flu. He missed his media appearances the day before the banquet, was late to the awards show, and had no choice but to skip out on the event as he was in no condition to fly, killing any chance of the fantasy matchup with Michael Schumacher. While both would compete at the event in the years that followed, the race never happened. Jimmie Johnson took on Schumacher at the event in 2007 and lost to him by three seconds.