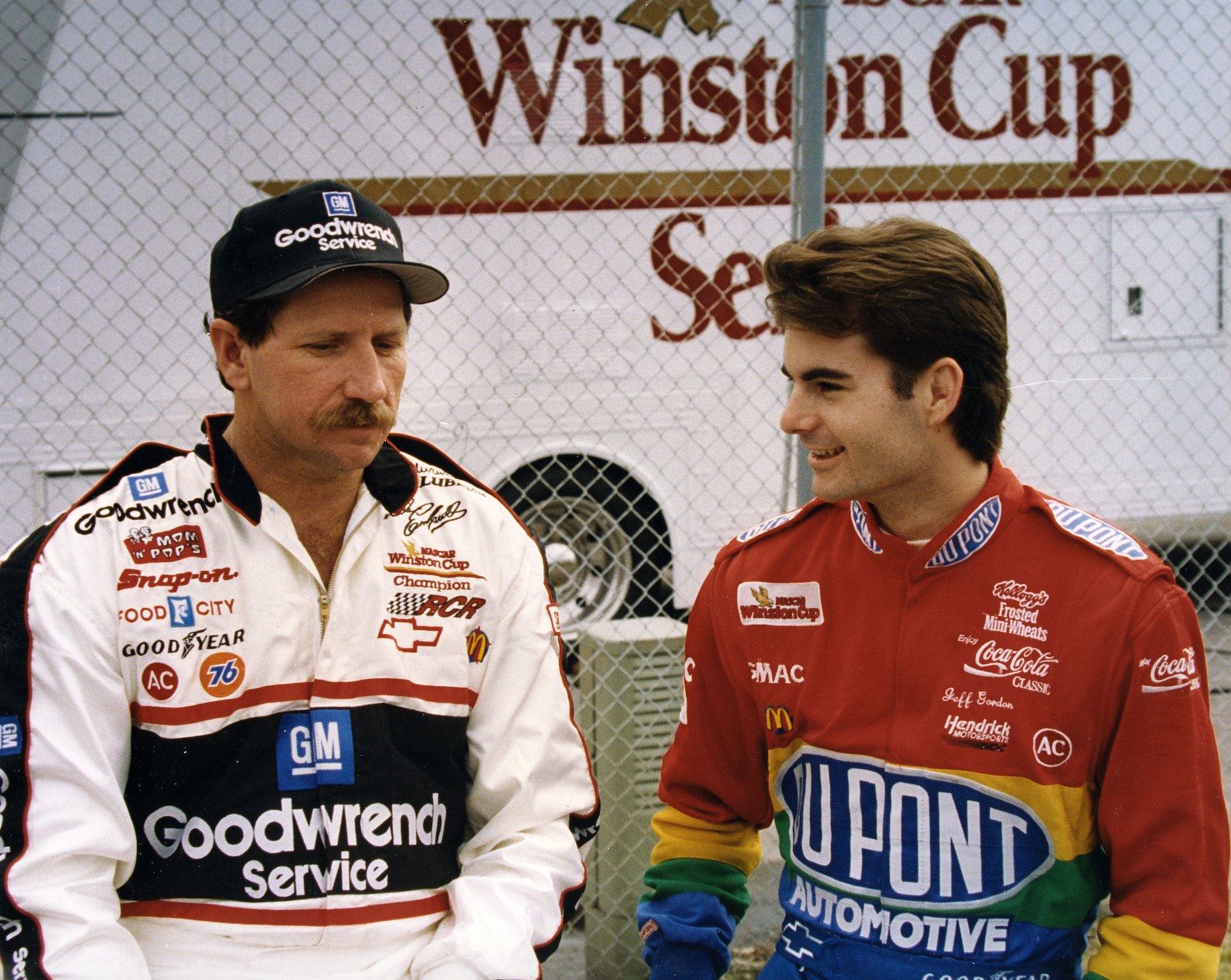 Jeff Gordon Once Trolled Dale Earnhardt With a Glass of Milk in Front of NASCAR's Biggest Stars
While Dale Earnhardt could be pretty intimidating, Jeff Gordon still managed to troll him with a simple glass of milk.
During his time on the motorsports scene, Jeff Gordon developed a rivalry with Dale Earnhardt. As the senior driver and top dog on the circuit, the Intimidator had no problem reminding the California-native that he was the new kid on the block. On one occasion, though, Jeff Gordon decided to fire a shot back at the NASCAR star.
This revenge, however, didn't happen on the track. Instead, Jeff Gordon chose to troll Dale Earnhardt at the 1995 NASCAR Awards Ceremony, using nothing more than a simple glass of milk.
Dale Earnhardt and Jeff Gordon had quite the rivalry
No matter the sport, professional athletes are always going to be highly competitive; over the course of a season, it's only natural that some rivalries will develop. That's exactly what happened between Dale Earnhardt and Jeff Gordon.
By the time Gordon arrived on the Cup Series scene, Earnhardt had already established himself as a NASCAR star; whether you loved or hated him, just about everyone knew the Intimidator and wanted to see what he'd do next. The upstart driver, however, brought a different image to the track, setting up a natural contrast.
"[Gordon was] the polar opposite of everything that Dale Earnhardt was," Kevin Harvick told ForTheWin in 2019. "He was clean-cut, he wasn't slinging hay bales, he wasn't sitting in a deer stand and going hunting. So it was great for the sport because they were so different from each other, and it gave the younger fans someone to root for. It gave people from the West Coast and places that weren't NASCAR country someone that they could relate to better."
While Earnhardt recognized Gordon's potential, he wasn't going to hold the new driver's hand. The Intimidator was more than willing to test his young rival on the track and threw plenty of verbal barbs his way.
Trolling the Intimidator with a glass of milk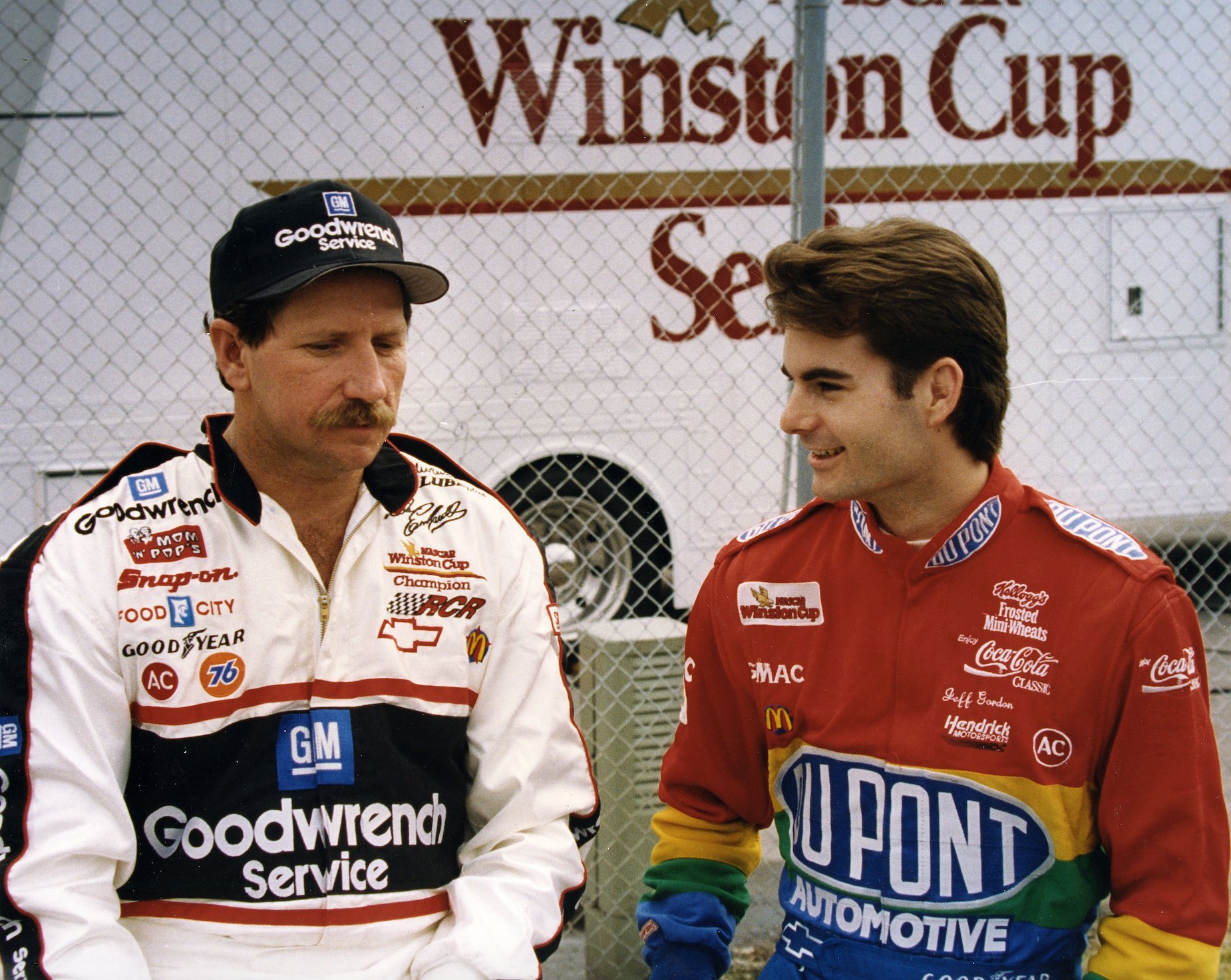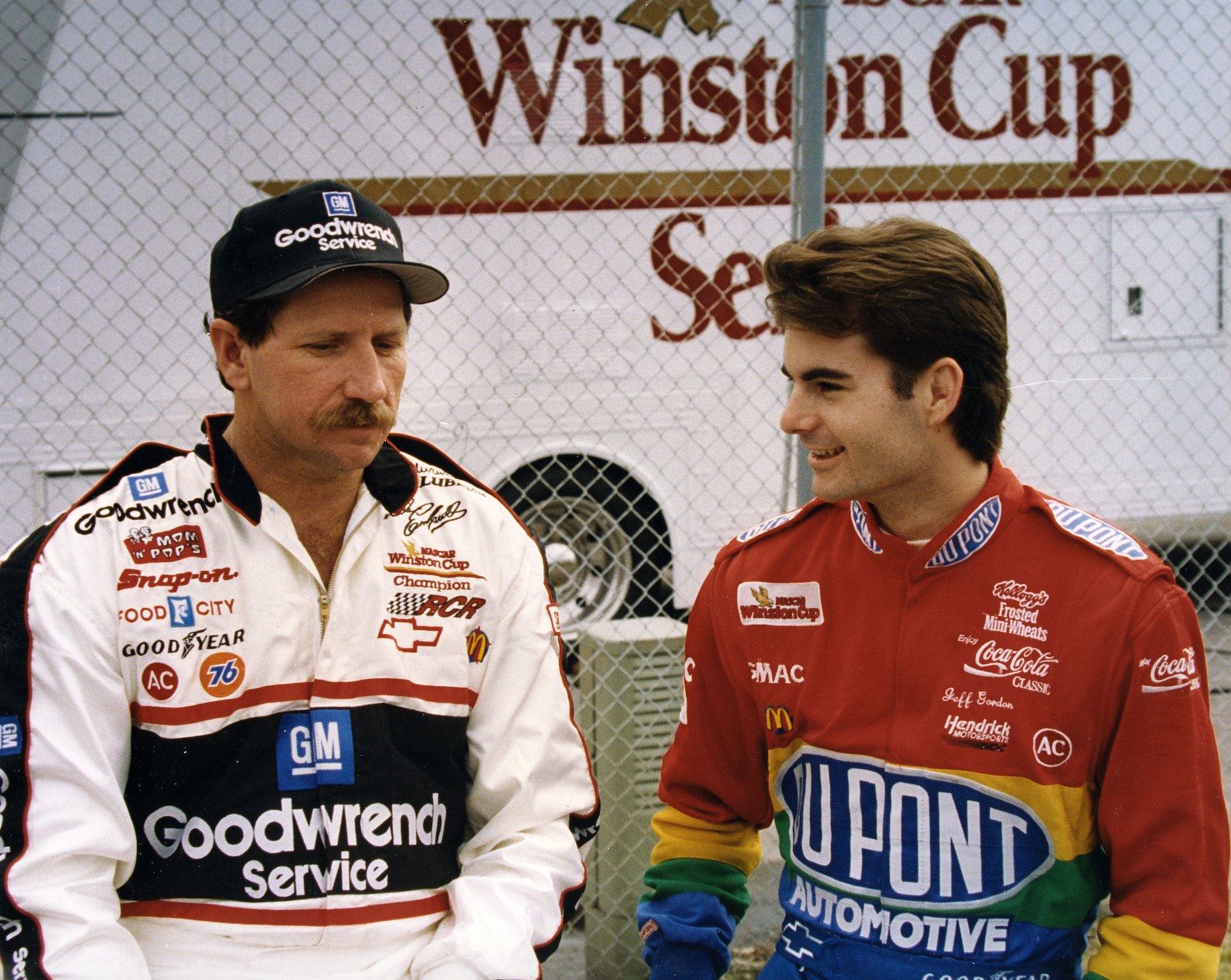 One of Dale Earnhardt's preferred talking points was Jeff Gordon's age; on one occasion, he said that the young driver would have to celebrate a championship with milk rather than alcohol. That comment, it seems, gave the Californian an idea.
During the 1995 NASCAR Awards Ceremony, Gordon took the podium to make his speech as that season's Cup Series champion. "Before I go any further, I'd to recognize a man who never let up on his efforts to win his eighth championship," he said, as seen in a video of the event. "Dale Earnhardt is a true competitor and a great champion, and, at this time, I would like to offer a toast to the man."
As he spoke, a waiter appeared with an ice bucket and a champagne flute. Instead of popping a bottle of bubbly, though, he poured Gordon a glass of milk.
"Dale, great effort, man," Gordon continued before raising his glass. "Here's some milk."
To Earnhardt's credit, he laughed at the joke and stood up to toast Gordon. If nothing else, the Intimidator understood that you had to be able to withstand the occasional taste of your own medicine.
Jeff Gordon found plenty of NASCAR success but never forgot his famous racing rival
By winning the 1995 Cup Series crown and toasting Dale Earnhardt with a glass of milk, Jeff Gordon reminded his famous rival that he was a legitimate driver, not a kid who was just happy to be there. Over the years, though, he'd continue to underline that point.
In total, Gordon spent 25 years on the Cup Series circuit, winning 93 races; he also won three more championships, bringing his total to four. In retrospect, though, he realized that he couldn't have done it without his famous rival.
"I didn't realize how important rivals were," Gordon explained in a 2019 Fox Sports video. "I wish I had his confidence to play into it to build it up even more. You could easily say that's what launched my career.
As much as he messed with me, somehow, on the inside, I always thought it was a sign of respect. He wouldn't have said anything at all if he didn't care. I respected the heck out of this guy. I loved racing with him. I hated it at times, but overall my experience was incredible. I miss him. I know a lot of people do.

Jeff Gordon