NASCAR Legend Jeff Gordon Once Taught a Critical Reporter a Harsh Lesson Using Fake Tattoos, a Police Chase, and Pepsi
Don't ever mess with NASCAR legend Jeff Gordon. Just ask Travis Okulski, a motorsports reporter and the victim of Gordon's most ruthless prank.
See, Okulski ruined Gordon's fun when he revealed the driver's famous test-drive prank on a car salesman to be fake. Gordon didn't take too kindly to that. In a hilariously cruel act of revenge, he taught Okulski a harsh lesson with an even greater (and very real) prank.
Reporter Travis Okulski exposed Jeff Gordon for faking a prank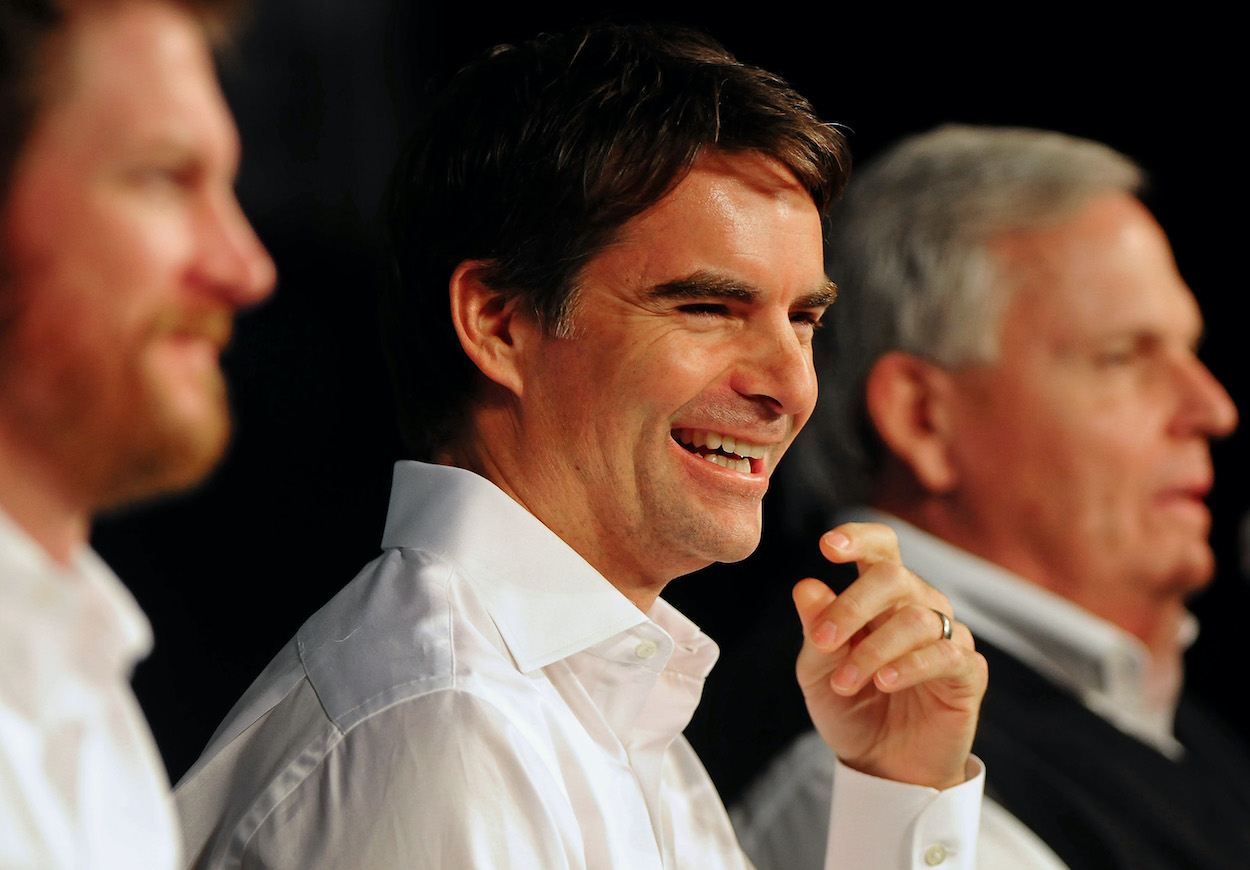 In 2013, Jeff Gordon teamed up with Pepsi Max for a hysterical commercial in which the former NASCAR driver dressed up as a regular Joe and went into a car dealership for a test drive. He pretended to know nothing about cars when he stepped into the driver's seat of a black Chevrolet Camaro and struggled to get the vehicle out of its parking spot.
After sputtering forward for a few feet, Gordon laid on the gas and sped out of the parking lot like a menace. He did a few donuts before hopping on the road to speed up again. All the while, the car salesman was paralyzed in the passenger seat while yelling at Gordon to please slow down.
After a few more death-defying stunts, Gordon whipped the Camaro back to the lot and reveals himself to the unsuspecting salesman. It was all a harmless prank that made for a great advertisement.
But Travis Okulski, a writer for Jalopnik.com at the time, just had to ruin Gordon's fun. The day after the commercial aired, Okulski posted an article with his findings that the prank was 100% fake and that Gordon was never even driving the car in the video.
Apparently, Gordon wasn't too happy that Okulski exposed his prank.
Jeff Gordon gets revenge
Almost a year after the original prank aired, Gordon formulated a plan to exact revenge on Okulski. He had a similar idea in mind, but this time it would all be 100% real.
Gordon first disguised himself as an ex-convict taxi driver. He had a fake tattoo printed on his neck, a fake goatee glued to his face, and he changed his voice so that Okulski wouldn't recognize him.
Gordon and his team orchestrated a plan to fly Okulski out to Charlotte, N.C. thinking he was there to test drive a Corvette Z06 for his website. When the taxi driver arrived at Okulski's hotel to bring him to the test drive, though, it wasn't actually a taxi driver at all. It was Jeff Gordon.
Okulski hopped into the back seat and the two engaged in some playful banter as Gordon drove onto the road. Gordon told Okulski he had served 10 years in prison, which is exactly when a state trooper appeared and started flashing his lights.
Gordon pulled off the road for the cop, but he had no intention of cooperating. After a few minutes, Gordon sped away from the policeman and kickstarted a high-speed chase. Gordon swerved in and out of an industrial brickyard as Okulski feared for his life in the back seat. The stressed reporter started kicking at the glass wall inside the car and attempted to call 911. After running through chain fences and large barrels all while evading the state trooper, Gordon swiftly pulled into a garage filled with Pepsi Max. As confetti started to fall from the ceiling, Okulski knew he'd been duped.
Okulski later admitted this prank wasn't fake
Okulski may have found Gordon's first prank to be fabricated, but this one was as real as it gets. The reporter, who now works as the Editor-in-Chief of Road & Track, later admitted Gordon got him good in a humorous article.
"I'm a bad passenger in a car, I always have been, but this is slightly different," Okulski wrote for Jalopnik.com. "See, I was just kidnapped by an ex-con in the back of a cab that is now speeding down a hill, busting through a chain fence and narrowly missing buildings while trying to get away from a North Carolina State Trooper. I thought I was going to die. I yelled, I banged the glass, I actually tried to kick through the plexiglass window between the driver and me. I pulled out my phone to call 911, but couldn't keep it steady enough to dial…
"After what feels like forever (it was actually about 60 seconds) we do a couple donuts, I thought maybe he was going to let me out or was trying to make tire smoke to obfuscate his car. But then we pull into this garage at full speed and lock up the brakes. A garage full of Pepsi. And cameras. The driver runs around and the first thing he says is "I got you back! I'm Jeff Gordon."
Note to self: never get on Jeff Gordon's bad side.