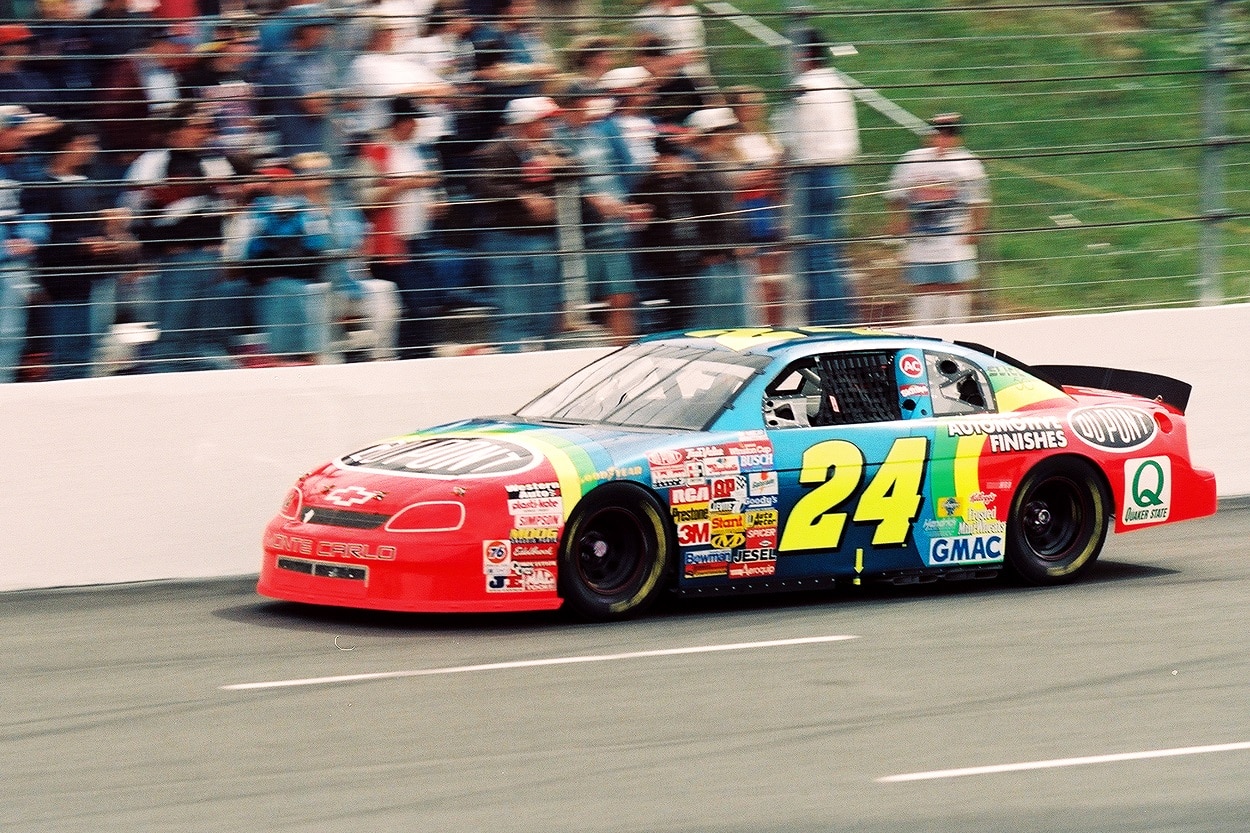 The 101 Greatest NASCAR Cup Series Drivers by Car Number: 20-29
Sportscasting names the greatest NASCAR Cup Series drivers to race car numbers 20-29.
Welcome to the third installment of Sportscasting's 10-part series, "The 101 Greatest NASCAR Cup Series Drivers by Car Number."
As we did with our "101 Greatest NFL by Uniform Number" series a little while back, we're doing the same here as we list the top drivers to helm Nos. 00, 0, and 1-99 in NASCAR's top series.
We kicked things off with a list of 11 with the greatest to drive Nos. 00-9 and naturally followed it up with the greatest to drive Nos. 10-19.
Let's keep things rolling with Nos. 20-29.
No. 20: Tony Stewart
One of just six drivers to win a NASCAR Cup Series race in the No. 20, Tony Stewart is the easy call to kick off this portion of the list.
Stewart spent a decade in the No. 20 for Joe Gibbs Racing from 1999 to 2008 before becoming a team owner and switching to the No. 14 with Stewart-Haas Racing. He won at least one race every year while with JGR and accumulated 33 in the No. 20, easily the most of any driver, and won championships in 2002 and 2005.
Matt Kenseth is a distant second with 15 victories.
No. 21: David Pearson
Making his third appearance on the list is Hall of Famer David Pearson. Already in the No. 6 and No. 17 slots, the South Carolina native is the easy choice for this one as well, having taken 43 checkered flags in the No. 21. A very distant second is Cale Yarborough, with 13 victories in the number.
Pearson took over the Wood Brothers' No. 21 Mercury in 1972 and earned those 43 victories in just seven years. Ten of those came in 1976, including the Daytona 500, but he still only finished ninth in the points standings as he only ran a limited schedule, making his 43 wins in that span all the more impressive.
No. 22: Fireball Roberts
While Joey Logano could very well take over the No. 22 slot down the line if he continues to rack up wins for Team Penske, we're going with Fireball Roberts for the time being.
The NASCAR Hall of Famer notched 30 of his 33 career Cup Series victories in the No. 22, including the 1962 Daytona 500. And those 30 wins came in just 152 starts, giving him a winning percentage of 19.7%. Roberts finished in the top five 52% of the time and in the top 10 64.5% of the time while rocking the double deuce.
No. 23: Frank Mundy
The No. 23 certainly doesn't have the lineage in the NASCAR Cup Series that it does in the NBA, does it? But Michael Jordan himself is trying to change that with 23XI Racing. His first driver, Bubba Wallace, is one of just three drivers to win a Cup Series race in the number, and it honestly won't take much for him to slide into this slot in the near future if he wins a few more times.
But for now, we've gotta go with Frank Mundy, who racked up two wins, eight top-fives, and 11 top-10s in 24 starts in a No. 23 Studebaker in 1951, his lone season using the number.
No. 24: Jeff Gordon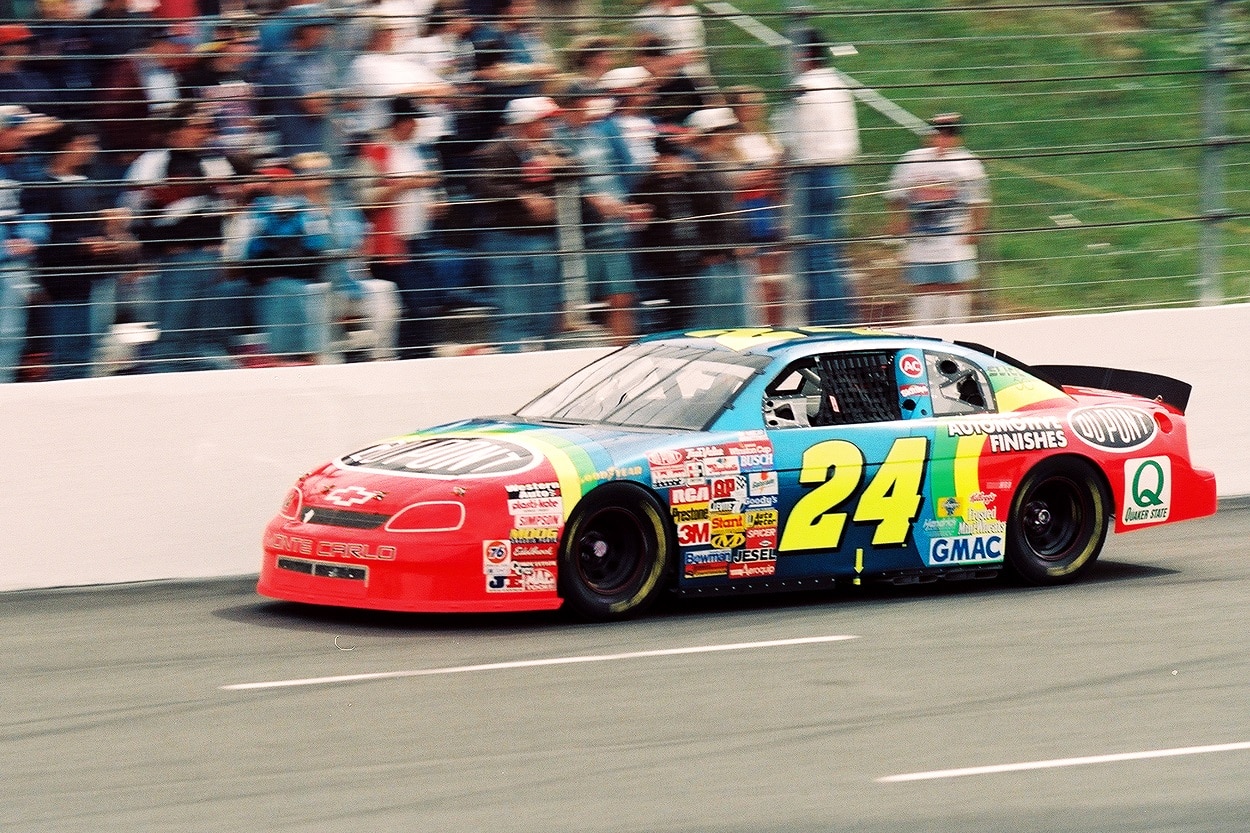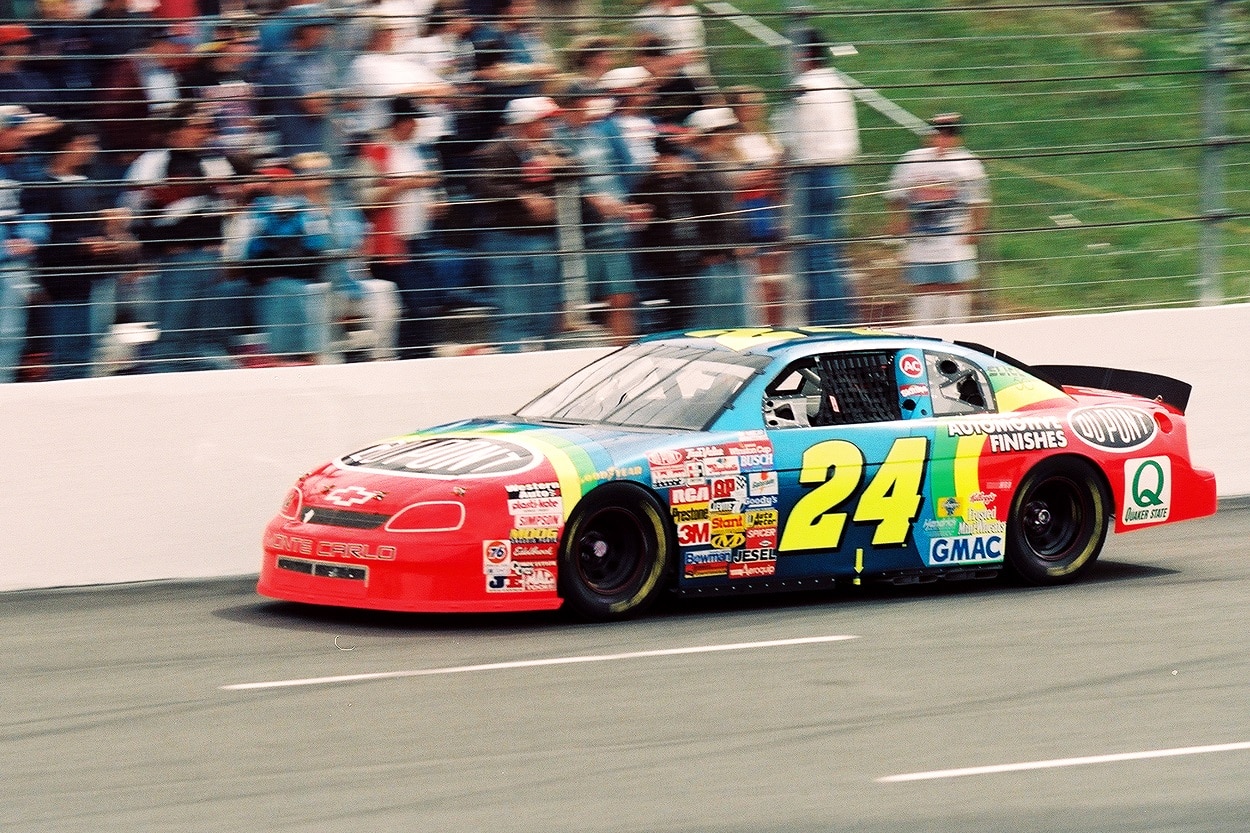 Obviously, one of the easiest calls on the entire list is Jeff Gordon at No. 24.
"The Rainbow Warrior" ran all but eight of his 805 career Cup Series races in Hendrick Motorsports' No. 24 Chevrolet and racked up 93 victories, good for third on the all-time list behind only Richard Petty and David Pearson. His 13 wins in 1998 set a modern-era record that still stands today.
Gordon was a four-time Cup Series champion and was responsible for helping NASCAR reach new heights in terms of popularity in the 1990s and 2000s. The only other driver to capture a Cup Series checkered flag in the No. 24 is his replacement at Hendrick, William Byron.
No. 25: Tim Richmond
One of the first IndyCar drivers to make the full-time jump to the NASCAR Cup Series, Tim Richmond is our pick for No. 25.
Not only does he have the most wins with the number with nine, but he also owns the top winning percentage of any driver with at least 10 starts in it. Richmond took those nine checkered flags for Hendrick Motorsports in just 37 starts, earning all his victories in the No. 25 during a 54-week stretch from June 1986 to June 1987.
No. 26: Junior Johnson
As no other driver has more than two NASCAR Cup Series wins in the No. 26, Junior Johnson is the easy call here.
The NASCAR Hall of Famer won 50 times using five different numbers throughout his career and took his last dozen checkered flags in the No. 26, all of those wins coming in 1965, his penultimate season on the circuit.
Johnson made just 40 starts in the No. 26, giving him a 30% winning percentage.
No. 27: Rusty Wallace
For those who may have been upset that Rusty Wallace didn't take the No. 2 slot, maybe we've made it up to you by giving him the No. 27 honor.
This was a close call as Junior Johnson almost took a second straight spot, recording 13 wins in the No. 27, including the 1960 Daytona 500. But as Wallace won the 1989 Cup Series title using it, he gets the nod here.
Wallace won 18 times in 145 starts over five seasons in the No. 27, including six on his way to the '89 crown. He also had five road-course wins in the number.
No. 28: Fred Lorenzen
This was one of the tougher calls on this portion of the list. Many associate the No. 28 with the late, great Davey Allison, who took 19 checkered flags in 183 starts using the number from 1987 to 1993, the year he was tragically killed in a helicopter accident.
In the end, however, we had to go with Fred Lorenzen, who won exactly 20% of the time in the No. 28, taking 25 checkered flags in 125 starts in the number from 1960 to 1972, including the 1965 Daytona 500.
It's certainly never easy to choose between two NASCAR Hall of Famers.
No. 29: Kevin Harvick
Using the formula I've used to make some of these more challenging decisions, the call at No. 29 should be Dick Hutcherson, who won 13 times in the number in just 97 starts for a winning percentage of 13.4%.
Kevin Harvick had 23 Cup Series wins in the No. 29 before switching to the No. 4 in 2014. But that was in 466 starts, giving him a 4.9% winning percentage. But, for one, 10 more wins is substantial. More importantly, however, it was what some of those early wins meant to NASCAR as a whole.
Following Dale Earnhardt Sr.'s tragic death at Daytona in 2001, Richard Childress Racing quickly rebranded the No. 3 team into the No. 29 team and sped up Harvick's promotion to the Cup Series from the then-Busch Series. Just three weeks after Earnhardt passed, Harvick notched his first win, edging out Jeff Gordon in Atlanta by just .006 seconds in an emotional scene.
Motorsports fans needed that, and Harvick and the No. 29 gave it to them.
Stats courtesy of Racing Reference
Like Sportscasting on Facebook. Follow us on Twitter @sportscasting19 and subscribe to our YouTube channel.