Hendrick Motorsports' NASCAR Cup Series Victories by Driver
It's been nearly four decades since Rick Hendrick first decided to field a NASCAR Cup Series team, and it's safe to say that it was a wise decision on his part. Founded in 1984 as All Star Racing, Hendrick Motorsports has become one of NASCAR's premier organizations and has won 14 Cup Series drivers and owners championships.
Now with 291 Cup Series victories, the team surpassed Richard Petty Enterprises in 2021 for the most all-time victories in NASCAR's premier series with Kyle Larson's victory at Charlotte Motor Speedway. Twenty different drivers have taken at least one checkered flag under the HMS banner, led, of course, by Jeff Gordon and Jimmie Johnson, who combined to win 176 Cup Series races and 11 points titles for Hendrick.
Jeff Gordon won 93 NASCAR Cup Series races and four points titles for Hendrick Motorsports
Of Hendrick Motorsports' 291 NASCAR Cup Series victories, Gordon is responsible for just under 32% of them with 93. After driving for Bill Davis Racing in the Busch Series (now the Xfinity Series) in 1991 and 1992, Gordon signed with Hendrick in late 1992 and made his Cup Series debut in the season-ending Hooters 500 in Atlanta, finishing 31st.
Driving the No. 24 car, Gordon joined the Cup Series on a full-time basis in 1993, and while he didn't win a race, he recorded seven top-five and 11 top-10 finishes on the way to winning Rookie of the Year. He took his first checkered flag the following year in Charlotte, and he was off to the races from there (forgive the pun).
Gordon won his first points title in 1995, went back-to-back in 1997 and 1998, and won a fourth in 2001. He won the Daytona 500 on three occasions (1997, 1999, 2005) and his 93 Cup Series wins are good for third on the all-time list. Gordon retired from the track in 2016 but remains connected to Hendrick Motorsports as an equity owner and may someday actually take over on a full-time basis.
Jimmie Johnson won 83 races and seven points titles for HMS
Johnson is responsible for nearly 29% of Hendrick Motorsports' Cup Series victories with 83 and also won seven points championships (including five in a row from 2006-2010), which ties him for the all-time lead with Richard Petty and Dale Earnhardt Sr.
After racing for ST Motorsports (now JTG Daugherty Racing) and Herzog Motorsports in the Busch Series, Johnson joined Hendrick for three races in the Cup Series in 2001 and joined the premier series on a full-time basis the following year as HMS began fielding four cars in 2002.
Johnson won the Daytona 500 twice (2006, 2013) and his 83 Cup Series victories are good for a tie for sixth on the all-time list (Cale Yarborough).
20 different drivers have at least one NASCAR Cup Series victory for Hendrick Motorsports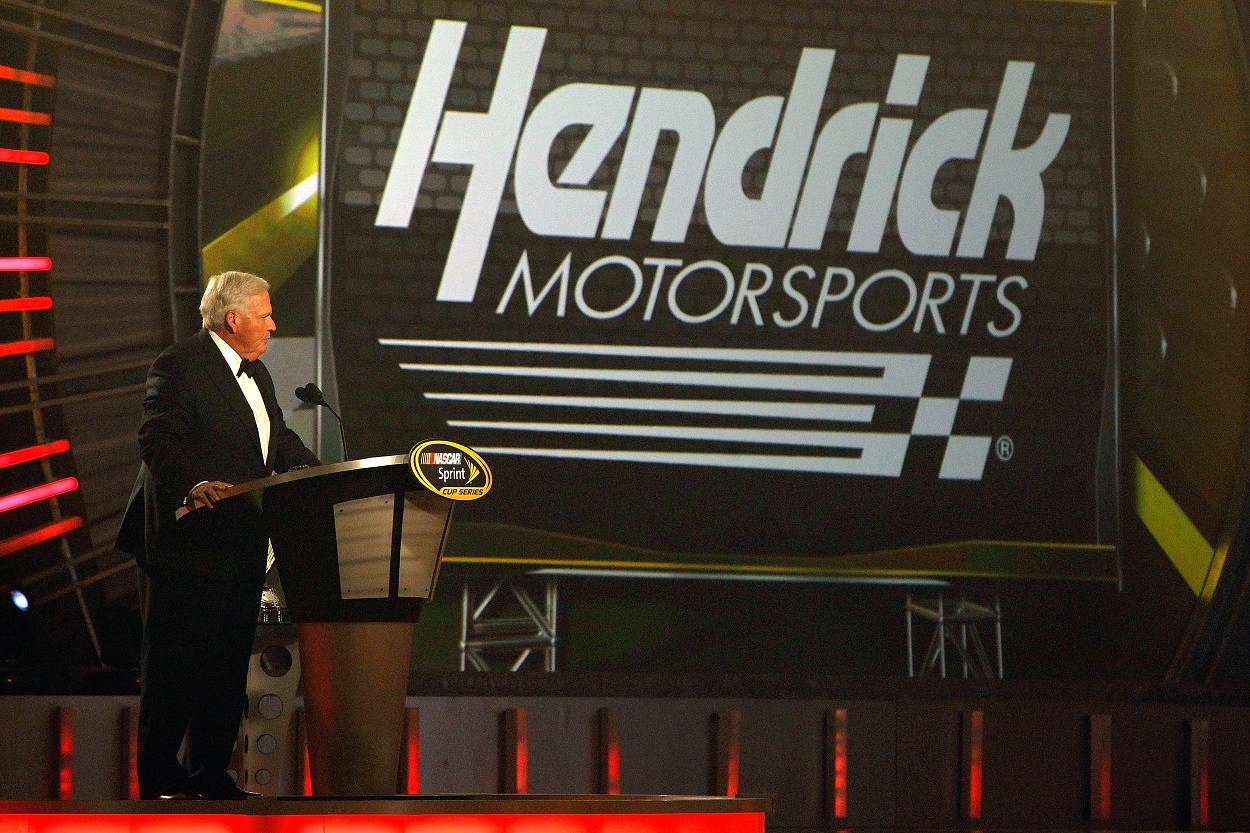 Including Gordon and Johnson, a total of 20 drivers have recorded at least one NASCAR Cup Series win for Hendrick Motorsports. Here's a look at the entire list:
Jeff Gordon: 93
Jimmie Johnson: 83
Chase Elliott: 18
Kyle Larson: 13
Terry Labonte: 12
Darrell Waltrip: 9
Tim Richmond: 9
Alex Bowman: 7
Geoff Bodine: 7
Kasey Kahne: 6
Mark Martin: 5
Kyle Busch: 4
Ricky Rudd: 4
Ken Schrader: 4
William Byron: 4
Joe Nemechek: 1
Brian Vickers: 1
Jerry Nadeau: 1
Casey Mears: 1
Stats courtesy of Racing Reference
Like Sportscasting on Facebook. Follow us on Twitter @sportscasting19 and subscribe to our YouTube channel.