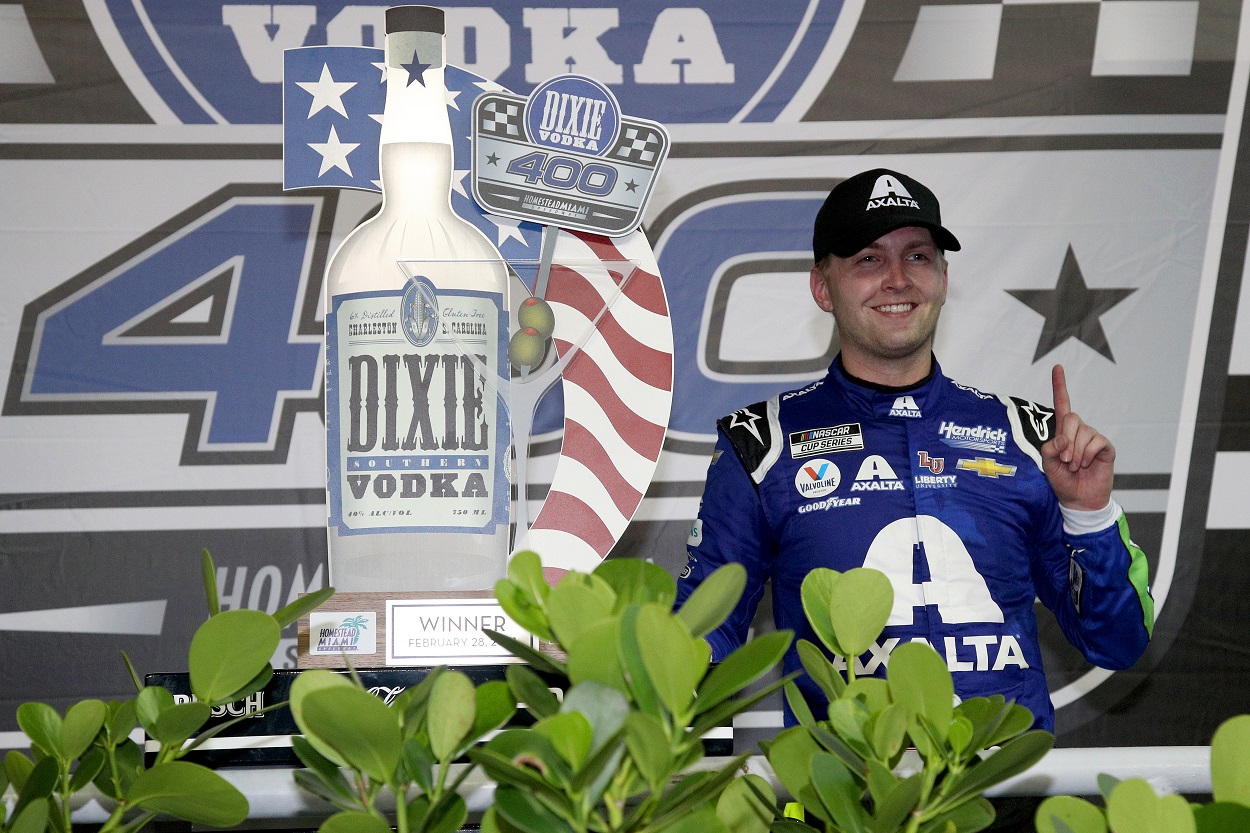 A Rare Move From Hendrick Motorsports Helped William Byron Make Some NASCAR History With His Win at Homestead
A unprecedented move from Hendrick Motorsports is already paying off as William Byron notched his second NASCAR Cup Series victory on Sunday.
For the third time in three races to open the 2021 season, the NASCAR Cup Series had a surprise winner as 23-year-old William Byron took the checkered flag on Sunday at the Dixie Vodka 400 at Homestead-Miami Speedway. The Hendrick Motorsports youngster was a 28-1 long shot to win but ran a solid race in the famed No. 24 Chevy, controlling the final two stages to lock up his second Cup Series victory.
Byron joins Michael McDowell and Christopher Bell on the list of odd winners to start the '21 campaign and has locked up a spot in the postseason for the third straight year. While he may not have been on a lot of people's radars coming into this season, Hendrick Motorsports expects big things out of their young driver this year and a rare move by the organization is already paying off.
William Byron ran a solid race to capture his second NASCAR Cup Series victory
As mentioned, William Byron came into Sunday's Dixie Vodka 400 at Homestead as a 28-1 long shot to win and it certainly didn't help that he started the 267-lap race in 31st position.
At the end of the first 80-lap stage, Byron had worked his way into fourth position and then won Stage 2 before cruising to victory in the final stage, leading the final 58 laps to earn his second NASCAR Cup Series victory. The 23-year-old led for a career-high 102 laps and moved into 13th place in the Cup Series standings.
Coming into Sunday, Byron hadn't yet won a single stage this season and had placed 26th at the Daytona 500 and 33rd at the O'Reilly Auto Parts 253 on the Daytona Road Course.
A rare move by Hendrick Motorsports is already paying off and could lead to big things for William Byron moving forward
One of the big reasons why Hendrick Motorsports is expecting such big things from William Byron — well, besides the fact that he drives the No. 24 car — is the fact that he's been reunited with his former crew chief from his days in the Truck Series, Rudy Fugle.
Fugle worked eight years for Kyle Busch Motorsports and his trucks won 28 races as he led the program to a pair of driver championships and five owner titles. Seven of those wins came with Byron behind the wheel, all seven coming in 2016, one of which just happened to come at Homestead.
When Hendrick promoted seven-time champion crew chief Chad Knaus to an executive competition role late last year, the organization plucked Fugle from KBM and reunited him with Byron. It was a bit of a surprise move for Hendrick Motorsports as they usually like to groom their crew chiefs from within. But they obviously saw something in Fugle, who is the first outsider to lead the No. 24 crew, and the move is already paying off.
Following his win at Homestead, Byron had nothing but great things to say about his crew chief (h/t ESPN).
"That guy [Fugle] has been huge for my career. He's the reason I'm here, and I'm just glad we could get him. … We really think the same way.

"He knows how to push my buttons and get me motivated. Obviously, you have to back it up with results. Results come when you have people like that to work with."

William Byron on Rudy Fugle
The two obviously work well together and Hendrick has to be thrilled with the results they're already getting from Byron and Fugle.
The 23-year-old made a little NASCAR history at Homestead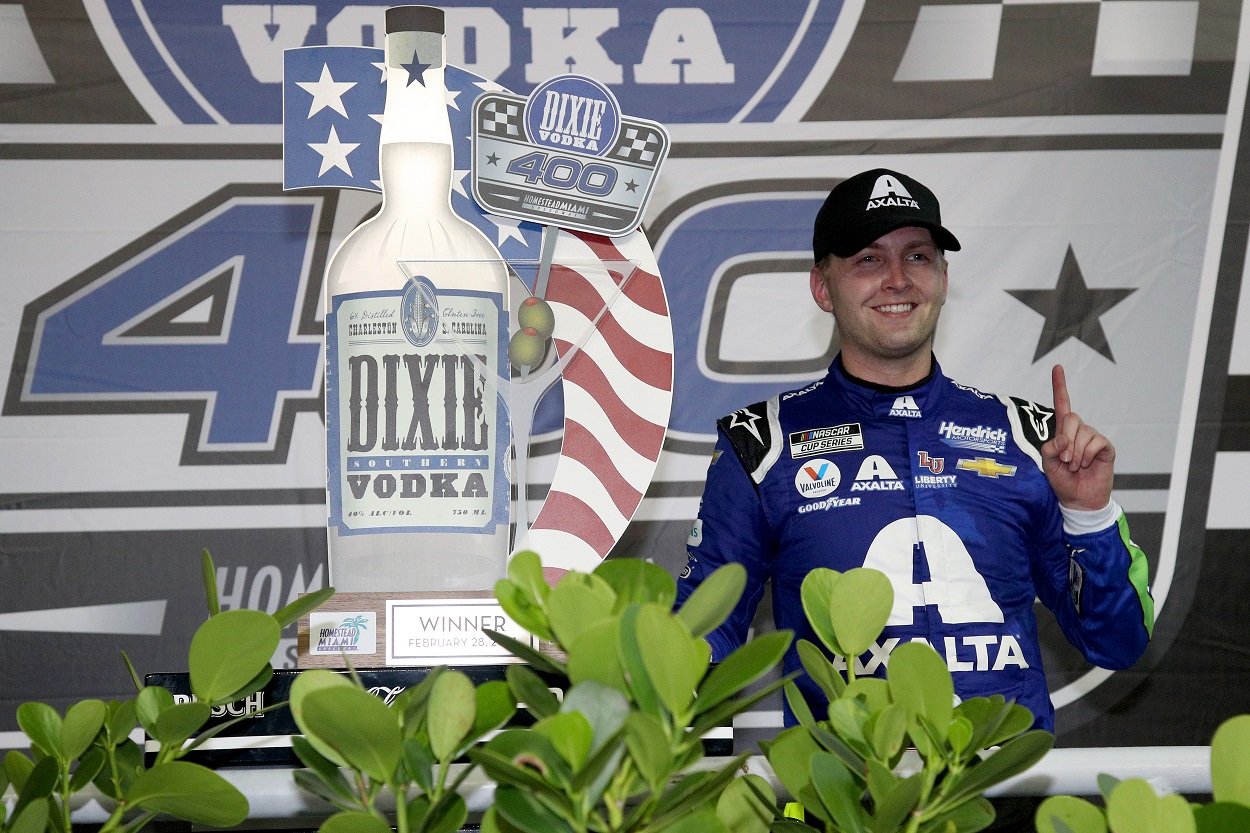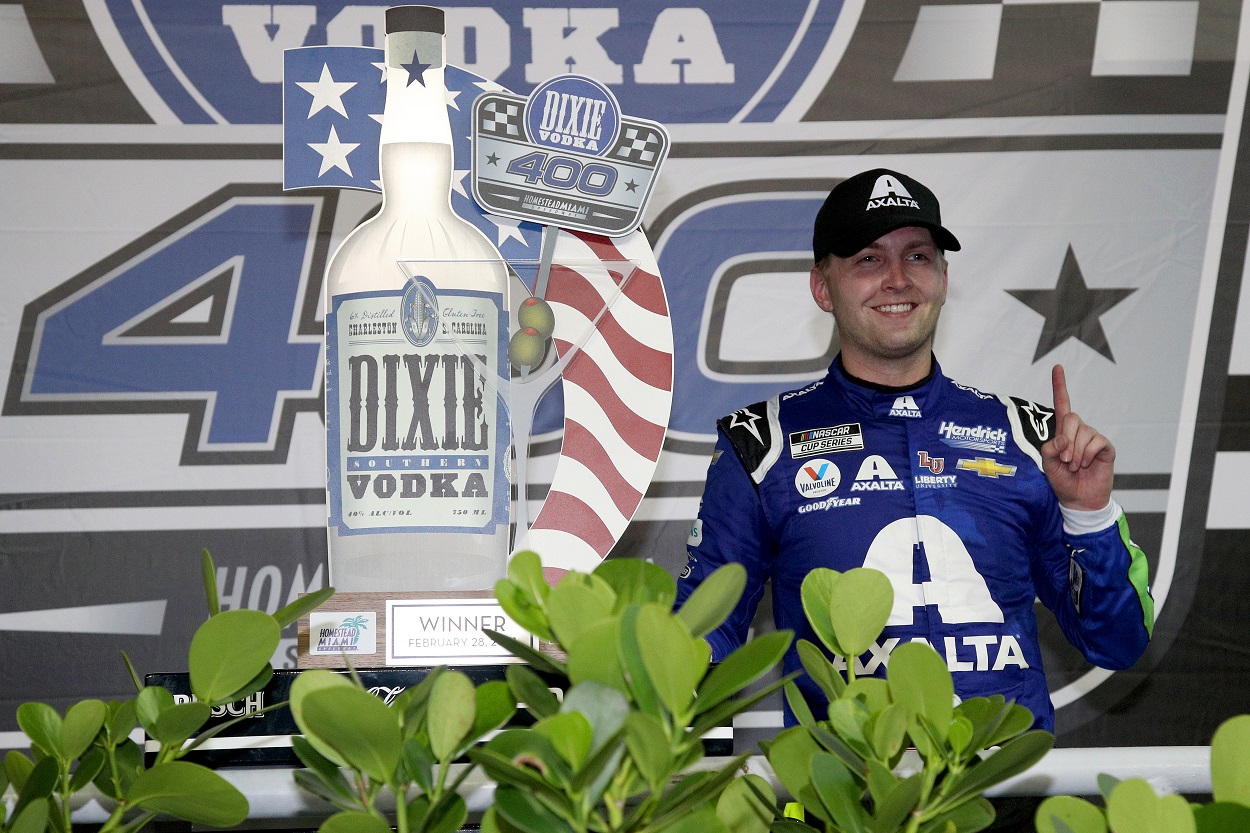 With his win at Homestead, William Byron made a little NASCAR history as he became just the eighth driver to win two Cup Series races before turning 24, an elite list that also includes the man who won 93 Cup Series races for Hendrick Motorsports in the No. 24 car, Jeff Gordon.
Byron's first Cup Series victory came last August in the regular-season finale at Daytona as he snuck into the postseason by taking the checkered flag at the Coke Zero Sugar 400.
Stats courtesy of Racing Reference