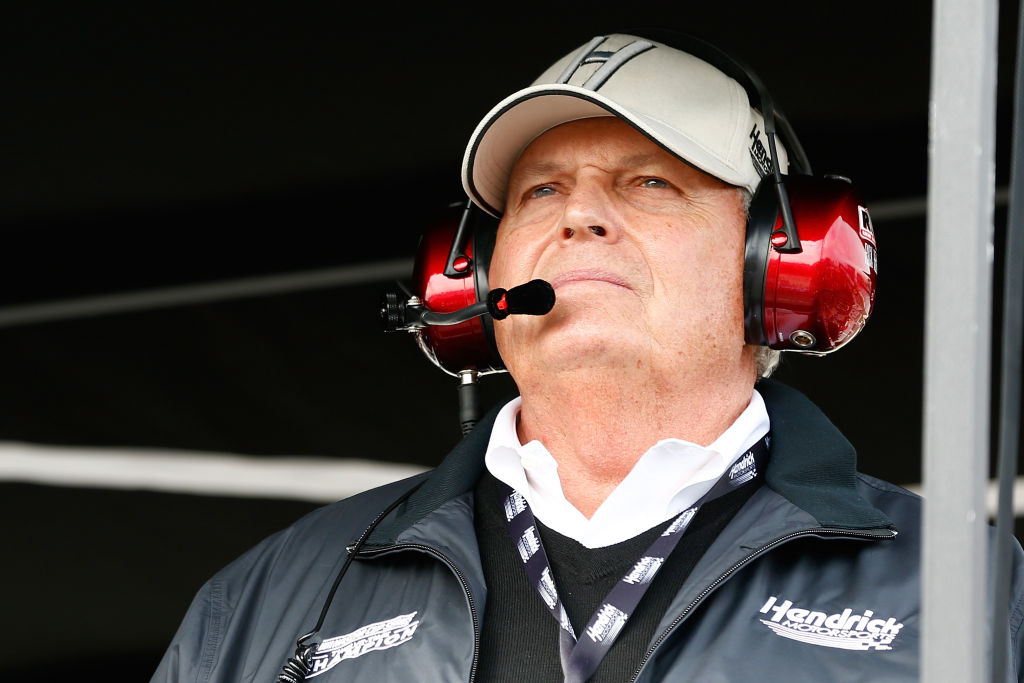 Hendrick Motorsports Has Made It All the Way Back After a Tragic Plane Crash
Rick Hendrick founded Hendrick Motorsports in 1984 and has won 12 NASCAR Cup Series championships.
Few racing teams can boast of a stable of drivers as talented as the Hendrick Motorsports quartet, and fewer still have the history of the organization that began posting wins on the top NASCAR racing circuit in 1984.
None have had to overcome a tragedy of the magnitude the Hendrick outfit faced in 2004, when a plane crash decimated the family and the outfit's leadership.
Hendrick Motorsports is always a threat to win
The NASCAR Cup Series is for all practical purposes ruled by seven race teams that field multiple cars each weekend. The economies of scale come into play when the likes of Team Penske, featuring Brad Keselowski, and Joe Gibbs Racing, with Martin Truex Jr., can spread out the overhead for technology and engine development over fleets of cars.
The cost per car to run a full season comes down and the opportunities to attract sponsorships increase. That translates into a greater likelihood for success – assuming that everyone from the chief engine builder down to the least-experienced member of the pit crew is doing his job.
Team Penske, which has three drivers in the top six in the standings, and Joe Gibbs Racing, boasting of three in the top nine, are the best of breed in NASCAR at the moment. But hanging right with them is Hendrick Motorsports, whose Chase Elliott and Alex Bowman have each already won a race this season.
Elliott is third in points, followed by Bowman in seventh, seven-time series champion Jimmie Johnson in 11th, and William Byron in 16th. Johnson is in his final season of racing, but the average age of the others is just 24 and change, making for a bright future.
Rick Hendrick has built and rebuilt a superb team
Rick Hendrick has been synonymous with cars ever since he became the youngest owner of a Chevrolet dealership in the country at the age of 26. Some 43 years later, his corporation does more than $10 billion in business at 140 dealerships and related auto services across 14 states.
His formal involvement in NASCAR began in 1984 when he founded Hendrick Motorsports, and Geoff Bodine drove onto victory lane three times that first season to launch the dynasty. There were no victories the following year, but Hendrick cars have won at least one race a season on NASCAR's top circuit since 1986.
The organization's 128th victory came in 2004, when Jimmie Johnson was victorious at Martinsville Speedway, the smallest track on the NASCAR circuit and nestled in western Virginia near the North Carolina border. That victory took on added significance on Sept. 29, 2019, when Chase Elliott captured the 256th checkered flag in the organization's history.
It gave Hendrick Motorsports as many victories since Oct. 24, 2004, as before. And that day is one that forever changed the organization.
A plane crash devastates the Hendrick family and team
Ten people associated with Hendrick Motorsports perished Oct. 24, 2004, in a plane crash in heavy fog seven miles short of the airport while en route from Concord, North Carolina, to a NASCAR race at Martinsville Speedway.
Six of those who died were Hendrick family members or key employees of Hendrick Motorsports. Among them were Rick Hendrick's son Ricky; the owner's brother John, president of the racing team; John Hendrick's twin daughters; Jeff Turner, general manager of Hendrick Motorsports; and Randy Dorton, the chief engine builder.
News of the crash reached NASCAR officials during the race at Martinsville Speedway, but the information was withheld until shortly after Jimmie Johnson, the rising star of the Hendrick Motorsports empire at the time, crossed the finish line in first place. The traditional victory lane ceremony was scrapped, and the Hendrick drivers and crews were summoned to NASCAR's on-site command center, where they learned what had happened.
The aftermath and Hendrick Motorsports' path forward
An investigation by the National Transportation Safety Board determined that the plane's pilots missed their first landing attempt in heavy fog, veered off course,  and failed to return to a safe altitude before crashing into a hillside.
Eight days after the crash, Rick Hendrick gathered the surviving members of the organization at the team's compound in Concord, North Carolina.
"I remember just how emotional it was, how hard it was just to try to talk," Hendrick recalled. "But I had to thank them and tell them I was thinking about them. And when I saw the people, I said, 'This place is going to go on, and we're going to take care of each other. Because you're family, too. And we're going to do whatever we got to do to take care of each other. We're going to get through this.'"
And they have gotten through it. Jeff Gordon and Terry Labonte had given Hendrick Motorsports five series championships before the plane crash. Gordon would win 24 of his 93 races after the tragedy. Jimmie Johnson has captured seven NASCAR Cup series season crowns since that day, tying the NASCAR record.
Every race continues to begin with the distinct possibility of a Hendrick Motorsports car parking in victory lane.
Rick Hendrick was inducted into the International Motorsports Hall of Fame in 2013 and the NASCAR Hall of Fame in 2017, and Hendrick Motorsports has maintained its standing as one of the most successful outfits at any level of racing.