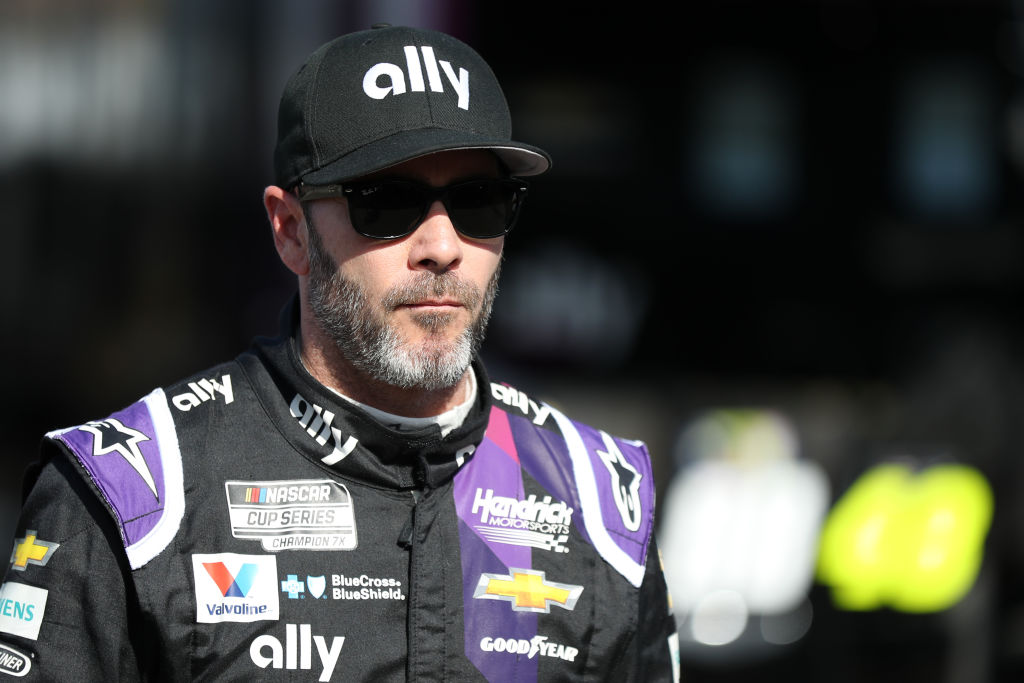 Jimmie Johnson's Historic NASCAR Career Is Ending in Frustrating Fashion
Jimmie Johnson is winless since 2017 and has been eclipsed by two of his Hendrick Motorsports teammates recently.
Despite rain intruding on its two most recent races, NASCAR is prospering again thanks to its time nearly alone in the sports spotlight since coming out of the pandemic hiatus. That being said, the sport just dodged a major embarrassment that can be chalked up to Jimmie Johnson's frustrating journey into retirement.
The only thing worse for NASCAR in terms of publicity than having to disqualify its race runner-up for an equipment violation would be to have to take down the winning car for that reason.
Jimmie Johnson was the man to beat for more than a decade
Jimmie Johnson was lightning in a bottle from the moment he stepped onto the NASCAR Cup Series scene. His first full-time ride came in 2002 with Hendrick Motorsports in what was still known as the Winston Cup Series, and he drove onto victory lane three times, including twice at Dover.
Johnson was the runner-up in series points the next two seasons and then began a dominating run of five straight season championships in 2006. His final two overall crowns would come in 2013 and '16, allowing Johnson to match Richard Petty and Dale Earnhardt with seven championships apiece.
Johnson's reputation has long been that of a driver who enjoys the perks associated with a well-funded team but who still gets more out of the car than might be reasonably expected. His ratio of 83 race victories despite just 36 career starts from the pole points to skillful driving being more important than what's under the hood.
Johnson checks all the boxes for a hall of fame driver beyond the series championships. He won the Daytona 500 in 2006 and '13, and he captured the Brickyard 400 four times from 2006 to '12.
Jimmie Johnson has been in a career-worst slump
For all his glory and achievements on the racetrack, the last three seasons have not gone well for Jimmie Johnson. Following a second consecutive winless season – he had never failed to win at least twice per year before that — Johnson announced in November 2019 that he would be retiring at the conclusion of the 2020 season.
Johnson began the season winless in his last 95 starts, and he has just 10 top-five finishes in the past three-plus seasons, completely uncharacteristic for one of the greats in the history of the sport.
It's apparent at this stage of his career that Johnson, now winless in 102 consecutive races, may be Hendrick Motorsports' biggest name, but Alex Bowman and Chase Elliott are the stars of the organization.
Elliott won three times in each of the two previous seasons and already has three top-five showings this spring. Bowman scored his first win victory a year ago and most recently won at Fontana back in March shortly before racing was suspended because of the coronavirus pandemic.
Given the success that Elliott and Bowman are enjoying, it's hard to point at Johnson rather than his race team or the Hendrick organization as the reason for his protracted slump.
A good night wiped out by disqualification
Just when it looked as though Jimmie Johnson's season might be headed in the right direction, the optimism was wiped out early Tuesday morning. Johnson had appeared to finish second to Brad Keselowski in the rain-interrupted Coca-Cola 600 at Charlotte Motor Speedway, but the result was wiped out during the post-race inspection.
NASCAR officials disqualified the No. 48 Chevrolet after its rear alignment failed the technical inspection. The decision dropped Johnson to 40th in the official race standings, costing his all but one of the series points he had appeared to earn on the night.
"It's the same thing we checked at least a handful of cars for post-race after every event," NASCAR Cup Series managing director Jay Fabian said. "I can't really give specifics on the numbers. Yes, there is a pre-race number and a post-race number that does give a pretty tolerance (and) it was outside of those post-race numbers."
Hendrick Motorsports can appeal the ruling, but all the race teams have their hands full with another quick turnaround this week as the NASCAR Cup Series continues Wednesday in Charlotte.