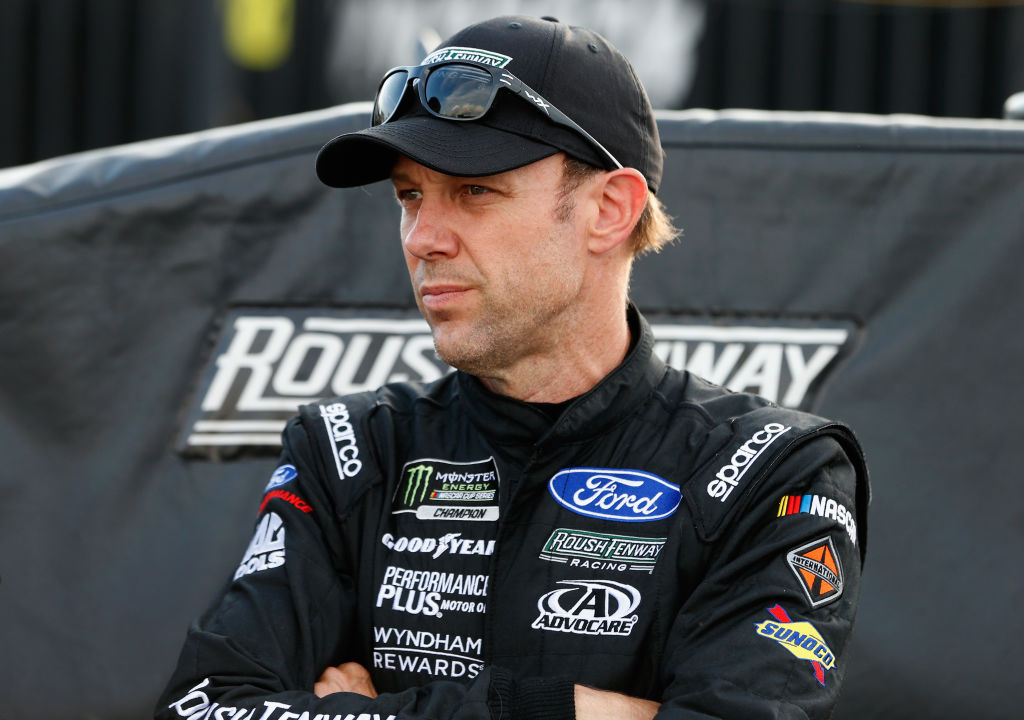 Did Matt Kenseth's $60 Million Net Worth Dull His Desire to Win in NASCAR?
The unique circumstances that required NASCAR to shut down for two months enticed Matt Kenseth, 48, to resume his driving career.
Matt Kenseth was a logical choice to help Chip Ganassi Racing out of a bind, but he wasn't the first choice. Kenseth settled for a part-time ride in the NASCAR Cup Series in 2018 and didn't compete at all last season, so there inevitably are questions about what he offers the team when the suspended season resumes at Darlington.
Matt Kenseth wasn't the first choice
Matt Kenseth has driven Fords and Toyotas his whole career on NASCAR's top-level racing circuit, but he finds himself in a Chip Ganassi Racing Chevrolet as the replacement for Kyle Larson, who got himself fired by using a racial slur while NASCAR was on hiatus due to the coronavirus pandemic.
There was speculation that Ganassi might turn to Ross Chastain, who drives a Camaro for Spire Motorsports, but he hasn't posted top-10 showing in 75 starts doesn't carry weight with sponsors. Jamie McMurray would have brought name recognition and a solid resume, but he'd been away from racing for as long as Kenseth. Ganassi even acknowledged approaching Carl Edwards, who left the sport after the 2016 season and ultimately decided to remain retired.
Edwards would have brought 28 wins in 445 career races to the table, but Kenseth offers an even better track record – 39 victories in 665 starts.
"I have always admired the way Matt Kenseth raced," Ganassi said in a statement. "He has proven to be a consistent winner, strong competitor, and respectful driver, and I'm glad we are able to add another NASCAR champion to the team for the remainder of this season."
Does a man worth $60 million still have the drive?
Matt Kenseth, 48, won eight times and posted 57 top-10 showings over his final three full-time seasons for Joe Gibbs Racing before agreeing to share a ride with Trevor Bayne for Roush Fenway Racing in 2018. That was a signal that he was prepared to walk away from racing even though Kenseth never used the word "retirement" to describe his absence in 2019.
Family considerations – Kenseth is married and has four young daughters – would certainly be one factor in his decision. Wealth would be another, with CelebrityNetWorth.com estimating his net worth at $60 million.
Perhaps most importantly, however, was the fact that there was little left to accomplish. After all, Kenseth's first victory was at the 2000 Coca-Cola 600 and he's also won the Daytona 500 twice. Coupled with a 2003 series championship, there was little left to achieve other than perhaps taking the checkered flag at the Brickyard 400.
Until now, that is.
Matt Kenseth could emulate the Mark Martin encore
The unprecedented twist to the season caused by the pandemic made Matt Kenseth's comeback possible. If not for his gaffe during the two-month shutdown, Kyle Larson would still be driving for Chip Ganassi Racing on a team that showed itself to be competitive in the early going.
"After spending some time thinking about it and all the unique circumstances surrounding all of us right now, it just seemed the timing and the opportunity was perfect to come back," Kenseth said last month. "I know I have a lot of work ahead of me to get up to speed in a relatively short period of time, but I'm looking forward to the challenge."
Kenseth steps into an organization with a big budget, a successful teammate (Kurt Busch), and a proven crew chief (Chad Johnston). The pieces are in place for a Mark Martin-like career revival.
Martin was 47 years old when he dropped to part-time status for a couple of seasons. When he came back as a full-time driver in 2009 as the replacement for Casey Mears at Hendrick Motorsports, Martin went on a terror. He won four times in three months and five times overall at age 50.
Winning five times would be a reach for any mid-season replacement, but getting to victory lane even once – not out of the question in the No. 42 Chevy — would assure Kenseth a place in NASCAR racing lore.