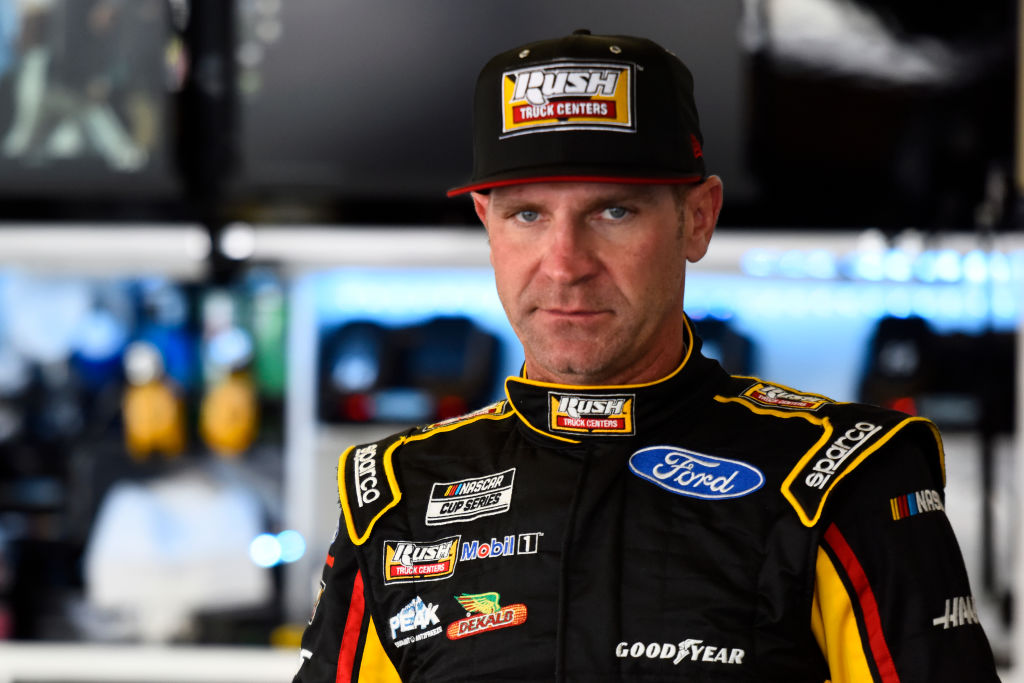 Why Did NASCAR Driver Clint Bowyer Mock Rapper Post Malone?
Post Malone's performance during Super Bowl week in Miami ticked off NASCAR's Clint Bowyer.
It was bad luck for Clint Bowyer to brush against the wall in NASCAR's second race back from the coronavirus hiatus – especially since he didn't hit it nearly as hard as he tagged Post Malone earlier this season.
Still, it was enough to take Bowyer out of contention Wednesday at Darlington Raceway in South Carolina.
Clint Bowyer was on pace for a big night
Daytona 500 champion Denny Hamlin won the first Wednesday night NASCAR Cup Series race since 1984 when rain stopped the event with 20 laps to go. He couldn't have done it without the help of two mishaps late in the race.
A tire went down on Clint Bowyer's No. 14 Ford, which had been running in fourth place, several laps after he scraped the wall. That brought out a caution flag with 34 laps to go. Having recently pitted to put on his last set of fresh tires, there was little reason for him to do so again. Hamlin stayed on the track, which left him in the lead when the green flag came down with 29 laps to go.
Moments later, Kyle Busch's Toyota clipped the back of Chase Elliot's car while trying to get back in line on the high groove. It forced Elliot's No. 9 Chevrolet Camaro down to the inside wall to trigger a caution. The light rain turned to showers moments later and ended the race, sending Hamlin to victory lane.
Bowyer ended the night in 22nd place but could at least take consolation in the fact that he won the first two stages of the race, the first time a driver had done that this season.
He literally took a swing at Ryan Newman last year
Much was made of the caution that Kyle Busch triggered by tapping Chase Elliot's car while trying to fall back into line late in the race. Elliot clipped the inside wall and was done racing for the night. He gestured angrily when Busch circled past him on an ensuing lap.
Video showed the Busch misjudged the gap and was obviously at fault. He helped defuse the situation by apologizing quickly and sincerely after the race.
The same couldn't be said regarding the memorable dust-up last year involving Clint Bowyer and Ryan Newman after the NASCAR All-Star Race at Charlotte Motor Speedway. The pair got into it on pit road at the conclusion of the race, beginning with Bowyer confronting Newman, who was still in his car. Bowyer started throwing punches while Newman was still strapped into in his seat.
Moments earlier, Newman had tapped Bowyer's Stewart-Haas Racing Ford into the wall during the cool-down lap. Newman said later that he didn't like how Bowyer had raced him. For his part, Bowyer said he didn't know what the problem was and that he thought Newman was a lap down in the latter stages of the race anyway.
"After the race, he comes and runs into my back and turns me all around, and I pull up next to him, and he dumps me into (Turn) 4. Where I come from, you get poked in the nose for that. What he got."


Clint Bowyer
Clint Bowyer's most recent beef was with Post Malone
Veteran driver Clint Bowyer, who has won 10 races and been in the top 10 at the finish 216 times on NASCAR's top circuit, can come across as blunt whether he's discussing competitors on the track or anything else.
He even took a tire iron to entertainer Post Malone's work ethic early this year in an interview during the lead-up to the season-opening Daytona 500. Bowyer attended Malone's pre-Super Bowl show in Miami and came away completely unimpressed with the rapper.
Heavy rain pushed back the start of the performance. Still, Malone was nowhere to be found after being introduced by comedian Kevin Hart, leaving a DJ to fill in until Malone made his entrance at 2:30 a.m. His set lasted approximately half an hour, he stopped singing mid-song at times while background tracks of his voice continued, and Malone admitted between songs to being intoxicated.
"All my wife wanted to do is go to this Post Malone," Bowyer said. "'Oh, Postie. I want to go see Postie. Don't screw this up. I don't care where we go, where you drag me, but I want to see Postie.'
"Well, Postie showed up two hours late, he was drunk, played seven songs — kind of — and left. Posty sucked."

Bowyer grudgingly admitted that Malone does have a certain talent.
"Hey anybody that can tattoo their face to that extent, drink beer on stage to a lot of extent, show up two hours late and leave after seven songs, he's doing something right."



Clint Bowyer