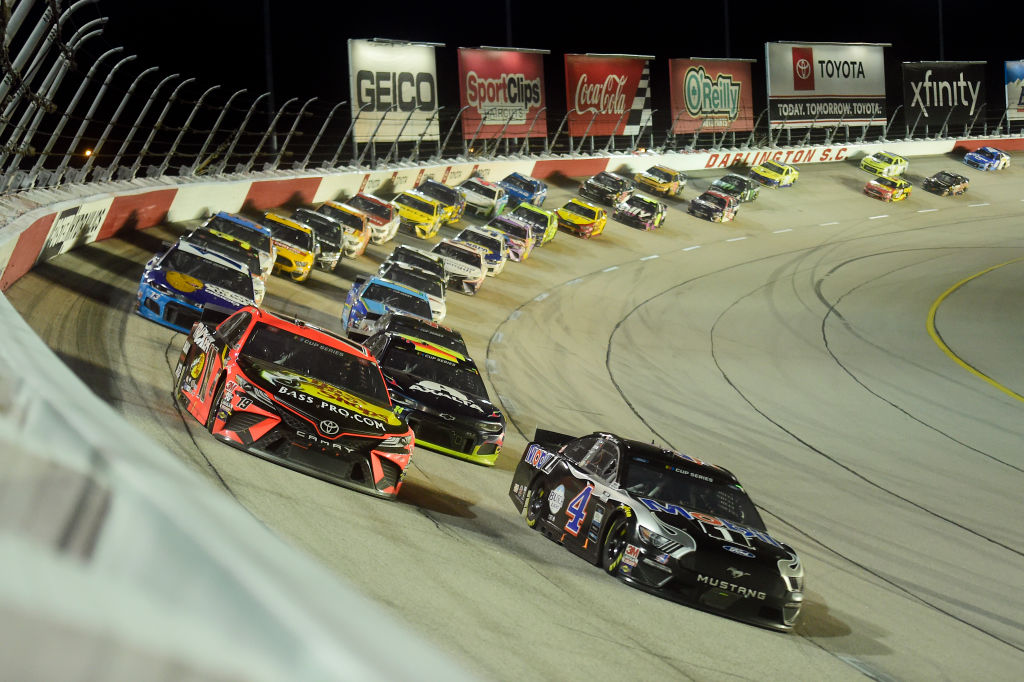 NASCAR Toyota 500 Ends With Rain, a Wreck, and Plenty of Pit Row Fireworks
NASCAR had its second race in four days and there's already controversy. Not surprisingly, Kyle Busch is right in the middle of it.
On a damp South Carolina evening in Darlington in just the second NASCAR race back after a two-month-long hiatus, there was plenty of excitement and pit-row fireworks to close out the Toyota 500. Denny Hamlin and Joe Gibbs Racing may have won the rain-shortened race, but Kyle Busch made the headlines.
NASCAR returns to Darlington
With the forecast calling for showers most of the day, many race fans thought the NASCAR Cup Series might meet a similar fate as the XFinity Series race that was scheduled for Tuesday night but was postponed due to rain. 
Fortunately, the rains held off long enough for the race to be official, and Denny Hamlin was declared the winner when the rains finally came and ended with race with 20 laps remaining. Hamlin earned his third career victory at Darlington and won the first NASCAR Cup Series race held on a Wednesday night since July 4, 1984. Hamlin moved up to sixth in the point standings.
Hamlin was happy following the race and exited his vehicle wearing a mask that appeared to have a print of his face with a smile on it. "I got my happy face on," Hamlin joked. "I made sure I brought it with me." 
Kyle Busch finished in second, but it wasn't without controversy.
Kyle Busch wrecks Chase Elliott and knocks him out of contention
With 28 laps to go and Hamlin in the lead, Chase Elliott pulled up behind the leader and appeared to be headed to the front of the pack. On the inside, Kyle Busch tried to slide up and get in with the rest of the line in between Elliott and Kevin Harvick but made a terrible miscalculation.
Busch's right front clipped Elliott's left rear quarterpanel, which then shot the No. 9 of Elliott down the track into the inside wall. Elliott's car bounced off the wall and back up into the oncoming traffic, numerous cars narrowly avoiding the crippled vehicle.
Up in the broadcast booth, former NASCAR driver Jeff Gordon expressed the same surprise as those watching at home on television. "Not sure what that was all about from Kyle Busch. Don't know if he misjudged trying to side draft Chase Elliott but he definitely turned him."
An unhappy Chase Elliott climbed out of his vehicle, and made his way over to the track where the 24-year-old Elliott made sure Busch knew of his discontent offering up a middle finger as the veteran driver passed. 
Busch confronted after the race
Following the race, instead of Busch and Elliott having a driver-to-driver discussion, Elliott's crew chief Alan Gustafson subbed for his driver, and the two proceeded to have an animated conversation. When it was over, Busch was interviewed by Fox Sports' Matt Yocum about the incident and asked what happened.
"There's no question, I know. I made a mistake and just misjudged the gap. We were racing the No. 11 and the No. 9 had a run on him, I knew that he was there. I knew I needed to get in line as quick as I could. And in doing so, I watched him and his momentum that was going by me and then I tried to look up in the mirror and see where Harvick was to get in. I just misjudged it. I made a mistake and clipped the No. 9 there and spun him into the wall."
Busch, clearly recognizing the bad optics of what happened, made it known there was nothing intentional on his part.
"I hate it for him and his guys. I got too many friends over there on that team to do anything like that on purpose. I've raced Chase since he was a kid, and I've never had any issues with him whatsoever. It was just a bad mistake on my part. I'll just have to deal with it later on."
NASCAR is indeed back.