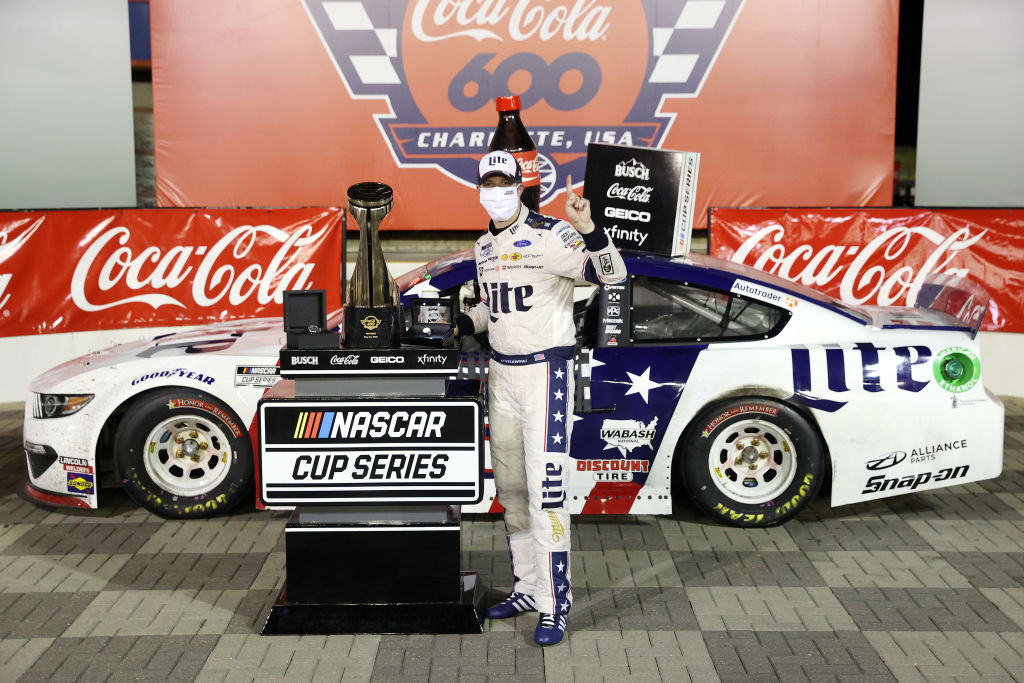 Brad Keselowski Used to Jump Into Dumpsters for $20 a Day; Now He's Worth $45 Million
As a teenager, Brad Keselowski made $20 a day jumping into dumpsters and sweeping floors. These days, his net worth and salary are a bit larger.
Every sports fan loves a dramatic rise to prominence. In boxing, part of Mike Tyson's mythos was his troubled childhood; similarly, Babe Ruth's incredible career started at St. Mary's Industrial School. Brad Keselowski might not have had as tough of a time growing up, but he's still seen quite a dramatic change in earning power over the years.
Growing up, Keselowski worked for his dad, Bob's, racing team, doing grunt work for $20 a day. Now, things are a bit different; today, the driver has an estimated net worth of $45 million.
Brad Keselowski's racing career
These days, Brad Keselowski is simply a fixture on the auto racing scene. His career, however, started out in a much different way.
Growing up as a member of the Keselowski family, racing was in Brad's blood. While he made his NASCAR debut in 2004, he wasn't at the wheel of a stock car; he started out in the Gander RV & Outdoors Truck Series at the wheels of a Ford F-150. He would stay there for a couple of campaigns and, in 2006, finally moved into the Xfinity Series ranks.
During that first season, Keselowski received a phone call from Dale Earnhardt Jr., asking him to join JR Motorsports for the rest of the campaign; that moment would change Keselowski's young career. He would stay with their Xfinity series team until 2010, when he joined up with Penske.
In the Sprint Cup, however, Keselowski's career seemed to be stuck in neutral. After brief spells with Hendrick Motorsports and Phoenix Racing, he joined Penske Championship Racing in 2010. That NASCAR Cup Series campaign, though, was a disaster; Keselowski's fortunes got a bit better in 2011, as he won three races, but the driver still remained generally inconsistent.
Things finally clicked for Keselowski in 2012, though, as took things to another level in 2012, however, claiming five checkered flags and 13 top-five finished en route to the Sprint Cup Series title. While he hasn't reached those same heights since, Keselowski is still a force to be reckoned with on race day.
Starting out earning $20 a day
To an outsider, growing up around a race team might seem like a dream come true. For Brad Keselowski, however, that reality brought plenty of grunt work and a (relatively) small paycheck.
"They let me sweep floors, and I ended up mowing the grass a lot and mopping," Keselowski explained to Jeff Gluck of USA Today in 2015. "I think I made like $20 a day —which was a lot of money when I was 16. I had to work 8 to 5 every day in the summer."
The job wasn't without its hazards, though. As a teenager, Brad found himself leaping into dumpsters full of scrap metal and tobacco spit. Needless to say, it wasn't his favorite part of the day.
"Anyway, the trash only got picked up once a month," Keselowski continued. "Race teams are fairly dirty, and once a month was not enough to keep the dumpster from overflowing. They used to have these big cardboard boxes, and I'd save them and put them in last – because you could jump on top of them and crush them down to fit the last garbage in. I remember being 15 or 16 years old in the dumpster, jumping on the boxes, and there'd be [tobacco] spit and chew all over everything. There were scraps of metal, and you'd be like barely dodging them to not get cut open."
Brad Keselowski's earning power and net worth are a bit different today
While Brad Keselowski cut his teeth doing the grunt work in his dad's shop, things are a bit different today. Not only is he behind the wheel of the car rather than taking out the trash, but his bank account is significantly larger.
According to a 2019 Business Insider estimate, Keselowski takes home approximately $11.2 million per season. While there's obviously some seasonal variations, Forbes came up with a similar number; they pegged the driver's salary and winnings at roughly $9.8 million, with the remaining $1.4 million coming from endorsements and licensing deals.
These days, CelebrityNetWorth estimates Keselowski's total fortune at $45 million. That's quite the improvement from earning $20 a day and jumping into dumpsters.