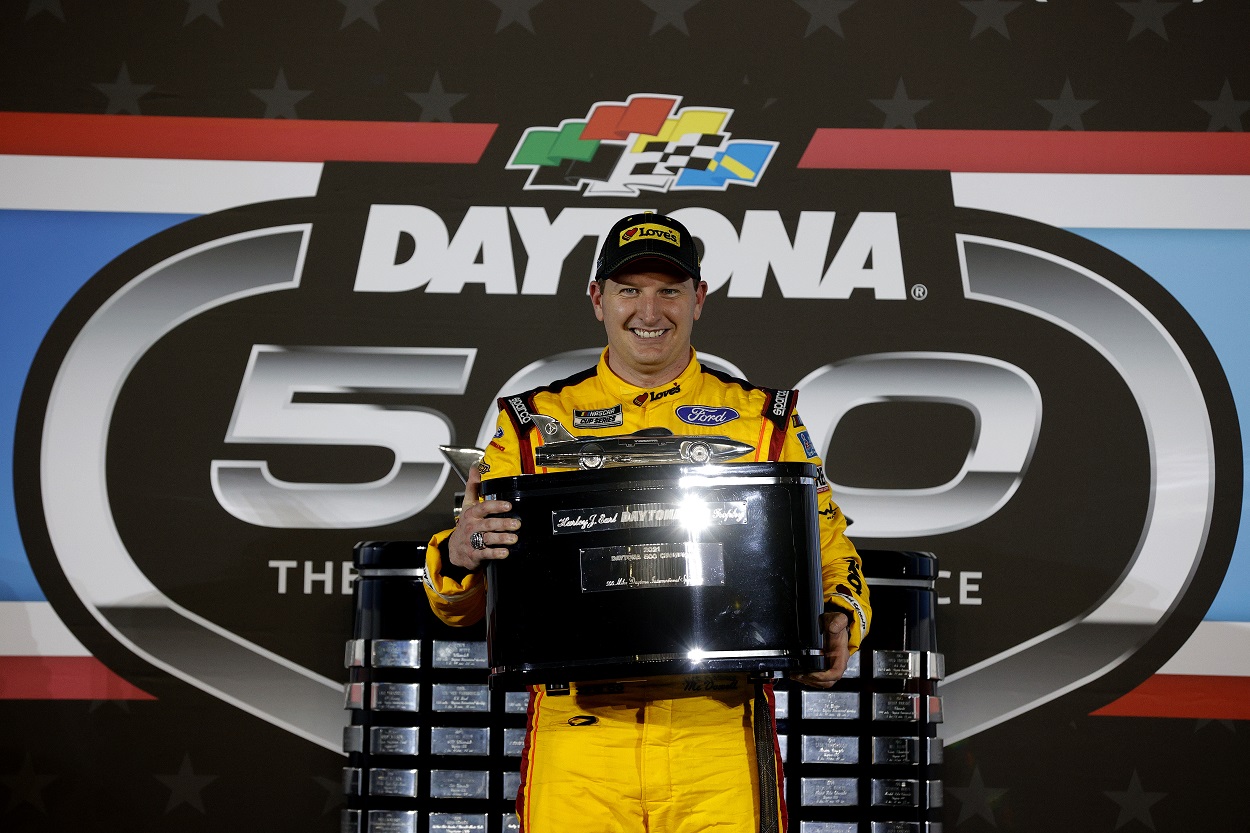 Michael McDowell Shared a Hilarious Moment With a Pair of Rival NASCAR Drivers Following His Win at the Daytona 500
Daytona 500 winner Michael McDowell shared a hilarious moment with two rival NASCAR drivers following the race that some may have missed.
In what can only be described as one of the biggest upsets in motorsports history, Michael McDowell captured his first-ever NASCAR Cup Series victory in his 358th attempt by avoiding a fiery final-lap wreck to win the 2021 Daytona 500, which naturally brought about a big celebration.
What some may not have noticed, however, is that McDowell had a little trouble during said celebration and actually needed some help from a couple of rival drivers to continue it.
Michael McDowell avoided a fiery wreck on the last lap of the Daytona 500 to capture his first NASCAR Cup Series victory
With zero wins in 357 previous NASCAR Cup Series races, Michael McDowell certainly wasn't one of the favorites heading into the 2021 edition of the Daytona 500.
At 100-1 odds to win, McDowell began the day in 17th position but saw his chances to win go up quite a bit when a number of contenders were knocked out of the race in a crash on lap 14, a wreck that came just ahead of a five-and-a-half-hour weather delay.
When the race finally restarted under the lights, McDowell gradually moved his way toward the front of the pack and was running in third position heading into the final lap behind Joey Lagano and Brad Keselowski.
And then it happened.
In the final moments of NASCAR's season opener, Keselowski bumped Lagano, setting off a fiery crash that collected a number of other drivers in the process. McDowell, however, was able to avoid the wreck and was a car length in front of Chase Elliott when the seventh and final caution flag of the race came out, giving McDowell the historic win.
He became the eighth driver in NASCAR history to get his first Cup Series win at the Daytona 500
In winning the Daytona 500, Michael McDowell became the eighth driver in NASCAR history to pick up his first Cup Series victory at "The Great American Race." Here's a quick look at the list.
1963: Tiny Lund (Start #133)
1967: Mario Andretti (Start #7)
1970: Pete Hamilton (Start #21)
1990: Derrike Cope (Start #72)
1994: Sterling Marlin (Start #279)
2001: Michael Waltrip (Start #463)
2011: Trevor Bayne (Start #2)
2021: Michael McDowell (Start #358)
Michael McDowell got stuck on his victory lap and needed assistance from two rival drivers to get out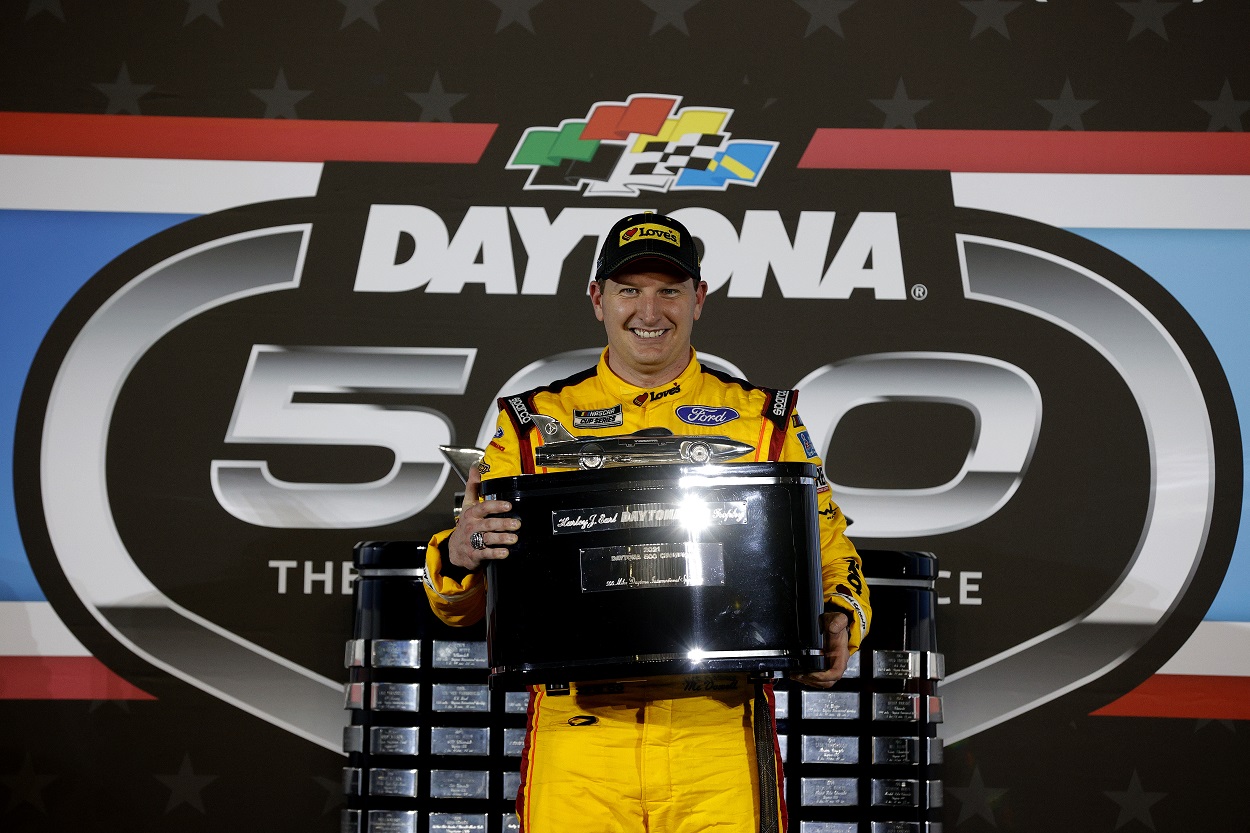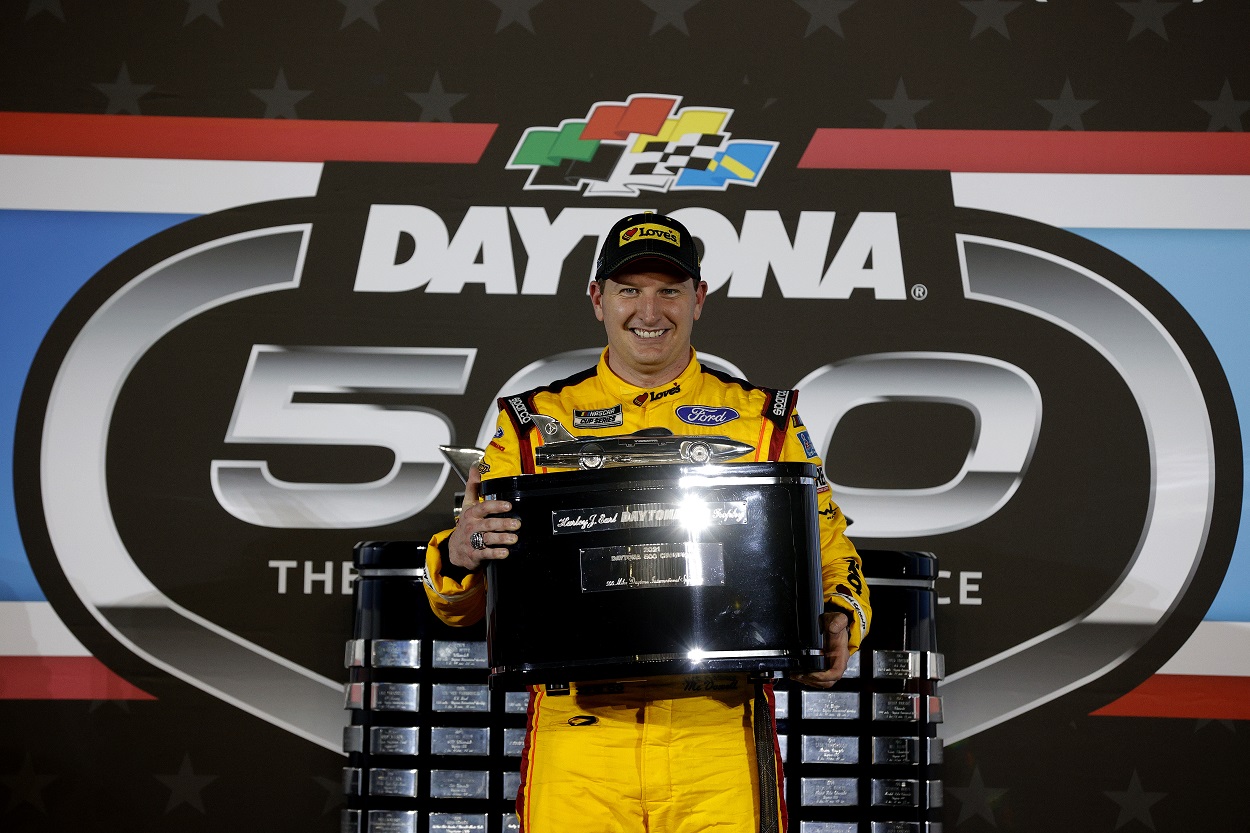 While the fiery wreck on the final lap of the Daytona 500 and Michael McDowell finally earning his first Cup Series victory after 357 races in 13 years obviously got a lot of attention, what some NASCAR fans may not have noticed is that McDowell got stuck while taking his traditional victory lap.
A ton of rain had obviously fallen on Daytona International Speedway that day and McDowell, who drives for small-market Front Row Motorsports got his No. 34 Ford stuck on the infield while doing donuts.
But Ross Chastain, who drives for Chip Ganassi Racing and finished seventh, and Richard Childress Racing driver Tyler Reddick, who finished 27th, came to McDowell's aid and pushed him out of the wet grass so he could continue his celebration.
NASCAR is obviously extremely competitive but it was nice to see two rival drivers help out to ensure a longstanding tradition was finished.
Stats courtesy of NASCAR.com