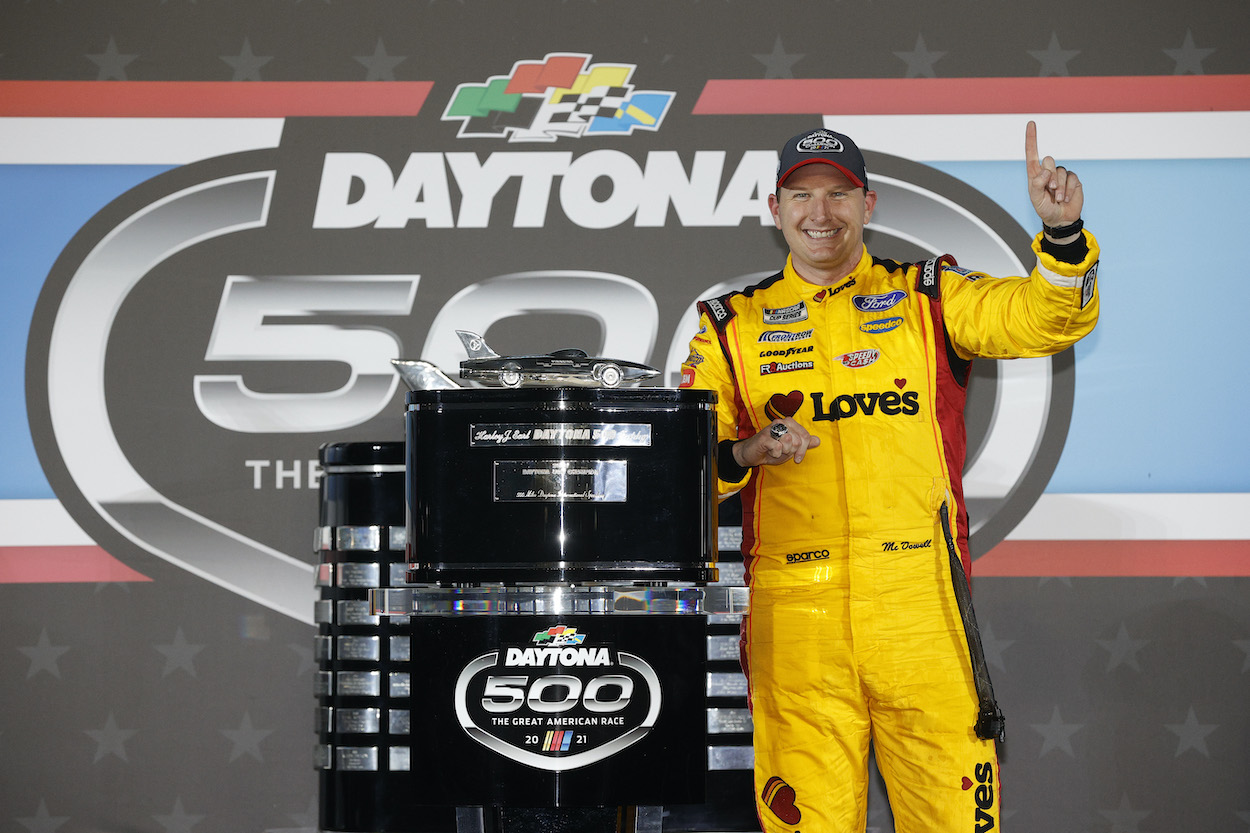 Michael McDowell Beat 100-1 Odds and a 357-Race Losing Streak to Score Historic Daytona 500 Upset
Michael McDowell went winless in his first 357 NASCAR Cup Series races, but he beat 100-1 odds to win his first event at the Daytona 500.
In a wild Daytona 500 that featured a 16-car pile-up in the first few minutes of the race, a six-hour rain delay, and a fiery wreck during the final lap that took out the leaders, it was only right that a 36-year-old veteran with zero NASCAR Cup Series wins came away with the checkered flag.
Michael McDowell, who was a 100-1 longshot to win the race, triumphed at Daytona Sunday for his first career Cup Series win. The historic upset marked one of the most unlikely Daytona 500 wins in NASCAR history, and not even McDowell could believe what he accomplished.
Michael McDowell entered the Daytona 500 on a 357-race losing streak
Entering the 2021 Daytona 500, Michael McDowell was barely even mentioned alongside the big names in the field. McDowell is a 13-year veteran in the NASCAR Cup Series, but there was no reason to believe he could compete for the Daytona crown this season.
In 357 previous Cup Series starts, McDowell hadn't won a single race. He only recorded three top-five finishes and 12 top-10s in his lengthy career leading up to this year's Daytona 500. He's never finished better than 23rd in the Cup Series standings in any of his 13 seasons as a driver.
McDowell was nothing more than an afterthought heading into the Great American Race. But after a massive wreck on Lap 14 and a six-hour rain delay, McDowell found himself just a few paces off leader Joey Logano entering the final lap. Speeding around Turn 3, Logano and Brad Keselowski collided, causing a fiery, eight-car wreck that allowed McDowell to catapult into the lead.
With the caution flag flying, McDowell narrowly beat Chase Elliott to the finish line and was named the winner of the Daytona 500. He hadn't led a single lap before his final push to the checkered flag.
Even after 357 races without a victory, McDowell never lost hope that he would eventually be able to skid his tires into the winner's circle.
"When you show up to the race track, and you know that you're — I don't even know how to say it — you're just in the way, taking up space, it's hard to do that year after year and week after week," McDowell said after the race. "So you've got to have a bigger purpose than that. For me, it was knowing that I would get an opportunity eventually."
McDowell was a 100-1 longshot to win the Daytona 500
Was anyone out there brave enough to bet their hard-earned money on Michael McDowell as a hefty longshot Sunday? If there are any of you out there, first of all, congratulations! Second of all, where do you keep your crystal ball?
McDowell entered the Daytona 500 as a 100-1 underdog to win the race. A simple $100 bet on the NASCAR veteran would've netted an absurd $10,000.
Not even Michael McDowell could believe his historic feat
After he crossed the finish line Sunday night to win the Great American Race, not even McDowell could believe what he had just accomplished.
"When I came across the [finish] line, I just thought, 'Oh my gosh, is this possible?'" McDowell said. "I mean, 'It's possible that we just won the race. I don't know if it is.' And then immediately, it sunk in that if we didn't, I'm going to be so upset."
But there was no need to be upset. Once the announcement finally came, McDowell was stunned.
"It was a long [cool-down] lap," McDowell continued. "And it really became a blur when they said that we won and to go to the start finish line. It really was. It's just overwhelming."