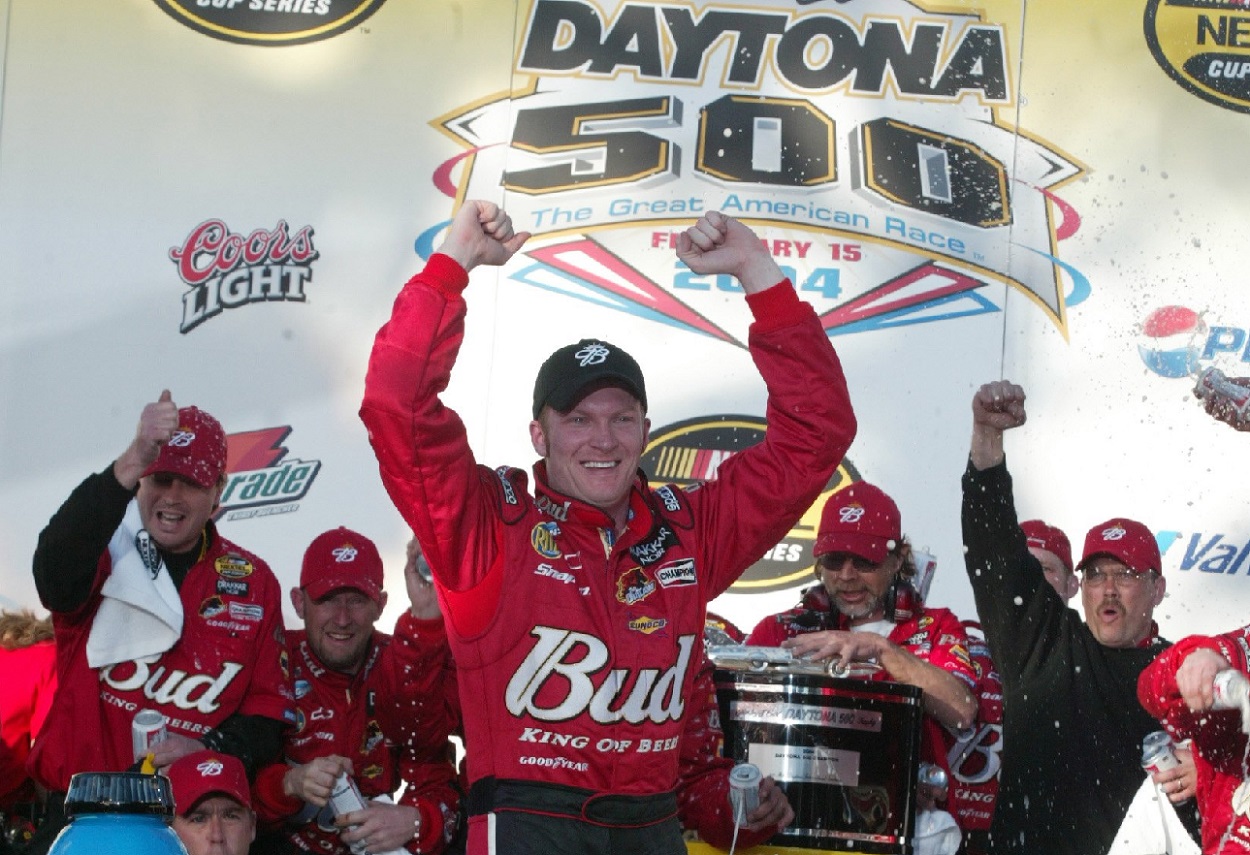 The NASCAR Conspiracy Theory That Dale Earnhardt Jr.'s 2004 Daytona 500 Win Was Rigged As it Came on a Very Special Anniversary
The theory that Dale Earnhardt Jr.'s 2004 Daytona 500 victory was rigged as it was the anniversary of his father's win at "The Great American Race."
On February 15, 2004, Dale Earnhardt Jr. pulled off one of the most emotional victories in the history of motorsports by winning the Daytona 500 on the anniversary of the day his father, NASCAR legend Dale Earnhardt Sr., won his first and only "Great American Race."
And that just seemed a little too convenient for some as conspiracy theorists hinted that the fix was in that day at famed Daytona International Speedway, which is obviously the same track where Earnhardt Sr. tragically passed away in 2001, which only added fuel to the fire.
Now, what's even crazier than the fact that some still think Dale Earnhardt Jr.'s win was rigged is the fact that some also believe his father's historic victory six years earlier was a little suspect as well.
Dale Earnhardt Sr. won his only Daytona 500 on February 15, 1998
The 40th running of the Daytona 500 took place on February 15, 1998, and Dale Earnhardt Sr. was competing in "The Great American Race" for the 20th time in his NASCAR career.
Not only had Earnhardt Sr. never won the Daytona 500 in 19 previous attempts, he also came into that day on a 59-race winless streak. He was 46 at the time and had suffered a number of heartbreaking losses at Daytona over the years — well, at least in the 500 as he'd won 33 other races there.
In what turned out to be a remarkably clean race — it's still the second-fastest Daytona 500 in history as there were only three cautions and no accident-related retirements — Earnhardt Sr. led 107 laps of the 200-lap race and really wasn't challenged at all over the final 60. That led some to believe that the race was just handed to him, which is simply an absurd notion as the No. 3 car was just better than everyone else's that day.
Dale Earnhardt Sr. nearly pulled out another win at the Daytona 500 the following year but just couldn't get past Jeff Gordon on the final lap. He finished 21st in 2000 and we all know what happened the following year.
Dale Earnhardt Jr. won his first Daytona 500 on February 15, 2004
Six years to the day after his famous father won his only Daytona 500, Dale Earnhardt Jr. was set to begin "The Great American Race" in third position but took over the first starting spot after the two cars in front of him were moved to the rear of the field for engine changes, which the NASCAR conspiracy theorists always like to point out (no, I'm not one of them).
Earnhardt Jr. led the early laps of the race and ended up leading 56 laps of the race overall. Tony Stewart actually dominated a large portion of the race, leading 98 laps, but Earnhardt Jr. took the lead on lap 181 and held off Stewart to capture the first of what would turn out to be two Daytona 500 victories.
The conspiracy theorists obviously noted the date of Junior's victory and also noted how excited Stewart was to finish second, which certainly wasn't a typical Stewart reaction. They claimed the two had worked together for the entirety of the race and that Stewart had let Earnhardt Jr. pass late in the race to build the drama to the emotional victory, which, again, is absurd.
Junior addressed the doubters the day after his emotional win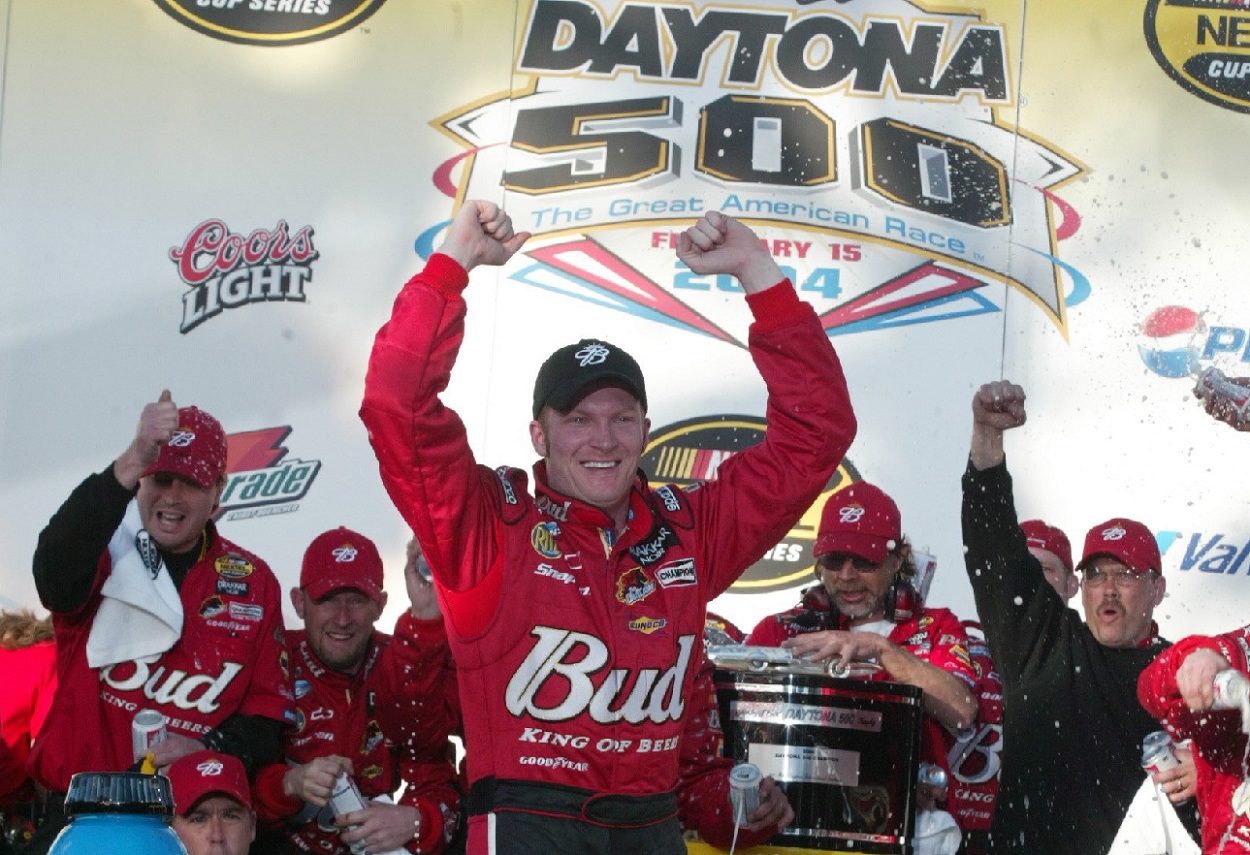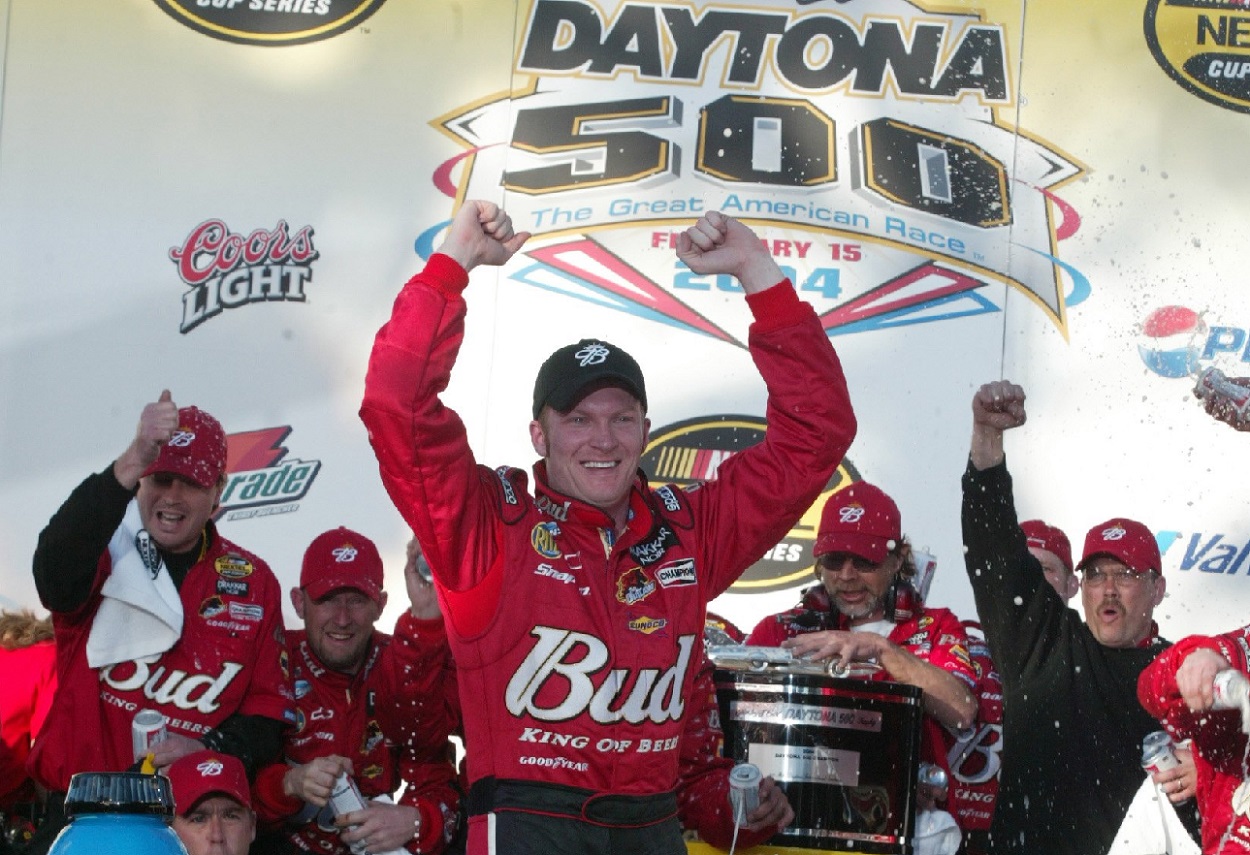 One day after his emotional win at the 2004 Daytona 500, Dale Earnhardt Jr. addressed the conspiracy theorists in a teleconference call and simply couldn't believe that some people just couldn't let him enjoy the victory (h/t Los Angeles Times).
"I think [my fans] know better. I think it's a shame that people don't have anything better to do. But I guess you'll have that with anything anytime somebody succeeds with anything.

"There are going to be some doubters and some people that criticize it, no matter what. Some people just can't leave well enough alone and enjoy their own life. They've got to try to mess with somebody else's. I get upset about it, but there isn't much I can do about it, except to keep on winning and keep on enjoying my own life."

Dale Earnhardt Jr.
Dale Earnhardt Jr. went on to win a second Daytona 500 in 2014, which just happened to be the day his Dale Earnhardt Sr.'s famous No. 3 made its return to NASCAR. So you can imagine how that victory was looked at by some.