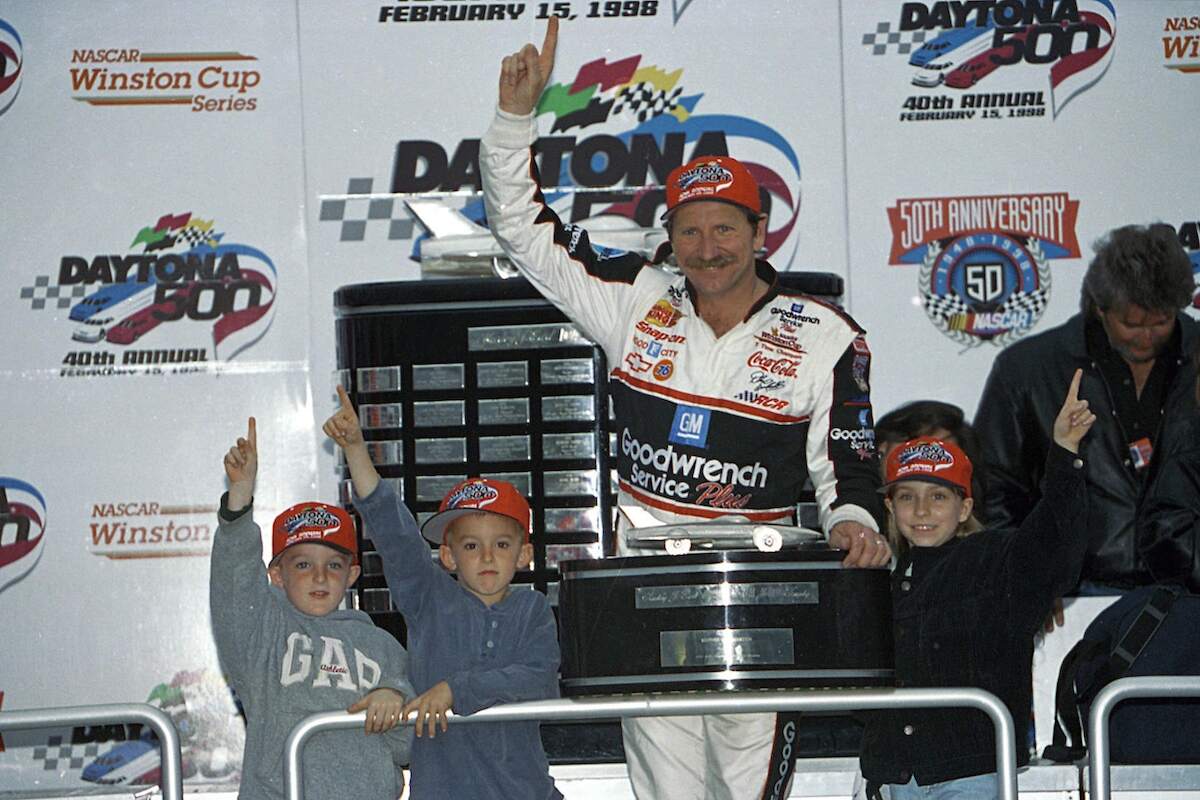 Dale Earnhardt Jr. Shocked on Podcast Hearing Story About NASCAR President Talking With His Dad on Radio During Races, Including 1998 Daytona 500
Dale Earnhardt Jr. was genuinely shocked on his podcast to hear Larry McReynolds tell a story about how NASCAR President Bill France Jr. talked with his father on the radio during races.
Dale Earnhardt was the definition of NASCAR, winning seven Cup Series championships in his legendary career. For Earnhardt, being the face of the sport included special privileges, like close ties with the top bosses at NASCAR headquarters.
On the Dale Jr. Download podcast, Larry McReynolds genuinely shocked Junior when he revealed just how cozy his father got with some of NASCAR's top brass. McReynolds described an incident that occurred mere minutes before Earnhardt won the 1998 Daytona 500. That moment almost cost him his NASCAR career. 
Dale Earnhardt teams with Larry McReynolds
By 1997, Dale Earnhardt was looking for a change. After winning back-to-back Cup Series championships in 1993 and 1994, Earnhardt finished second in 1995 and lost his crew chief Andy Petree after the season. 
The following season, Earnhardt's long-time jackman David Smith shifted into the crew chief role. Earnhardt won just twice that year and finished fourth in the year-end points standings. 
After the 1996 season, car owner Richard Childress went through lengthy discussions and lured Larry McReynolds away from Robert Yates Racing, where he had served as crew chief for 1992 Daytona 500 winner Davey Allison. Many pundits thought pairing one of the top crew chiefs in McReynolds with Earnhardt would yield wins and more Cup Series titles in the following years. 
Pair go winless in 1997 NASCAR season
The 1997 NASCAR season came with a new crew chief and new expectations from the Dale Earnhardt camp. In the first race of the season at Daytona, Earnhardt looked good for much of the race and was in contention late. But Earnhardt fans didn't get their hopes up. They had been down this road too many times before and got burned. And it happened again.
With 12 laps to go, Earnhardt was involved in an accident that flipped the No. 3 car on its roof and slid down the track, before eventually uprighting itself. The Intimidator was denied yet again at Daytona. Unfortunately, it was a precursor of things to come.
For only the second time in Dale Earnhardt's illustrious career, he failed to win a race during the season. Despite not making a trip to victory lane in 1997, Earnhardt finished fifth in the point standings. It certainly was not the start McReynolds or anyone in Earnhardt's camp wanted, much less expected.    
Shocking radio communication between Dale Earnhardt and Bill France Jr. during 1998 Daytona 500
After such a disappointing 1997 NASCAR season, Earnhardt and McReynolds planned on 1998 being different, starting with the Daytona 500. Things started well at the first race of the year. Earnhardt was undoubtedly the class of the field throughout the day. With around 20 laps to go and leading the race, a caution came out. 
McReynolds called for a quick stop with a two-tire change. The rest of the field followed suit, and the No. 3 team left the pits with the lead. With Earnhardt back on the track in front of the pack and behind the pace car, McReynolds said what happened next was something Richard Childress warned him about when he signed with RCR before the 1997 season.
"Richard told me, 'I just need to pre-warn you about something. As you know, Dale and [NASCAR President] Bill France Jr. are really tight,'" McReynolds told Dale Earnhardt Jr. on the Dale Jr. Download podcast. "'And Bill France Jr. has a radio, and every once in a while, it's rare, he'll talk to Dale on the radio under caution.'"
"Holy cow!" Earnhardt Jr. responded in disbelief.
"We make the pit stop. All of a sudden, on the radio, I hear this voice, that says, 'Hey Sunday Money, this is Captain Jack.' I'm thinking – who the hell is Captain Jack?" McReynolds recalled as Earnhardt bursts out laughing. "Who is on our radio? And Richard (Childress) saw me, and he knew I was about to have me a come apart. Captain Jack is about to get cussed out. And Richard about tackled me, and he kept pointing (toward the press box). I went, 'Oh, Captain Jack.' He said, 'Hey, Sunday Money, this is Captain Jack. Why don't you go snag that big one today?' And, of course, your dad knew who it was. He said, '10-4, we're going to do it.'" 
"Wow!" Dale Earnhardt Jr. responded in genuine awe at what he had just heard. McReynolds said had Childress not intervened when he did, he would have certainly cussed out France Jr. and lost his job. But he didn't, and instead, several laps later, he watched as Dale Earnhardt Sr. captured his first and only Daytona 500.  
Like Sportscasting on Facebook. Follow us on Twitter @sportscasting19.