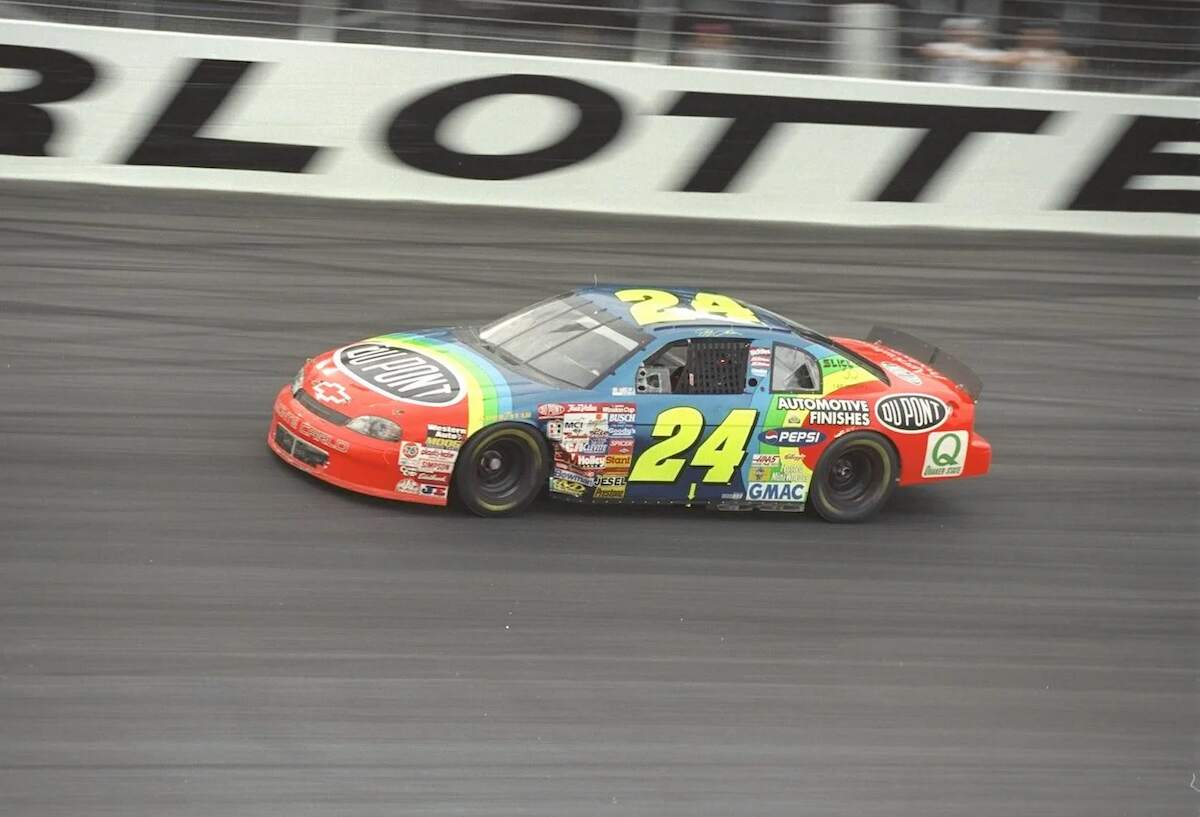 Jeff Gordon's Famed Rainbow Car Was Purchased at Auction for a Staggering Amount by a Surprise Buyer
Jeff Gordon was known as 'The Rainbow Warrior' for his multicolored scheme car. One of his 1996-97 cars went on the auction block and was purchased by a surprise buyer for an eye-popping amount.
Jeff Gordon was known as The Rainbow Warrior for the multicolored scheme of his No. 24 Chevrolet. Throughout his 25-year career in NASCAR, Gordon drove the rainbow car and variations of it to an impressive 93 Cup Series wins — three of them Daytona 500s — as well as four Cup Series titles. 
In January 2021, the No. 24 rainbow car Gordon drove to victory multiple times during the 1996 and 1997 seasons was put up for auction. The car sold for a staggering amount to a surprise buyer who is quite familiar to NASCAR fans. 
Jeff Gordon wins early in his NASCAR career 
Jeff Gordon raced his first full Cup Series schedule in 1993, driving the very bright and recognizable rainbow-themed No. 24 Chevrolet. A year later, Gordon, known as The Rainbow Warrior, won his first race and began establishing his reputation as someone known more for his driving skills than his car's color scheme. 
By 1995, Gordon was the best driver on the circuit, winning seven times en route to earning his first Cup Series championship. The following season, Gordon won an impressive 10 times but came up just short to Terry Labonte in the final standings.
Gordon started the 1997 season impressively, winning his first Daytona 500 — one of 10 races he won that year — and once again reclaimed the title of NASCAR's top driver for the second time in three years. 
During 1996 and 1997, like every other season, Jeff Gordon drove multiple rainbow-themed No. 24 Chevrolets. Recently, one of those vehicles made its way to the auction block. 
Jeff Gordon's car goes up for auction
The familiar No. 24 rainbow-themed car Jeff Gordon drove in nine races during the 1996 and 1997 season, including three wins during those two seasons, was auctioned off on bringatrailer.com. 
The description of the car, which was nicknamed "Brewser" by the team, details its past history, including all the refurbishments made to the vehicle before it was originally acquired almost a decade ago. 
Among the more notable details on the sale of the vehicle, it includes Hendrick Motorsports certificates of authenticity, a bill of sale, and a handwritten mileage log that chronicles the racing and testing history of the vehicle, which includes a pair of victories at Martinsville and another at North Wilkesboro.
The dashboard is also signed by Jeff Gordon and his longtime crew chief, Ray Evernham.  
Purchased by surprise buyer
After being on the block for more than 10 days, the auction closed on January 21, 2021. The winning bidder won the vehicle with an eye-popping bid of $155,000. What turned out to be more intriguing than the final selling price was the one who paid it. It was none other than one of the two men who autographed the dashboard, Ray Evernham.
Evernham joined forces with Jeff Gordon during the early part of his career. The pair was the dominant team in NASCAR, winning 47 Cup races and three Cup Series championships in 1995, 1997, and 1998. 
If anyone outside of Gordon had a special affinity for the vehicle, it was Evernham. Now, he can show it off to anyone who wants to see a piece of NASCAR history that he was an important part of making happen.