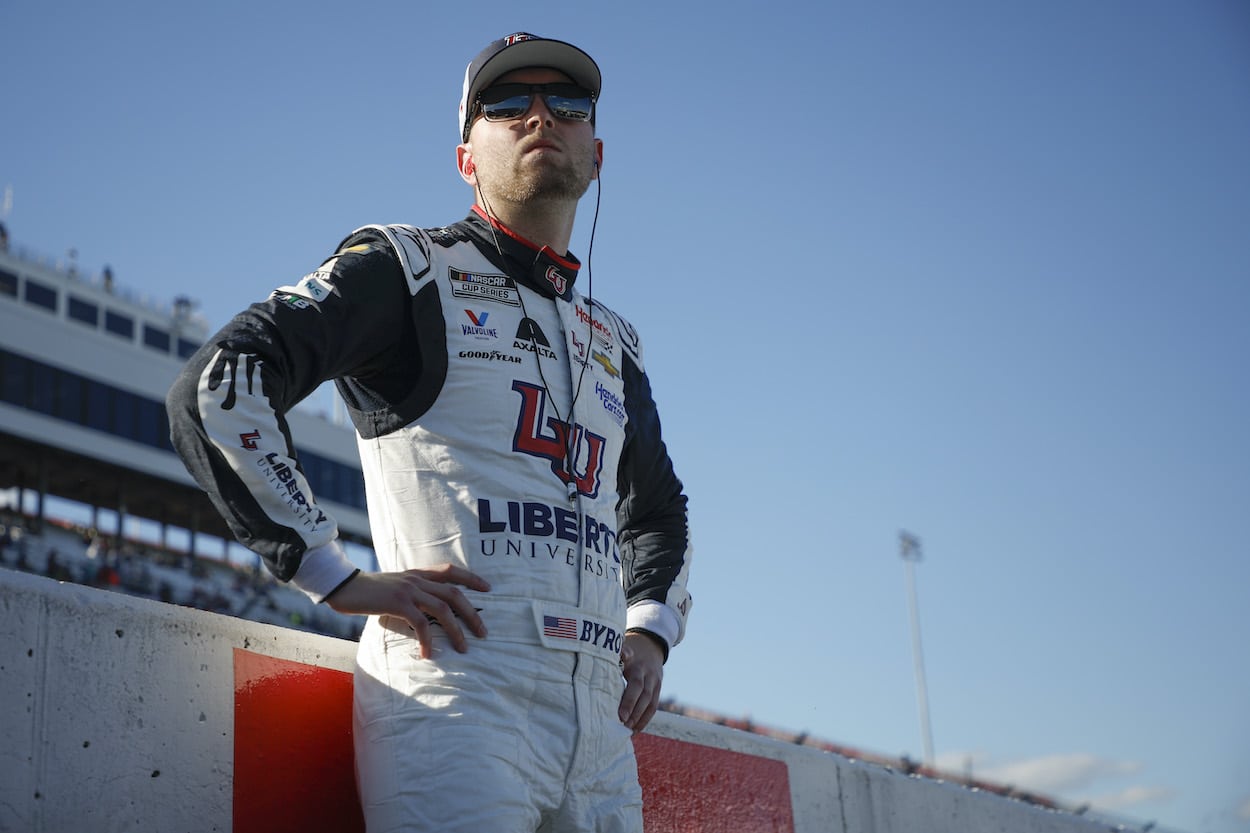 William Byron Details Why He Didn't Work With Hendrick Motorsports Teammates Late at Talladega
William Byron pulled off a late-race move at Talladega that some HMS fans have questioned. The No. 24 driver explains why he did it.
Last year, William Byron recorded his first multi-win NASCAR Cup Series season, scoring a pair of victories at Las Vegas and Phoenix. In 2023, the Hendrick Motorsports driver has taken his game to the next level and had a breakout year, earning a series-leading six wins through the first 31 races.
On Sunday at Talladega Superspeedway, the 25-year-old finished runner-up to Ryan Blaney. Interestingly, that result was largely due to a move he made late in the race when he bailed on a pair of his HMS teammates. After the race, he explained why. 
William Byron having impressive 2023 campaign 
William Byron has had his doubters since making his Cup debut in 2018. Many have had a hard time believing that a driver could reach the pinnacle of auto racing in the United States by essentially training himself via playing a video game. But that's what has happened. 
Byron has gone from iRacing against other fans and racing enthusiasts to successfully competing on NASCAR's biggest stage. And he's done so in rather short order. 
Last year, the HMS driver recorded his best season with a pair of wins and finished sixth overall. This season has been another massive step forward in his progression, with six wins, which have impressively come at a variety of tracks, including Las Vegas, Atlanta, Watkins Glen, and Darlington. 
Byron explains why he didn't work with HMS teammates at Talladega
In Byron's 10 career Cup wins, three have come at superspeedways, including the second race at Daytona in 2020, his first win, and a couple at the new Atlanta in the last two years. Translation: he knows how to work his way around the high-speed tracks.
On Sunday at Talladega, the No. 24 pilot put that skill on display late in the race with five laps to go. Chase Elliott ran in the bottom lane and led the field across the start-finish line to begin the lap, with HMS teammates Kyle Larson and Byron directly behind him. All three cars then surged out to the lead clear of the middle lane, and it appeared like the perfect scenario for an HMS car to make it to Victory Lane. 
However, instead of riding third behind his teammates, Byron jumped out of line into the middle lane in front of a fast-charging Kevin Harvick. The No. 4 Stewart-Haas Racing car gave the No. 24 a good push and sent him out in front, where he then proceeded to drop back down into the bottom lane in from of Elliott. 
That move proved huge on the race's final lap because Byron was running up front and clear of a last-lap crash that happened yards from the finish line and involved multiple cars, including Elliott and Larson, who dropped back and finished seventh and 15th, respectively. 
After the race, SiriusXM NASCAR Radio reporter Claire B. Lang visited with the driver of the No. 24 car and asked him about pushing and being pushed in the race. He brought up the late-race action and why he struggled to work with his HMS teammates. 
"I feel like the 4 and the 12 could really get linked together well," Byron said. "When I got down in front of the 9, it felt like we had some momentum and then it kind of stalled. I just feel like it was tough to link up there at the end."
While some HMS fans might view Byron's late moves as not being a team player, it's hard to argue with his results at Talladega and the rest of the season. His calculated and aggressive moves have proven time and time again to work out like they did the week before at Texas. Unfortunately, that means on superspeedways, sometimes you have to be selfish and do what's best for you. He did that on the 2.66-mile Alabama track and, in hindsight, it turned out to be the best move.
To stay up to date on the latest happenings in NASCAR, including breaking stories you can't find anywhere else, follow Kyle on YouTube and Twitter.