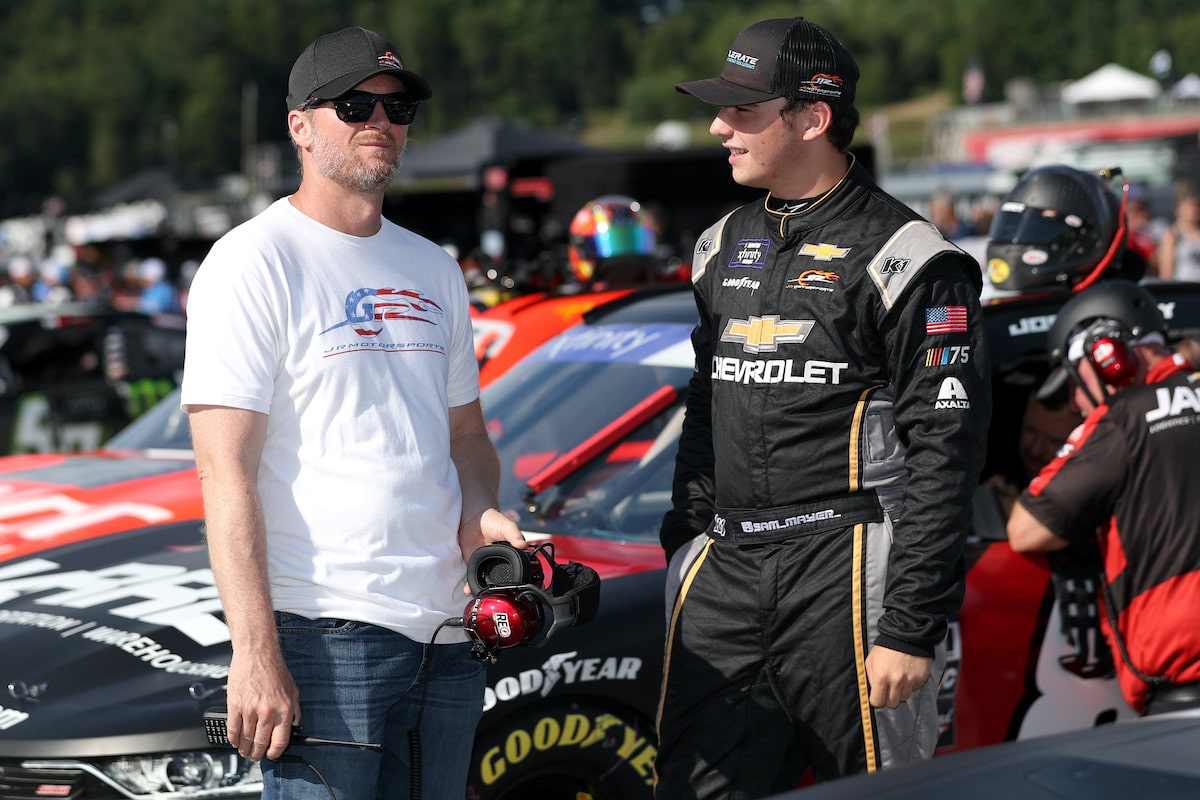 Dale Earnhardt Jr. Gets Brutally Honest and Admits to Being Hypocritical After Watkins Glen
Dale Earnhardt Jr. got honest this week on his podcast and admitted he can be hypocritical when watching races. It just depends on the circumstances.
Dale Earnhardt Jr. is about as authentic as they come. He's not afraid to share what's on his mind. He regularly does just that on his weekly podcast. This week was no different as the NASCAR Hall of Famer talked about the contact at Watkins Glen between his JR Motorsports driver Sam Mayer and Ty Gibbs, candidly admitting that his view of the incident is hypocritical.
Sam Mayer moves Ty Gibbs at Watkins Glen
Ty Gibbs was undeniably the dominant car during the Xfinity Series race around the 2.45-mile track featuring right and left turns. Starting on the pole, the Joe Gibbs Racing driver jumped out to the lead and watched the rest of the competition in his mirror for much of the race, leading an impressive 70 of the 86 laps.
However, the 20-year-old driver's race dramatically changed on a restart in overtime when the No. 1 car of Mayer drove hard into Turn 1 and started wheel hopping, the forward momentum carrying him hard into the side of the No. 19, which went for a spin. 
The JR Motorsports driver surged out to the lead and held on for his second career Xfinity win. Gibbs finished 17th. 
Dale Earnhardt Jr. admits to being hypocritical
This week on the Dale Jr. Download, Earnhardt talked about the race, including Mayer being upset by Gibbs for a move laps earlier and his young driver's decision to drive it in hard into Turn 1 on the overtime restart. 
"He went in there over his head. I think he had every intention of hitting him, and I was fine with that. I really was," Earnhardt admitted. "And I know that it's hypocritical. I don't know how to articulate this any better than, man, there are some days when moving somebody out of the way is good and some days when it's bad. And it might be dependent on what side you're on. Obviously, our car won the race, so, hey, I'm on the good side of this one.
"I will say this. There's been times when I've been pretty embarrassed by some of the things we've done on the racetrack. Saturday was not one of those things. I didn't feel any embarrassment. I know that they've had a lot of history. I know Sam feels like he's been on the bad end of it a lot of times with Ty."
Earnhardt acknowledges Gibbs owes his driver
While Earnhardt is honest and admits to being partial in his view of the incident, he also acknowledged that when the two drivers race again in the future, Gibbs owes Mayer. 
"I don't know when they'll meet on the racetrack again, but if they ever get in proximity to each other, there will be more fireworks, and there ain't nothing nobody can do to get in between them," Junior said.
"Does Ty owe Sam a payback?" podcast co-host Mike Davis asked.
"Sure. Yeah. Ty owes him," Earnhardt said. "Yeah. I think that's fair. I mean, he got turned around. He got spun out. Ty was dominating the race. So yes, we got one coming. Sam's got one coming." 
Earnhardt always telling it like it is.
To stay up to date on the latest happenings in NASCAR, including breaking stories you can't find anywhere else, follow Kyle on YouTube and Twitter.