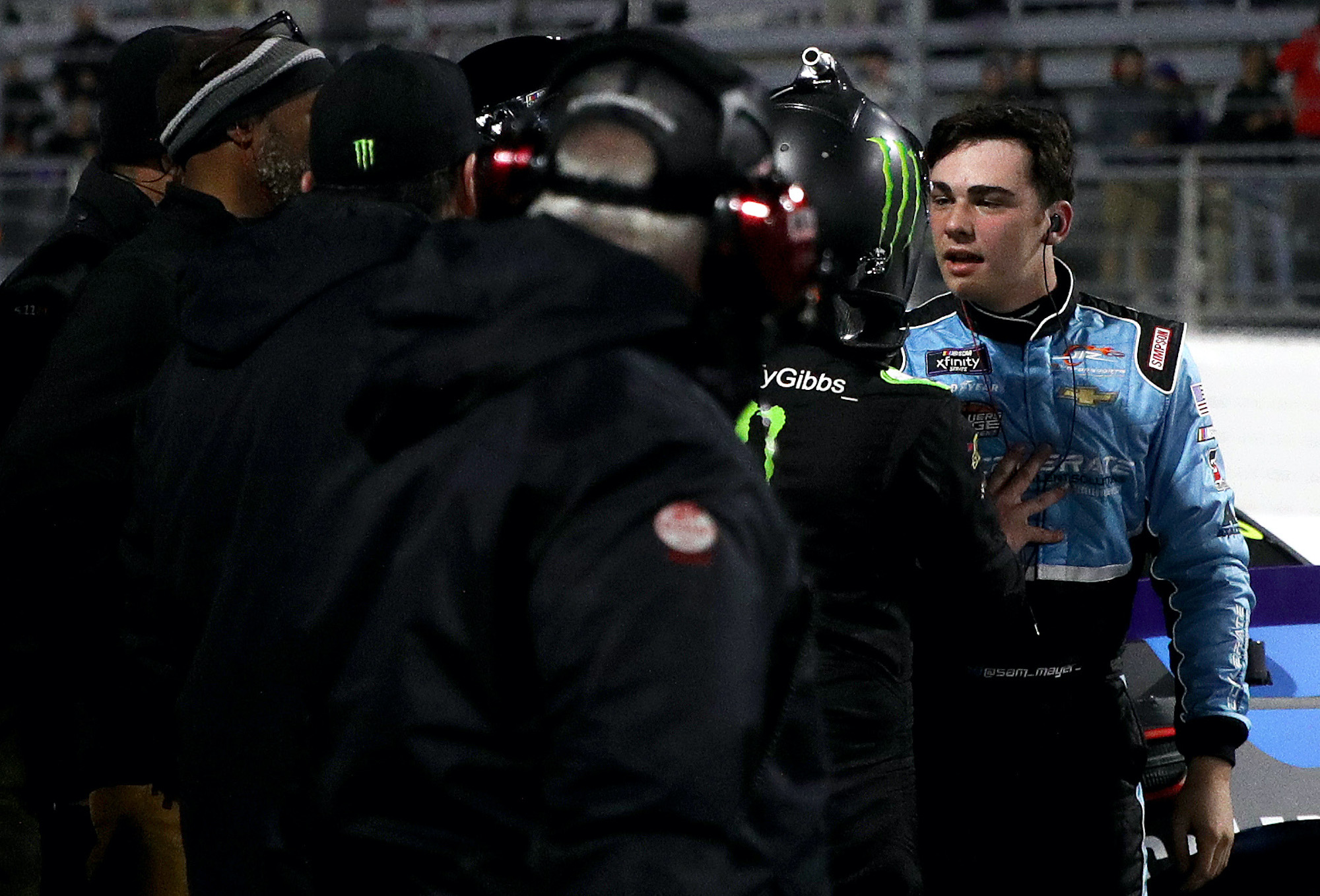 Sam Mayer Channeled His Inner-Denny Hamlin Following Brawl with Ty Gibbs at Martinsville, and It Was Hilarious
Sam Mayer was hilariously inspired by Joe Gibbs Racing driver Denny Hamlin following an altercation with JGR driver Ty Gibbs at Martinsville.
As is often the case when NASCAR makes a stop at Martinsville, somebody gets their feelings hurt. Friday night's Xfinity Series race didn't disappoint. Brandon Jones won in a wild finish, but he wasn't even the main headline. 
That belonged to Ty Gibbs and Sam Mayer who had a heated altercation after the race that ended with blows exchanged. It also resulted in a moment of levity not long after the altercation, when the bloodied JR Motorsports driver drew inspiration from Joe Gibbs Racing driver Denny Hamlin's comments years earlier at the same track and hilariously uttered a memorable phrase. 
Sam Mayer and Ty Gibbs fight at Martinsville
Ty Gibbs saw it coming. In fact, he admitted as much after the race. A week ago, Gibbs moved his JGR teammate John Hunter Nemechek up the track at Richmond on the final lap en route to his third win of the season. Gibbs acknowledged that he was owed one.
He got the favor returned on Friday night, not by a teammate, but from his longtime rival, Sam Mayer. Heading into the final turns on the Paperclip, Mayer got in the middle of a three-wide situation between Landon Cassill on his inside and Gibbs on the outside. 
In a position to win the $100,000 Dash for Cash, the No. 1 car slid up the track and pushed Gibbs into the outside wall. Moments after crossing the finish line and the race over, the No. 54 drove into the back of Mayer's car. 
The two drivers then parked on pit road, hurriedly climbed out of their cars, and walked into conflict. Gibbs initiated contact with a shove, before he walked away. The pair exchanged more words and shoves before Gibbs, who didn't remove his helmet, threw several punches, connecting on one that left a nasty gash over Mayer's left eye.  
Sam Mayer hilariously channels inner Denny Hamlin
Several minutes after the fisticuffs, Fox's Vince Welch caught up with Gibbs and asked him about the altercation. 
"I tried to talk to him and he got all in my face," Gibbs said. "At that point, we got to start fighting. We got put in a bad position there. The only thing I'm mad about is this 1 didn't have anything. He wasn't going to get past the 16 there. I just got hit in the left rear. It's just frustrating. I just got drove into the fence at the end. You know I was on the other side of it last week so that's just part of it."
Fox's Bob Pockrass visited with Mayer a few minutes later and the 18-year-old didn't disappoint.
"Yeah, a hundred grand on the line, put the bumper to him because that's what short-track racing is all about and he got upset," Mayer said. "Aa aa aa, it's short-track racing and all that nonsense. Whatever. He threw a couple of punches. They were weak so I can't say much about that. It's kind of funny."
When asked about why Gibbs wore his helmet during the altercation, Mayer had a theory.
"It's kind of funny because he walked up to me. I had my helmet off already," he said. "He kept his helmet on so obviously he was scared about something or he had it in his mind to throw a punch the whole time. That's on him, not me." 
Hamlin accepts responsibility for molding younger drivers
Sam Mayer's "aa aa it's short-track racing" comment was a reference to Denny Hamlin's impression of Joey Logano on the same track three years earlier.
After that 2019 Cup Series race, when the pair did some beating and banging, the two convened on pit road for a heated face-to-face conversation. Upon its conclusion, Logano began to walk away, but before he did, gave a hard shove to the right shoulder of Hamlin, a move eerily similar to Gibbs shoving Mayer before walking away during the Xfinity Series race.
Like Mayer, Hamlin responded and moved in on Logano before race officials intervened. A few minutes later, NBC's Parker Kligerman interviewed the JGR driver.
"Everything was civil and then like Joey does, he does a little push and then runs away," Hamlin described. Kligerman then asked what happened on track that led to that postrace conflict.
"I got close off of Turn 4, looks like we got together and looks like collateral damage, he blew a tire. He would probably say, 'Aa, it's short-track racing,'" he said, mocking the Team Penske driver. 
Interestingly, the day after the Xfinity Series race when Fox's NASCAR tweeted how Mayer did an impression of Hamlin's impression of Logano, the three-time Daytona 500 winner couldn't resist.
"Molding of the younger generation of drivers isn't a option. It's a responsibility," Hamlin replied. 
Short-track racing at Martinsville produces some of the best action on the track and some of the most memorable comments off of it.
Like Sportscasting on Facebook. Follow us on Twitter @sportscasting19.