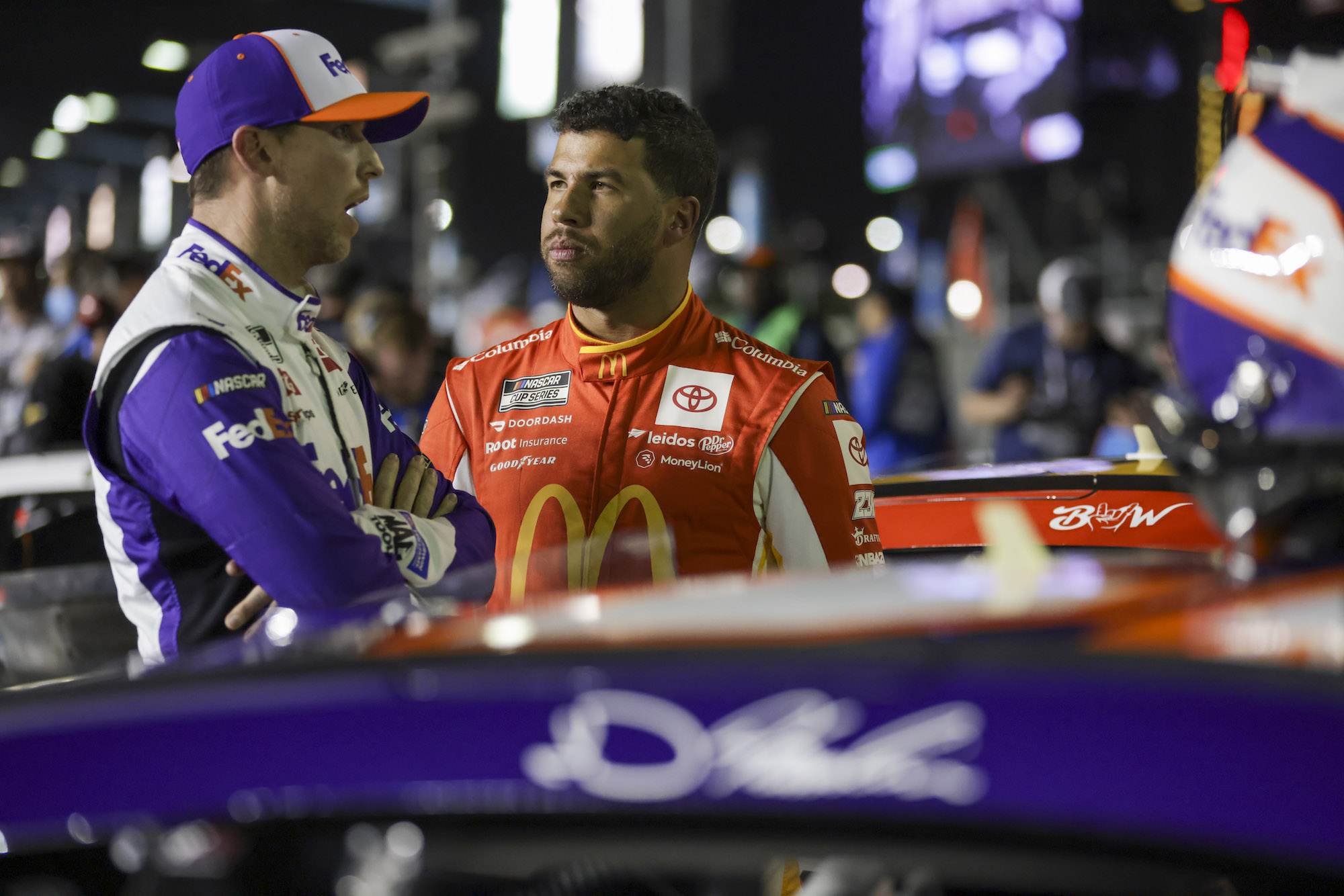 Agitated Denny Hamlin Bluntly Admits 23XI Racing's Performance 'Unacceptable' and Specifically Calls Out No. 23 Team's Failures
Denny Hamlin admits 23XI Racing's performance "unacceptable" and specifically calls out failures of No. 23 team.
Denny Hamlin and the overall struggles at Joe Gibbs Racing to start the 2022 NASCAR Cup Series season have been well-documented. The No. 11's win at Richmond somewhat changed the narrative. 
It also changed the three-time Daytona 500 winner's outlook on his 23XI Racing team. Just a week earlier at Circuit of the Americas, he was happy with the second-year team's early-season performance. Not so much after Richmond and he took specific aim at the No. 23 team.
Denny Hamlin pleased with 23XI Racing performance to start 2022 
Denny Hamlin watched his two-car 23XI Racing team score four top-10 finishes in the first five races, three in the top 5. It was a considerable improvement over the team's first year when Bubba Wallace didn't manage to record his first top 10 until June.
Considering the struggles of the Toyotas during that same time, Hamlin said he was pleased with the second-year team before the race at COTA.
"The trouble is we kind of go as JGR goes," Hamlin told reporters. "That's the unfortunate part is that when they struggle with their simulation or whatever, we're going to struggle with ours. So we're kind of going as they go right now. I'm actually decently happy with 23XI's performance, given the struggles of our speed."
Hamlin changes tune after Richmond, calling performance 'unacceptable'
Hamlin's positive remarks on 23XI Racing came before the race at COTA, where Wallace finished 38th and Busch finished 32nd. A week later at Richmond, things improved but not by much. The No. 23 scored a 26th-place result. The No. 45 finished 35th.
This week at Martinsville, the Richmond winner revisited 23XI Racing's performance with the media, and offered a dramatically different assessment from a few weeks earlier.
"Just trying to stop the bleeding there. … The win (last week) was really exciting until you get out of the car and you look down the pylon and say, 'What the f***?' What's going on? It's agitating. It's different things on different teams. It's just a two-week slump we got to get out of. We're trying to address all the issues that there is. The 23 car's pit crew is not doing well."
Hamlin said he hopes that they can "look back on this two months from now and say it's just a little bump in the road. Certainly it's not acceptable by any means."
Not getting better anytime soon for No. 23 team
Hamlin acknowledged Busch's troubles at Richmond were a "freak thing," losing power just 10 laps in, which put him numerous laps down early in the race. However, his pointed remarks at Wallace's pit crew should be of more concern.
The crew has struggled multiple times during stops this year, the most-glaring issue occurring at COTA when the car lost its left-rear wheel. As a result, Wallace's crew chief and two members of the pit team were suspended for four races. 
This week, Kyle Larson's crew chief Cliff Daniels addressed Wallace and the other loose wheels that have happened this year, blasting NASCAR for providing teams with inadequate pit guns and enforcing penalties against teams that make an already dangerous situation worse.
"If something fails or something doesn't go according to plan, and a wheel, heaven forbid, comes off, which we all agree is a massive safety issue, we're then going to make it an even bigger safety issue the next time that team comes to the track because we're going to suspend two of those guys for four weeks that are the best experts that that team has at the time to put on their car," Daniels said on SiriusXM NASCAR Radio. "So we're going to go ahead and put them on the sidelines for four weeks and we're going to bring in two guys that are less experienced to go pit the car and do the same thing. So that in itself just doesn't make sense."
Daniels is right. It doesn't make sense. And that inexperience isn't going to help the No. 23 pit crew for three more weeks. It's just a matter of minimizing those mistakes and hoping when the crew chief and veteran members return that the team can turn it around and get it headed in the right direction.
Hamlin is watching. And you can bet so is co-owner Michael Jordan. 
Like Sportscasting on Facebook. Follow us on Twitter @sportscasting19.