Denny Hamlin Wants to Avoid Being 'Denny Downer' but Admits Future Uncertain and Richmond Win Doesn't Prove Joe Gibbs Racing Is Back
Denny Hamlin candidly admits his win at Richmond doesn't prove anything about Joe Gibbs Racing officially being back.
Through the first seven races of the 2022 NASCAR Cup Series season, Denny Hamlin had no clear idea what to expect when he drove the No. 11 onto the track. The mixed results proved that. 
On Sunday at Richmond, the three-time Daytona 500 winner came from a lap down and won the first race of the season for Joe Gibbs Racing. This week during an appearance on SiriusXM NASCAR Radio, the 41-year-old said as much as he'd like to think with the win that the struggles are behind the organization, he knows better. And he warned fans to think the same way for the foreseeable future.
Denny Hamlin admits Joe Gibbs Racing is off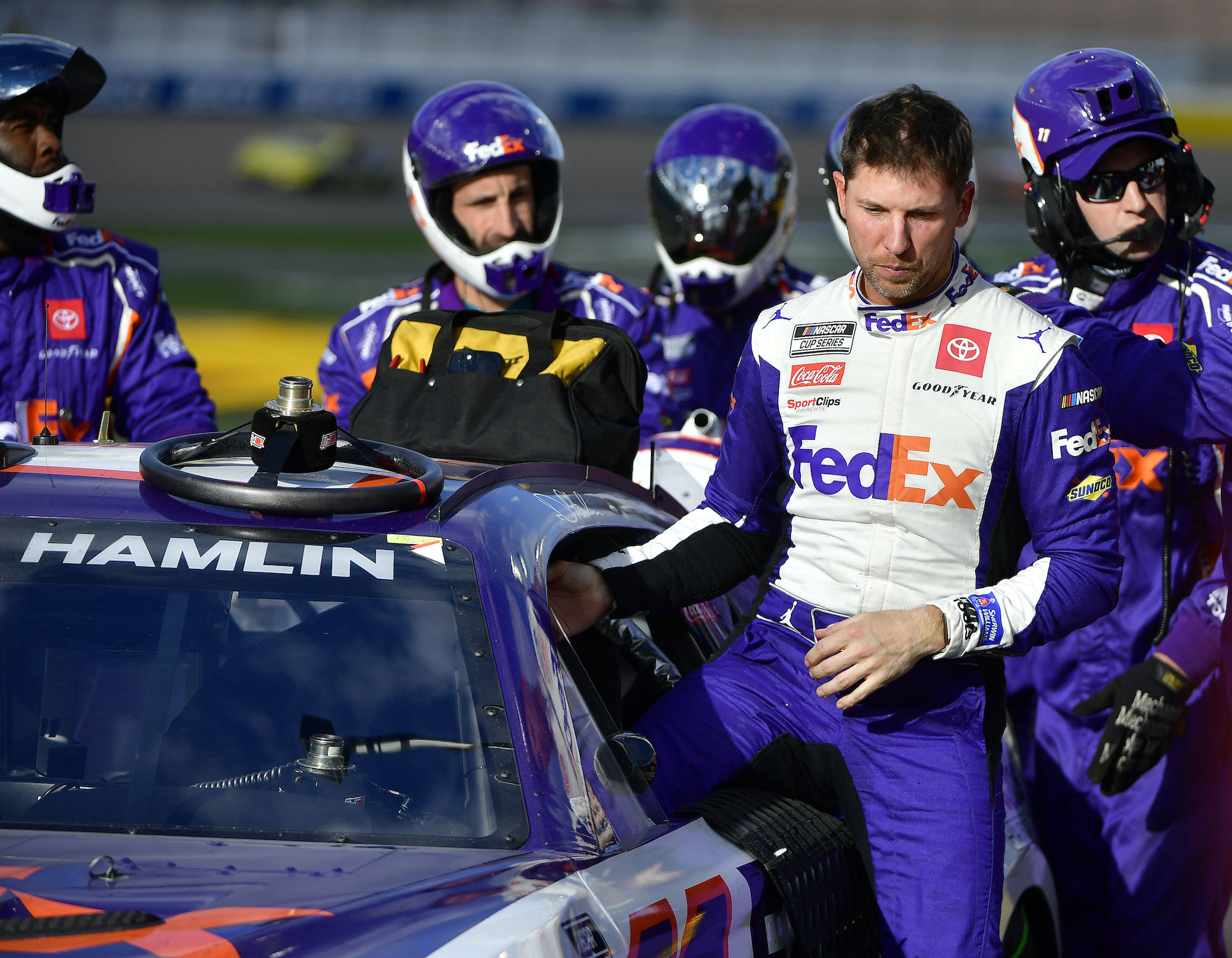 Denny Hamlin's first six races of the season were a rollercoaster ride. He alternated weeks of finishing 29th or worse, starting at Daytona, where he earned his first DNF of the season and finished 37th. 
Over the next month-plus, the JGR driver earned three top-20s and added a couple more DNFs at Las Vegas and Atlanta. His total number of DNFs through the first five races was more than he had accumulated in the previous three years combined.
Before the race at Circuit of the Americas, Hamlin acknowledged it's a confusing time for his team and the entire JGR organization. 
"We're fighting a host of issues here and there," he admitted. "Had the best cars for sure at Vegas, and then we go to Phoenix, and none of us can run top 15. There's something that we're missing as a company that I believe that we're going to figure out."
Pulls off come-from-behind win at Richmond
Denny Hamlin and his crew chief Chris Gabehart did indeed figure it out on Sunday at Richmond. Before the race started, most pundits thought the JGR cars would run well because it's a track the organization has historically done well on in the past. But as everyone has learned early this season, the Next Gen car has changed the game. Past knowledge is just that, in the past. It's not good anymore.
However, as the race on Hamlin's home track progressed, it appeared that old trends might be holding true as all four of the JGR cars ran up near the front. With 40 laps to go, it appeared if anyone had a chance, it was Martin Truex Jr., who ran second behind race leader William Byron. Hamlin was a lap down.
On a set of fresh Goodyears, Hamlin unlapped himself and then methodically made his way through the field with Kevin Harvick on the same tire strategy following close behind. As the laps dwindled, Hamlin and Harvick closed the gap. 
With five laps to go, Hamlin passed Byron for the lead and held off a hard-changing Harvick on the final lap to claim victory.
Hamlin says future success uncertain based on one win
This week Hamlin appeared on SiriusXM NASCAR Radio and talked about his first win of the season. When asked about his level of confidence and if his victory signaled Toyota was back, the driver of the No. 11 car offered a candid response.
"It's not that easy. Unfortunately, I wish it was that easy, but it's not," he said. "Honestly, I told a few guys that if we went out there and we won, it wouldn't surprise me. If we ran 15th this week, it would not surprise me. It's so week-to-week right now whether you can guess right on the setup. And a lot of that guessing comes from what did simulation tell you. 
"We've just been off in that area, so we've had to make some educated guesses, but it looks like we're heading and trending in the right direction. It's still TBD from my aspect. I wouldn't get too overjoyed. I'm not trying to be Denny Downer but I'm also being a realist and saying let's get a month's worth of races that go well and then we can say we're back."
We'll check back in a month and see if Denny Downer has left the conversation.
Like Sportscasting on Facebook. Follow us on Twitter @sportscasting19.