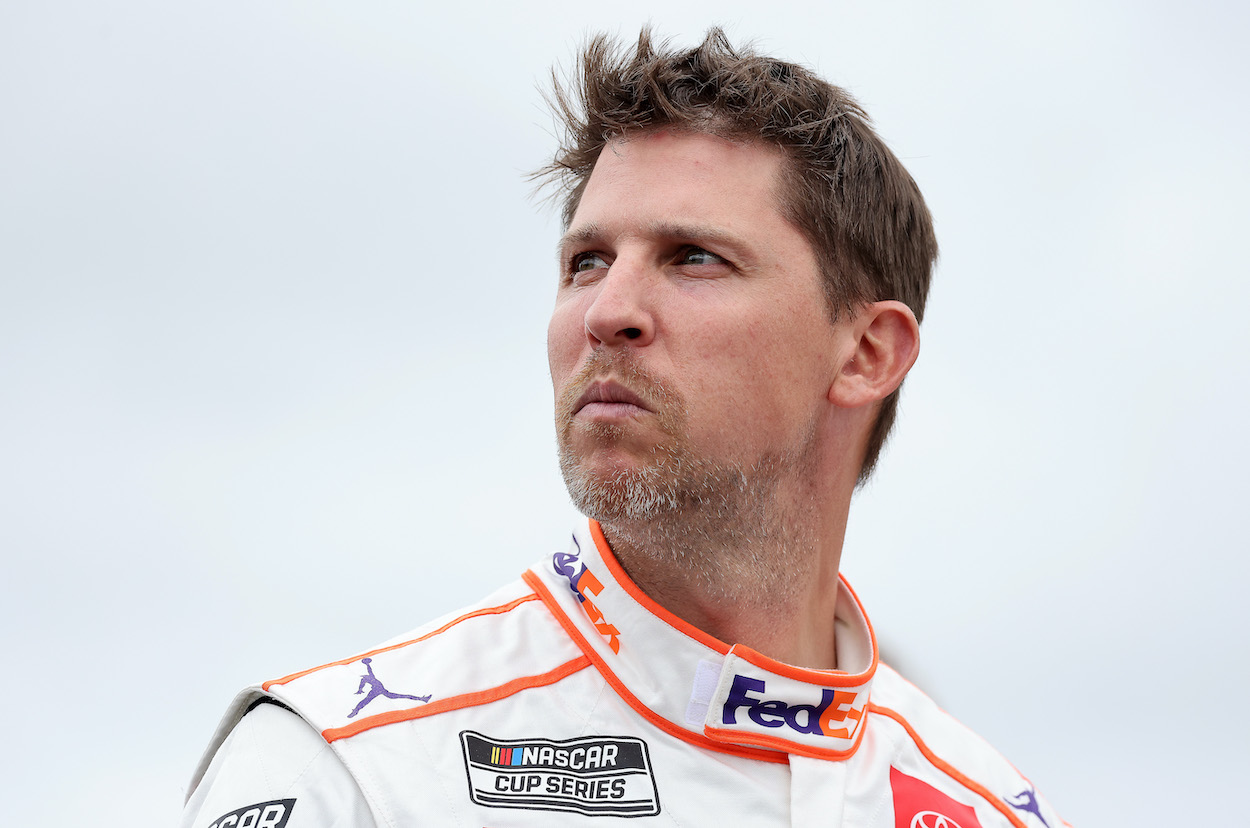 Denny Hamlin off to Worst Start of Career and Comments Confirm His Fans Might Put Their Finger on Panic Button
Denny Hamlin has struggled to open the 2022 Cup Series season and his comments suggest that might not change anytime soon.
Despite the lack of a championship thus far in his career, Denny Hamlin will one day be enshrined in the NASCAR Hall of Fame. He's achieved remarkable success over 16 seasons that includes 46 wins, three of them Daytona 500s.
Two years ago, the Joe Gibbs Racing driver won seven times and finished fourth in the season standings. Last year, he started strong with top-5 finishes in eight of the first 10 races but victory remained elusive until the end of the season when he won twice in the playoffs and finished third. 
This year through three races, the 41-year-old is off to the worst start of his career. His embarrassing mistake during Sunday's race at Las Vegas was bad enough, and what he told Fox's Jamie Little is a caution flag for the rest of the season.  
Denny Hamlin off to worst start of his career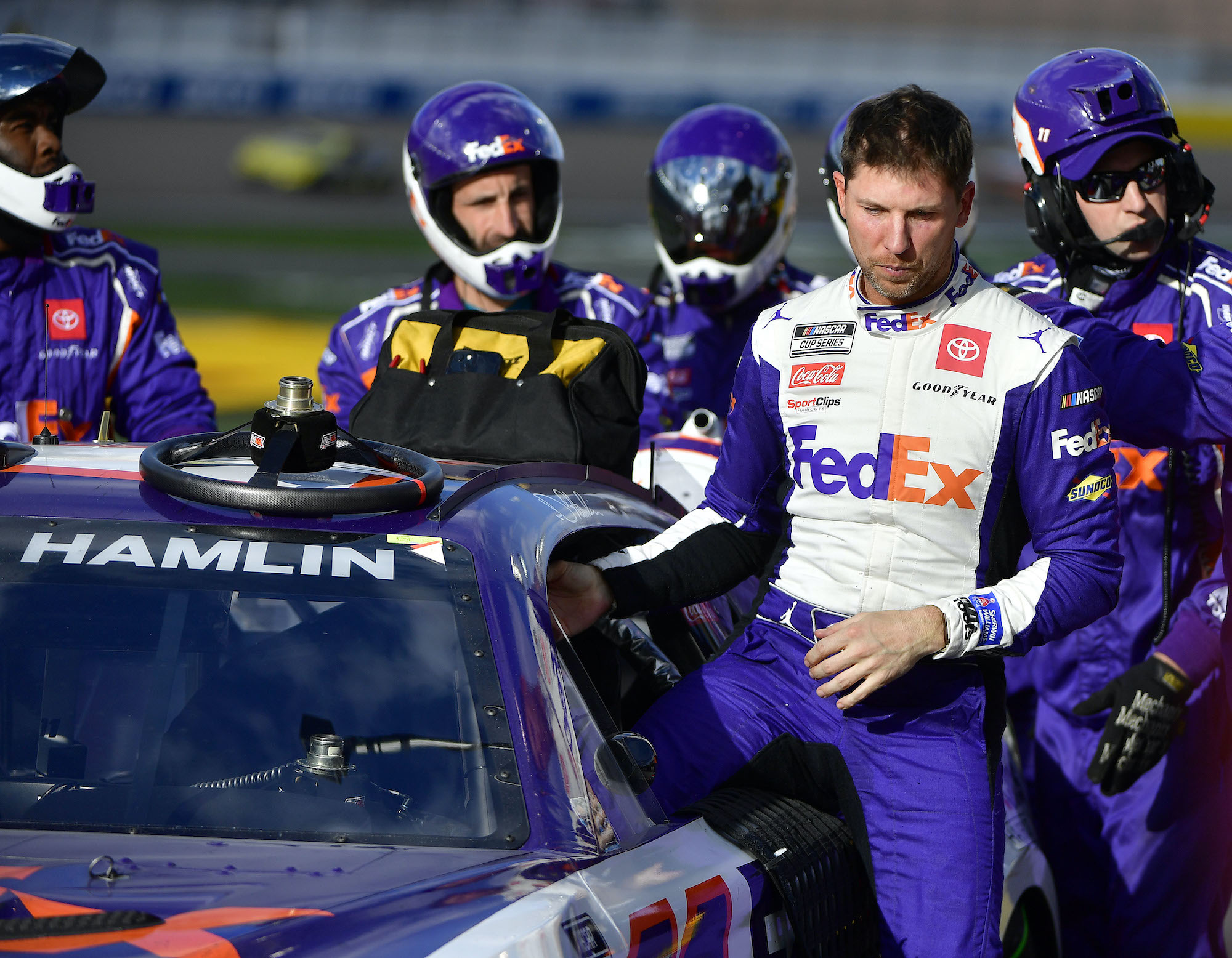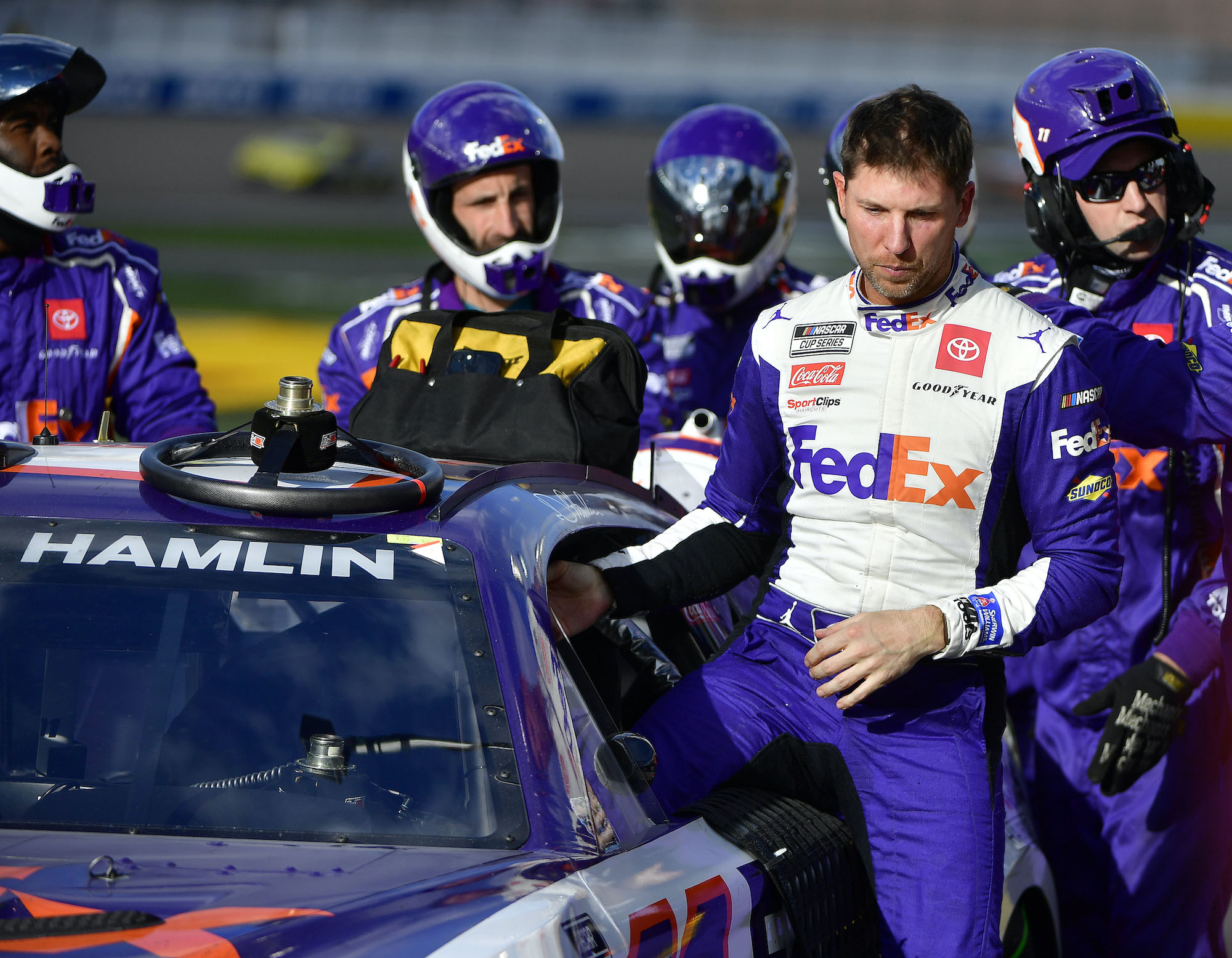 In 2010, Denny Hamlin started the season finishing 17th at Daytona, 29th at California, and 19th in Las Vegas. It was the first time since his first full-time season in 2006 that he failed to earn a top-10 finish in the season's first three races. 
Since then, in the season-opening three-race window, which has included a slight variation in tracks, Hamlin has managed 17 top-10 finishes and four wins, including his three victories at the Great American Race. In the last five seasons, he's earned nine of those top 10s, including last year when had a pair of top-5 finishes at both races in Daytona.
This year, however, is a completely different story. 
Through three races, Hamlin's best finish was in the second race of the season at Auto Club Speedway, where he finished a mediocre 15th. That result was sandwiched between a 37th at Daytona, which was the first-ever DNF of his career at the track, and last week's 32nd-place finish at Las Vegas. 
Hamlin confirms new car makes him uncomfortable
During Sunday's Cup race in Sin City, Hamlin committed a significant sin when he forgot about the sequential shifter in the new car, made a wrong shift, and effectively destroyed the transaxle. He visited with Fox's Jamie Little moments after exiting the car and admitted to the blunder.
However, it's what he told Little before the race that should be most concerning to fans of the No. 11 car. 
"I was just talking to Denny before the race about muscle memory," Little said during the broadcast. "He said, I'm just not comfortable. Everything is so different. Last week they gave him a water bottle in his car, and he shut it off. Had to reset everything. And now he just made this mistake."
Will he turn it around?
Denny Hamlin, by his own admission, is struggling to get comfortable with the new car. Not surprising considering it is so different from the Gen 6 car with a change in shifter, rear-view mirror/camera, among other things, not to mention it's clearly a handful on the track as evidenced by so many spins in the first three races. The other drivers are also trying to navigate those same challenges.
However, at age 41 on the backside of his career, he's having to unlearn all these habits and things that he's done for years. Lastly, and he'd likely never admit it, but he's now the co-owner of a two-car team at 23XI Racing. That's twice as many things to worry about over last season.
All of those factors add up and Hamlin has a lot to think about each time he gets inside the car.
Will he be able to return to his old form in the new car and find his way to Victory Lane? Time will tell. But based on the early returns and his comments, it could be a while before he gets there if it happens at all.  
Like Sportscasting on Facebook. Follow us on Twitter @sportscasting19.