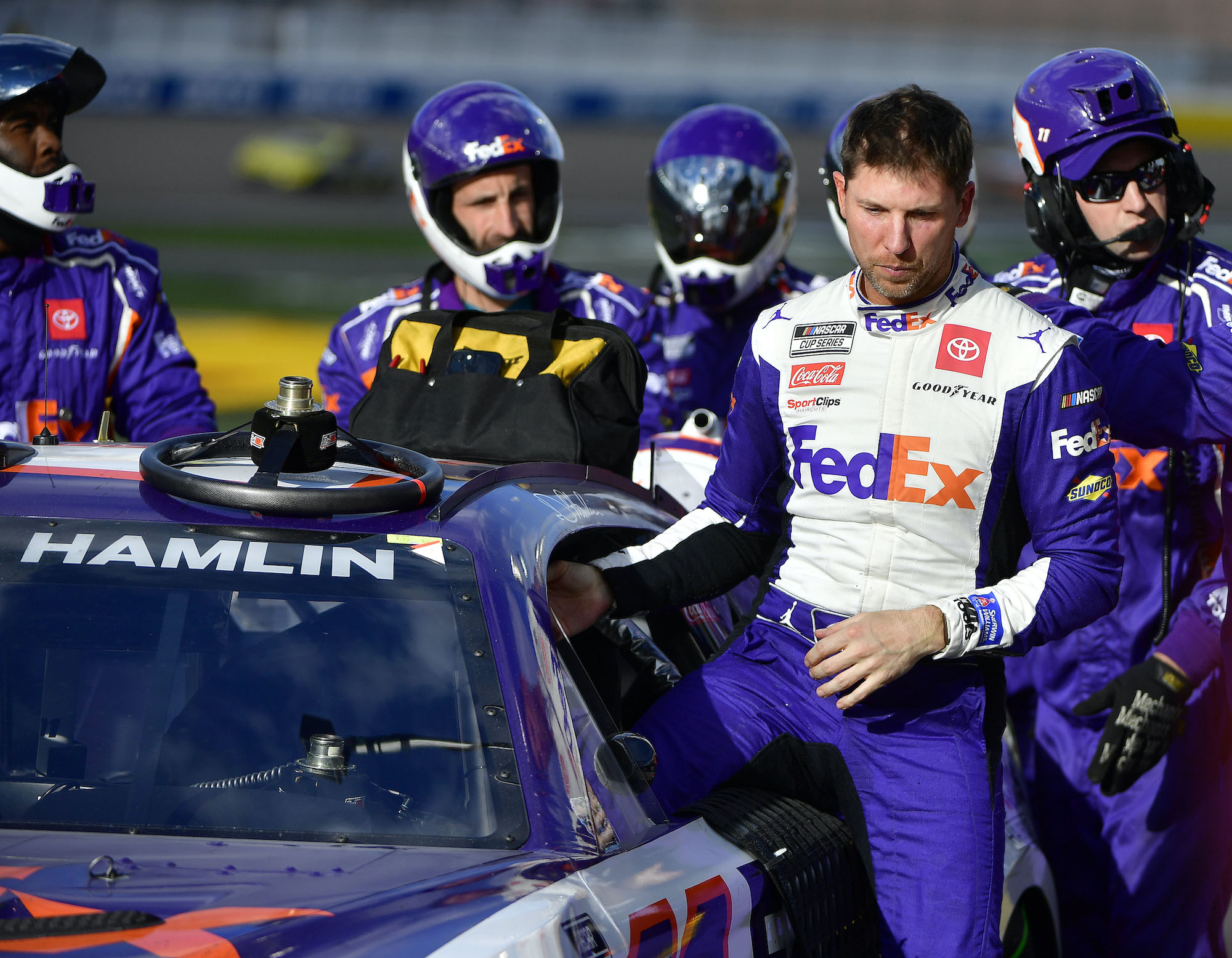 Denny Hamlin Rips Himself After Making Embarrassing Mistake and Watching 'Hack' Win Las Vegas Race
Denny Hamlin took a big shot at himself following the embarrassing mistake he made in Las Vegas that ended any chances of victory.
Denny Hamlin was extremely unhappy the last time Alex Bowman made a trip to Victory Lane late last year at Martinsville. That was the sight of Hamlin's infamous "hack" remark. 
On Sunday, the three-time Daytona 500 winner watched helplessly from the garage as the Hendrick Motorsports driver tallied his first win of the 2022 season. Hamlin, again, was not happy. This time around his anger wasn't directed at Bowman, but himself for making an embarrassing mistake that destroyed his car and ended his day.  
Denny Hamlin went ballistic and ripped Alex Bowman at Martinsville
At Martinsville last year in the penultimate race of the season, Denny Hamlin appeared to be destined for victory. He led for most of the race's final 100 laps, with Alex Bowman his closest pursuer. 
However, with seven laps to go, the HMS driver tapped the left-rear of the No. 11 Toyota, sending it up into the fence and ending Hamlin's chance at victory. 
After Bowman took the checkered flag for the win and before he began his celebratory burnout, the Joe Gibbs Racing driver pulled up next to him and let it be known that he was not happy with the late-race move, which included flashing a double-bird salute.
During his postrace interview several minutes later, Hamlin dropped an f-bomb on live television and then uttered the infamous "hack" line, which produced a boisterous round of boos from his hometown fans and provided Bowman with an idea to use the word on a t-shirt that he sold and raised money for charity. 
Hamlin rips himself after embarrassing mistake
On Sunday, for the first time this season, Hamlin led laps. He appeared to be one of the better cars in Las Vegas. Until he wasn't. With 46 laps remaining in the race, the JGR driver made a costly mistake coming off of pit road, shifting the wrong way with the new sequential gear shifter and breaking the transmission. 
"Yeah, we broke the transaxle," the dejected driver explained to Fox's Jamie Little a few minutes later. "Just killed every gear when I left pit road. We had the best car today. Just got back there and we were working our way forward and made mistakes."
Several hours later, after watching Bowman win the race, the 41-year-old took to Twitter and ripped himself.
"Fastest car in the track today," he wrote. "Worst driver on the track today. Great improvements by everyone  @JoeGibbsRacing and @ToyotaRacing. Get me to Phx."
Kyle Busch joins in on Bowman bashing
While Hamlin took a shot at himself instead of Bowman this time around, his teammate Kyle Busch was more than willing to fill the role. Busch, like Hamlin at Martinsville, was the dominant car late in the race at Vegas, his hometown track. However, a late caution came out, and the ensuing pit stop changed everything with Bowman and the HMS cars taking two tires while Busch went with four. 
That was the difference as Bowman and Kyle Larson battled it out for the win. Busch finished fourth. Seconds after crossing the finish line, the two-time Cup Series champion went ballistic, aiming his anger at Bowman.
"The same f****** guy who backs into every f****** win that he ever f****** gets backs into another f****** win," Busch said over the team radio. "Bulls***! F***!"  
And a new t-shirt was born.
Like Sportscasting on Facebook. Follow us on Twitter @sportscasting19.