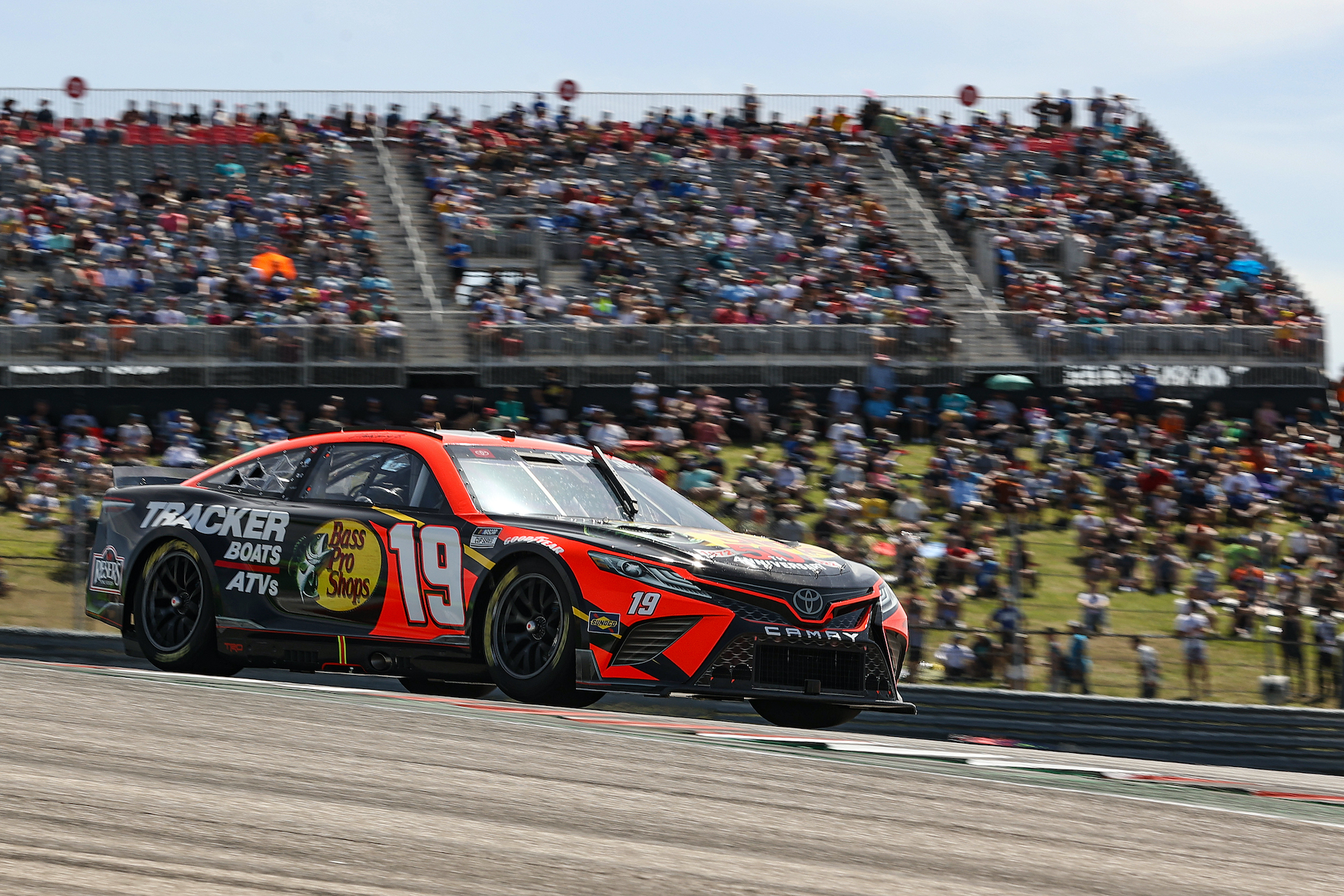 Martin Truex Jr. Admits He's Uncertain About His Future in NASCAR Cup Series
Martin Truex Jr. admitted to reporters before racing at Circuit of the Americas that he is uncertain about his future as a driver in the NASCAR Cup Series.
Last year, Martin Truex Jr. bluntly admitted that his future in NASCAR could be directly affected by the new Next Gen car. Now, six races into the 2022 NASCAR Cup Series schedule, the 41-year-old driver has put the new car through its paces with mixed results.
This past weekend before finishing seventh at Circuit of the Americas, the Joe Gibbs Racing driver admitted his future in racing is uncertain. The veteran did not indicate which way he was leaning, but acknowledged a decision will need to be made soon. 
Martin Truex Jr. admitted Next Gen car could send him into retirement
During the 2021 NASCAR Cup Series season, Martin Truex Jr. proved he was far from beyond his prime. He won four races, tying him for second in the series with Alex Bowman and only behind Kyle Larson and his impressive 10 victories.
Despite that success, Truex admitted last summer to RacinBoys that his longevity in NASCAR could be determined by the Next Gen car.
"I would say, yes it would. It will, I think, and that's a fair question. I think, look at the new car, see what it's like, go racing, hopefully, it's fun," Truex said. "Hopefully, I have as much fun as I have driving these things. I love working with my team. I still love racing, but for sure, that's going to be a big deal. If it's not fun, I won't hang around too long. I don't have to do this anymore. I'm still around because I really want to do this and continue winning races and hopefully more championships."
Truex says racing future uncertain at this point
Through six races in 2021, Martin Truex Jr. had won a race with three additional finishes in the top 10. This year, he's earned three top-10 results without the victory. Also included are a couple of top 15s and a DNF/season-worst 35th at Phoenix, which matched his worst finish in all of 2021 on the rain-drenched circuit at COTA.
On the dry 3.41-mile road course this year, the JGR driver dramatically improved on his previous performance, finishing seventh. Before the race, he talked with reporters and candidly admitted he has deliberately put off thinking about his future behind the wheel beyond 2022 — signed a contract extension until then before 2021 season — but knows it will need to happen in the not-too-distant future. 
"Pretty soon because I'm pretty sure I'm going to start getting pressure from the team," Truex said. "They have to plan. So there always comes a deadline. I don't know when that is but I'll have to have this conversation I'm sure pretty soon here."
While Truex didn't have a decision, he did interestingly suggest for reporters to come back in June and ask again.
Destined for Hall of Fame 
If it's this June, next June, or some point beyond that, whenever the New Jersey native decides to finally step away, he is unquestionably Hall of Fame-bound. The 2017 Cup Series champion has won 31 times in 19 years, including several crown jewels in a couple of Coca-Cola 600s and a Southern 500.  
With his legacy secure, Truex, as he said last year, doesn't have to keep racing. He's only doing it because he remains competitive and, as a result, is having fun. 
The coming months should prove to be interesting for the veteran driver, and if fans want to play a guessing game of which way he might go, keep an eye on whether he's got a win by the start of the summer. The last time he didn't have a win by June 1 was 2014. 
If he hasn't made it to Victory Lane by then, it might be a telling sign of just how Truex sees the rest of the season and beyond playing out and it might influence his decision. 
Like Sportscasting on Facebook. Follow us on Twitter @sportscasting19.