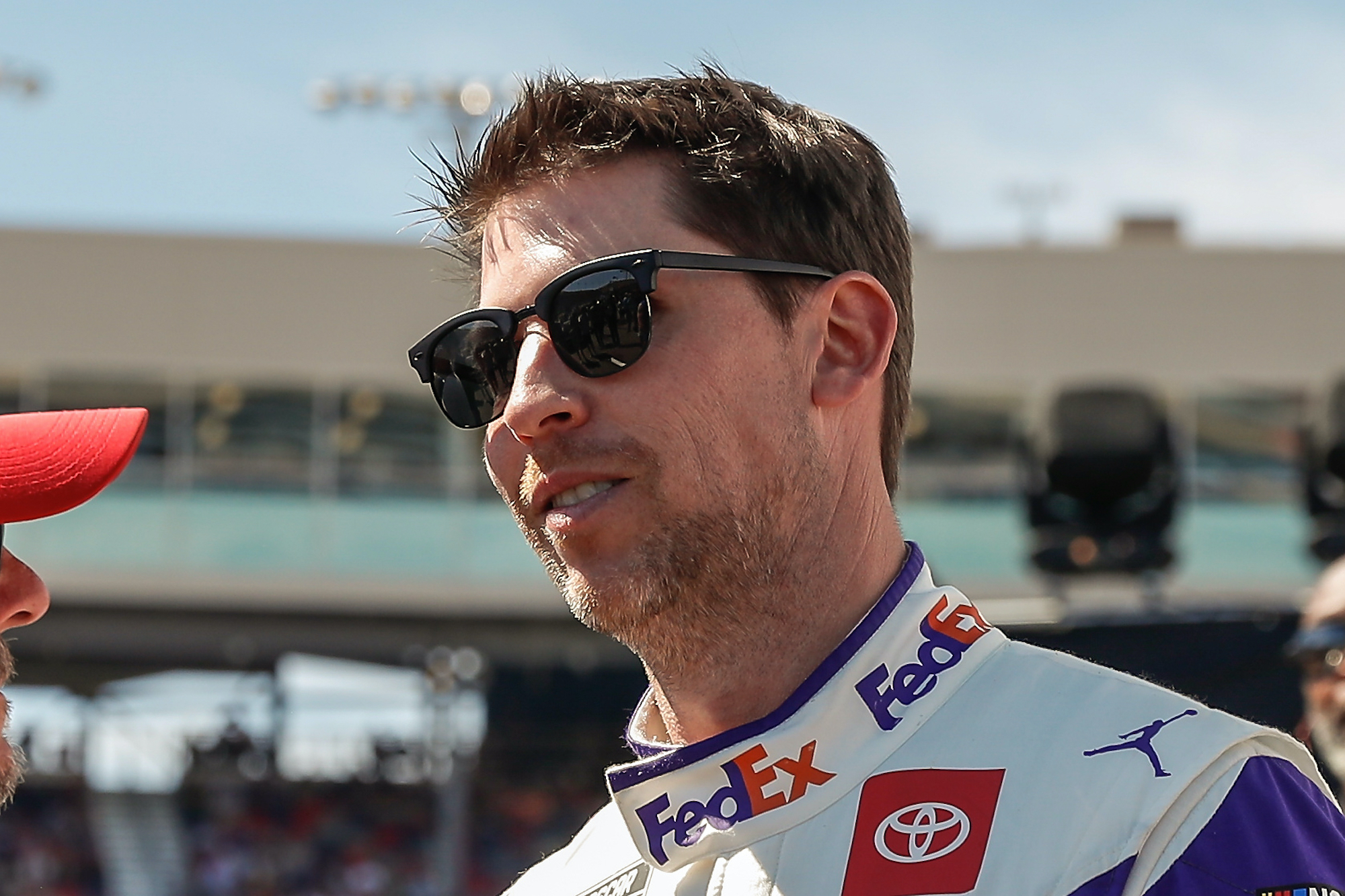 Denny Hamlin and Kevin Harvick's Crew Chief Call out NASCAR for Frustrating Issue the Organization Has Repeatedly Failed to Address
Denny Hamlin joined Kevin Harvick's crew chief Rodney Childers this week in openly calling out NASCAR for repeating a mistake that frustrates teams.
Denny Hamlin hasn't wavered in the past and has openly spoken about drivers' concerns and NASCAR's sometimes lackluster effort in addressing them. Last year was the perfect example when he raised safety issues over the Next Gen car and the organization's ineffectiveness in communicating about it with the drivers.
This week on Twitter, Hamlin revealed that if there's been any improvement in those lines of communication, there's still a long way to go. 
Denny Hamlin called out NASCAR for lack of communication last year
Last summer, Denny Hamlin did not hide his displeasure when he suggested that NASCAR was not sufficiently providing the drivers with safety information about the Next Gen car.
"When it comes to the crash stuff, I've asked questions to two different NASCAR people, executives. I can't get a response. That, to me, makes it even scarier," Hamlin bluntly admitted. "Man, the disconnect right now between all the parties — NASCAR, the tracks, and all the drivers — it's tough right now. It's not a good place."
When asked whether drivers should join together and form their own council, which previously existed, Hamlin didn't have specific answers but offered his thoughts on the next steps.
"In seven years, I'll be a team owner only, but these drivers, they need to get organized," he said. "Their safety is at risk. They need to know what they're getting strapped into. So they need to get organized, and they need to have a voice. They deserve to have a seat at the table, whatever that table is."
Interestingly, Hamlin had company. Kevin Harvick also spoke out on the topic. 
"As we sat in the drivers' meeting that NASCAR had with us (in May) to show us everything, I think that the most frustrating part of the whole process is the fact that the safety piece to the drivers and the conversation with the drivers, which was asked for by the drivers, was had at the very end of everything," Harvick said. "And as you look at that, I think the guys driving the cars are owed at least the respect enough to at least be a part of the process of what's going on. Everybody is just a little bit frustrated with how all that's been handled."
Denny Hamlin joins Kevin Harvick's crew chief in calling out NASCAR 
This week, Kevin Harvick's crew chief, Rodney Childers, who has used social media in the past to bring things to the public's attention, like Denny Hamlin, was at it again. This time Childers indirectly called out NASCAR in responding to a tweet from Fox's Bob Pockrass, which revealed a new requirement of rain flaps for Cup cars on rainy road courses — information teams had apparently not yet been told about.
"I'm so glad you send out all of this so we can learn what we are doing," Childers responded to the reporter's tweet.
"So true," Denny Hamlin added, clearly indicating there's still a communication gap between the governing body and the teams.   
Member of newly-formed Drivers Council
While Hamlin and most likely all drivers are frustrated by the continued poor communication from NASCAR, they're at least now proactively trying to do something about it. The three-time Daytona 500 winner was part of an announcement last month about a new Drivers Advisory Council, created to foster an open line of communication with NASCAR, track operators, and industry stakeholders. 
Hamlin will serve on the Council's board of directors and be joined by Cup champions Kurt Busch and Joey Logano, Austin Dillon, Corey LaJoie, Daniel Suarez, and Kyle Petty. NBC analyst and former driver Jeff Burton, who is nicknamed "The Mayor of NASCAR," will act as the group's director. 
Based on the Joe Gibbs Racing driver's latest activity on Twitter, the Council has not met with NASCAR officials. The hope is that when all the stakeholders finally do meet, there won't be a need for any more suggestive tweets by teams because the issues, whatever they might be, will at least be in the process of being addressed. 
Like Sportscasting on Facebook. Follow us on Twitter @sportscasting19.