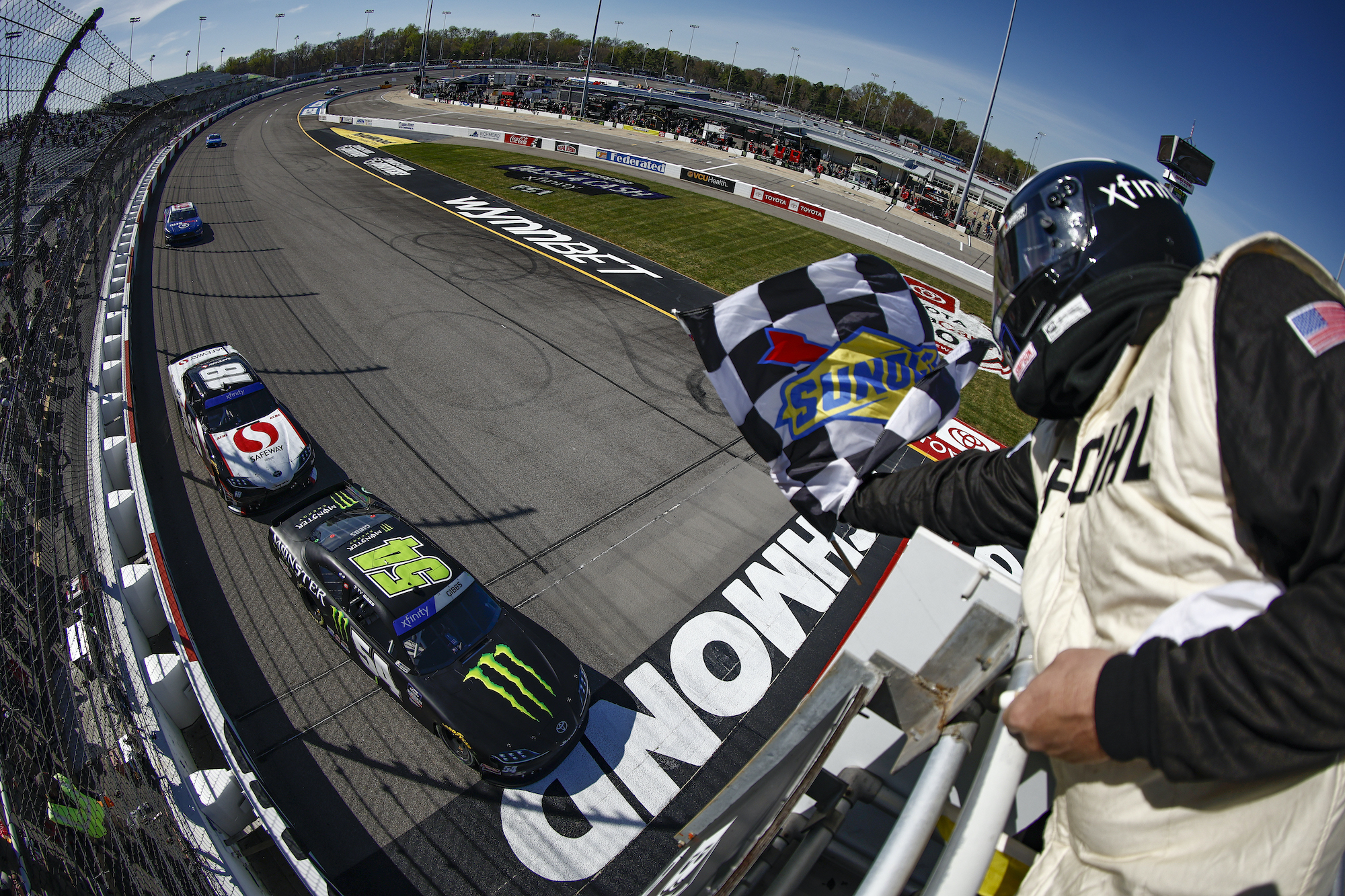 John Hunter Nemechek Embarrassingly Called Out by Larry McReynolds for His Hypocrisy After Wild Richmond Xfinity Series Finish
John Hunter Nemechek was called out for his hypocrisy by Fox's Larry McReynolds for his reaction after Saturday's Xfinity Series race at Richmond.
Last week, aggressive last-lap moves were a main topic of conversation after Ross Chastain pulled off one late at Circuit of the Americas and won his first NASCAR Cup Series race. Less than a week later, during the Xfinity Series race at Richmond, Joe Gibbs Racing teammates John Hunter Nemechek and Ty Gibbs found themselves in position to win going into the final lap. 
The 19-year-old made a move in one of the final turns, pushing Nemechek up the track before sprinting to the checkered flag. The 24-year-old was not happy and let it be known in his postrace interview. However, less than 24 hours later, Fox's Larry McReynolds embarrassingly pointed out how Nemechek's frustration was hypocrisy of the highest order. 
John Hunter Nemechek moved on last lap by Ty Gibbs
It was a foregone conclusion late in the Xfinity Series race on Saturday. Joe Gibbs Racing was going to win. It was just a matter of which driver would do it — Ty Gibbs, who has already won twice this year, or John Hunter Nemechek, who had an off-week in the Truck Series and was moonlighting in the No. 18 car.
Nemechek led a race-high 135 laps. Gibbs led 114. The veteran driver began the most important lap with the No. 54 on his bumper. Halfway around the track, the two cars battled side-by-side with Gibbs on the inside. Heading into Turn 3, Joe's grandson drove up the track, which sent Nemechek out wide. 
Gibbs made one final turn and raced to the win, his third of the season and seventh of his young career. 
Ty Gibbs admits John Hunter Nemechek owes him one
Moments after the race and his celebratory burnout, Fox's Jamie Little visited with Gibbs and asked about the move at the end. 
"I definitely deserve one back," Gibbs acknowledged. "You know we're racing for wins, and they're hard to come by, so I had to take it. We were just fighting tight all day. Just couldn't hold the bottom. John Hunter was a little faster, and we had a great race. Good for Toyota to finish 1-2. Just got in there deep and had to bump him out of the way up the track. We're short-track racing."
Nemechek was shown on the broadcast watching Gibbs' interview. Regan Smith caught up with him a few minutes later and asked for his reaction to his teammate's remarks.
"Him and I will settle it Monday. I don't want to say too much and get myself in trouble," an obviously frustrated Nemechek said. "Just got drove through. He didn't even try and make the corner there. Racers never forget, that's for sure." 
Larry McReynolds calls out Nemechek's hypocrisy
During the NASCAR RaceDay prerace show before Sunday's Cup Series race, the panel revisited last week's move by Ross Chastain. Larry McReynolds said he had no problem with the Trackhouse Racing driver's move and then brought up the ending of the Xfinity Series race the day before.
"I go back to yesterday. Had no problem with what Ty Gibbs did," McReynolds said. "And John Hunter Nemechek shouldn't either. I go back to Mosport a few years ago with Cole Custer in that truck race."
The broadcast then showed the 2016 race from Canadian Tire Motorsport Park when Nemechek pursued Custer, drove into the back of him on the second-to-last turn, before sliding into the side of the No. 00 truck and riding him off track onto the grass and into the fence for yards all the way across the finish line. 
"You talk about driving through someone. Are you kidding me?" McReynolds said. "What's good for the goose is good for the gander."
America's Crew Chief knows the inner workings of the Next Gen car. He knows pit strategies. He also knows about truth, and on Sunday, he delivered a sobering dose of it to Nemechek.
Like Sportscasting on Facebook. Follow us on Twitter @sportscasting19.