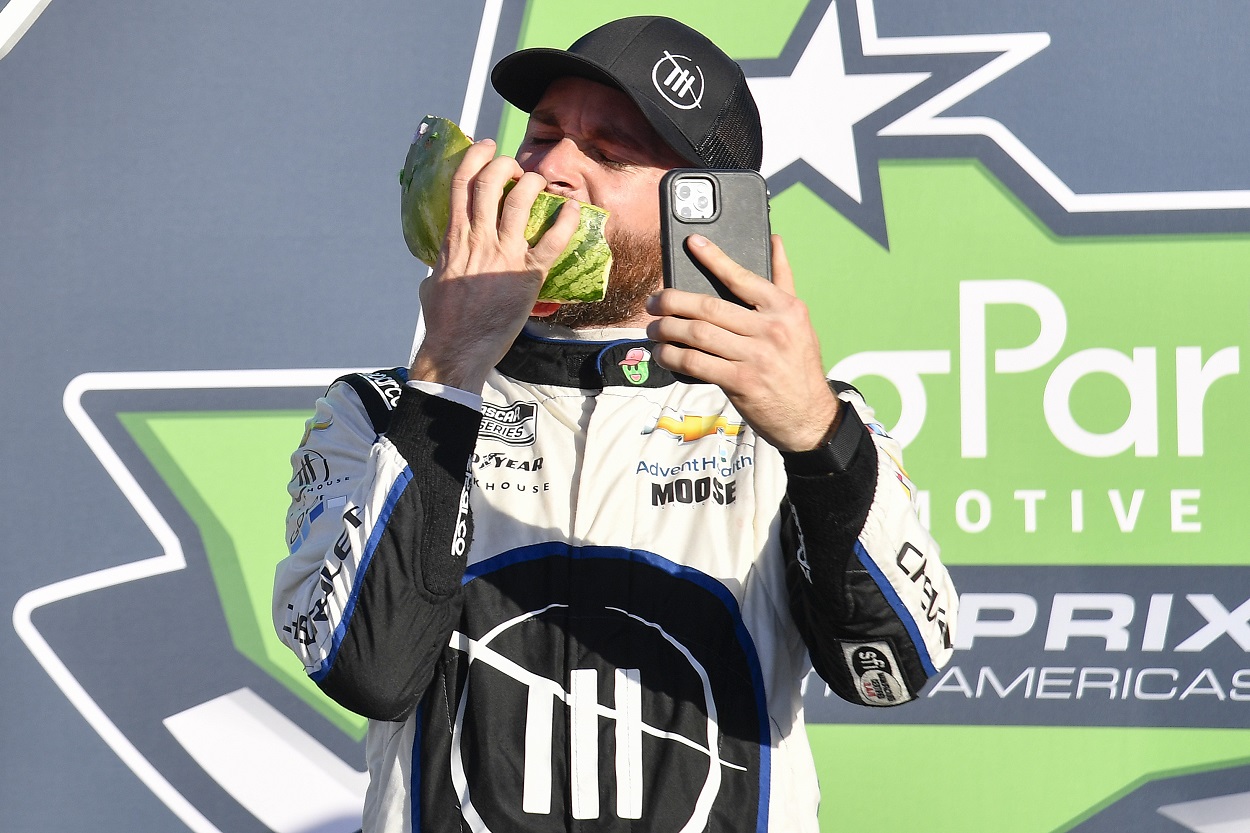 Ross Chastain: The Melon Man's Unique Celebration Style Goes Back Eight Generations
New NASCAR Cup Series winner Ross Chastain celebrates with watermelons for a very special reason.
Ross Chastain finally had the chance to display one of the most unique celebrations in a sport full of them Sunday when he raised a watermelon over his head from atop his race car and smashed it on the pavement near the finish line at the Circuit of the Americas.
Chastain had just won his first career NASCAR Cup Series race in dramatic fashion after a last-lap battle with challengers A.J. Allmendinger and Alex Bowman at the 20-turn road course in Austin.
He then lived up to his "Melon Man" moniker as he jumped off the top of his car, reached down to pick up a piece of the shattered watermelon, and took a bite that represented more than just a single day's triumph.
Ross Chastain grew up on a watermelon farm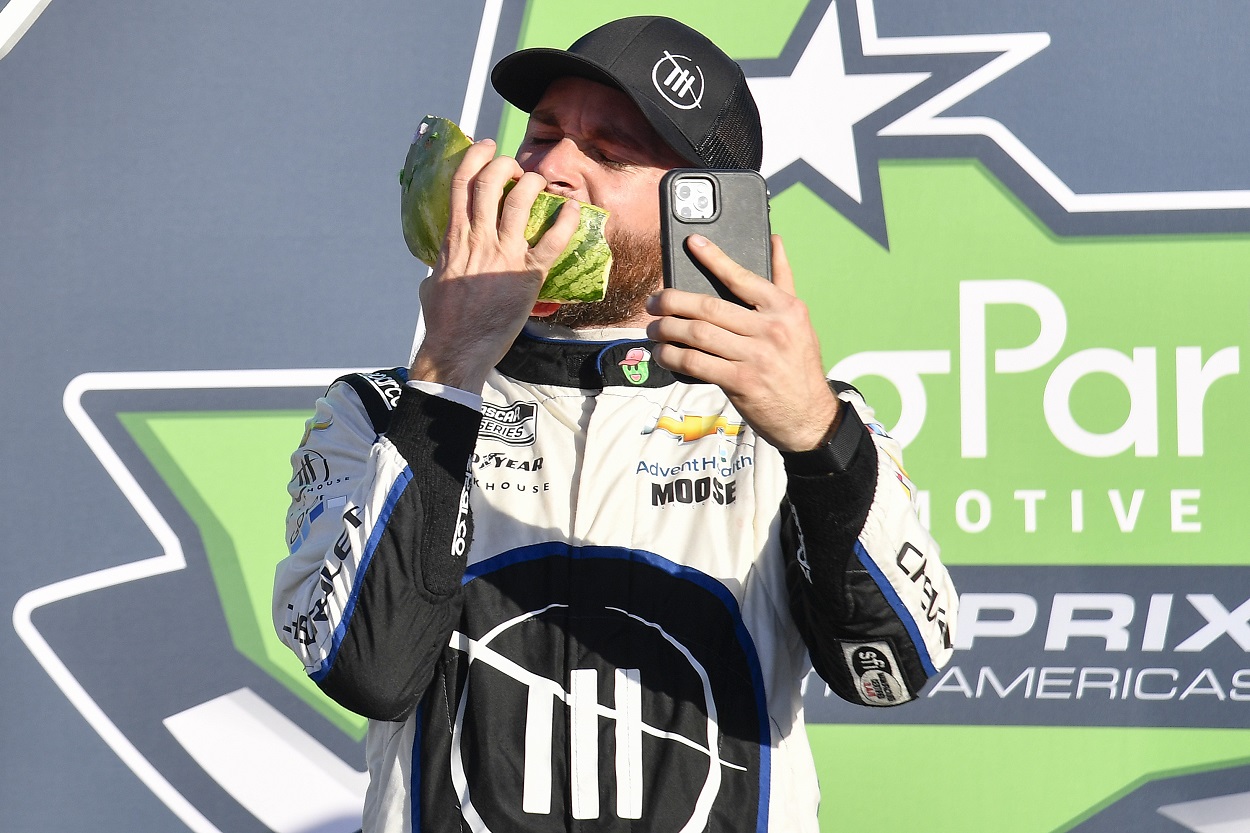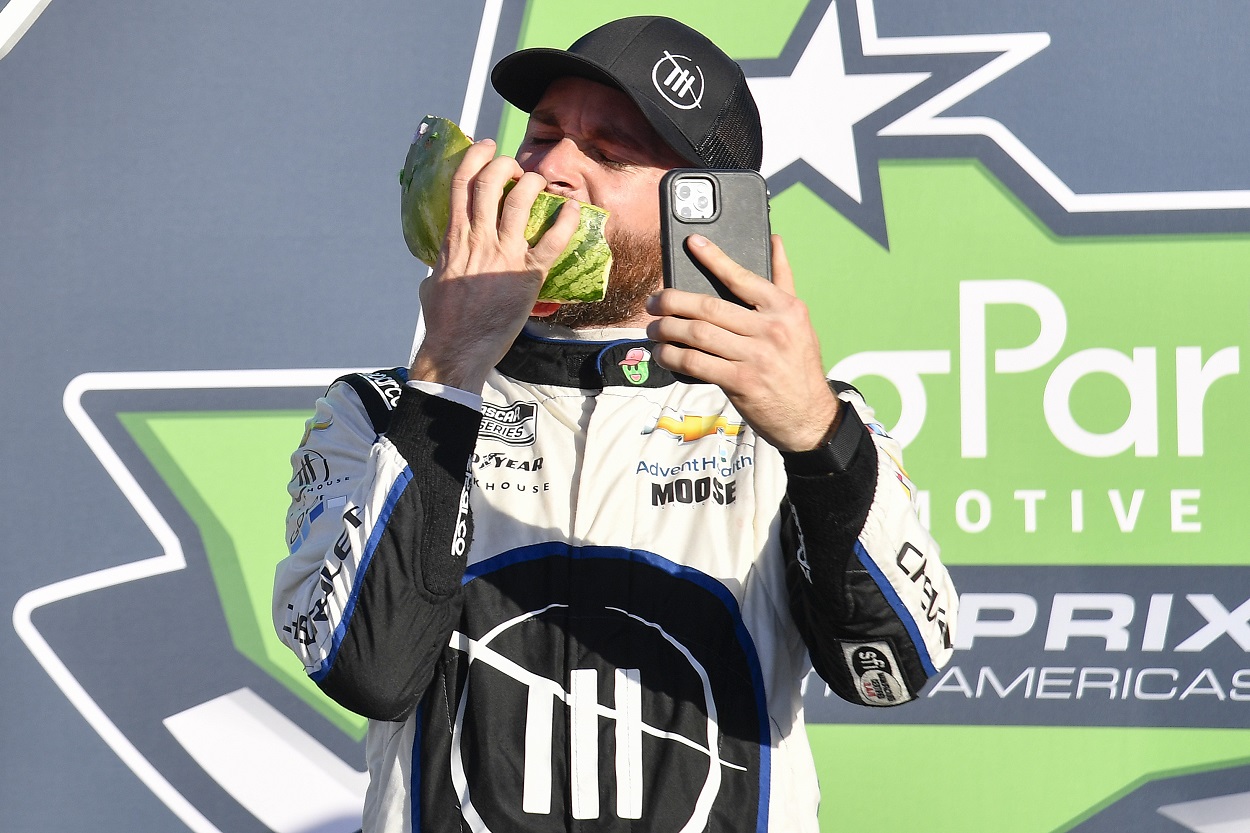 Chastain has raced in NASCAR since 2011 when he debuted as an 18-year-old in the Truck Series, but he did not come from a family of racers. The Chastain family has its roots in watermelon farming that dates back eight generations.
The family's watermelon farming operation, JDI Farms, began in Georgia before Ross' great-grandfather moved to Punta Gorda, Florida. The watermelons have grown there ever since, and now his father and brother oversee the farms and their five full-time employees.
"My dad and uncle became old enough to farm on their own. They've grown the farm to an incredible spot," Chastain told the Associated Press after his win at COTA. "We just honed in on watermelons as the family business. It started eight generations ago. Really before that, 12 generations ago, they were farming, but back then, everybody farmed. We stuck with it, for better or worse, and every generation has stayed with it."
Chastain and his team have brought a watermelon to the track since he joined the NASCAR ranks if needed as a prop in a victory celebration.
"I always wanted to bring watermelons with me, and they are a big part of why I'm here, no doubt about it," Chastain told USA Today in 2019. "I knew companies, and I went to them and said, 'I want to be the farmer in NASCAR,' and they liked it."
Chastain still helps on the farm when he is home in Florida, and there have been times he thought it would become his full-time job before his racing career ever took off.
Chastain's career has been full of highs and lows
He had success in the Truck Series with five top-5s and 11 top-10s from 2012-13 to earn a spot in the Xfinity Series the following season. He garnered a top-10 finish that season at Kentucky Speedway and had four more top-10s in 2015.
Chastain remained a full-time Xfinity Series driver for underfunded JD Motorsports through 2018 when Chip Ganassi Racing gave him a shot to drive three races in the fully funded No. 42 car late in the 2018 campaign.
Chastain smashed his first victory watermelon in the second of those three races in the fall race at Las Vegas Motor Speedway.
"We were talking about it in the media center, and I was like, "I've gotta do something with this watermelon! I've gotta go smash it," he told USA Today at the time. "I just want people to remember it and think of [agriculture] and watermelons when they see me."
That win led to what was supposed to be a full-time ride in the No. 42 car for the 2019 season, but the FBI and IRS raided the home and offices of the DC Solar owners in December 2018 as part of a $1 billion Ponzi scheme bust.
CGR shuttered the No. 42 Xfinity Series team for 2019 when the DC Solar situation fell apart, and Chastain had to piece together part-time rides seasons across all three NASCAR national touring series for the next two years.
He finally received his biggest Cup Series break to date with a full-time deal to run the No. 42 car for CGR in 2021. He finished 20th in the points standings with three top-5s and eight top-10s.
Deal with upstart Trackhouse Racing has taken his career to new heights
Trackhouse Racing bought out CGR after the 2021 season but decided to keep Chastain in the fold and gave him the seat in the No. 1 car for 2022.
That has quickly turned Chastain into a weekly threat with a series-high four top-three finishes through six races and the opportunity for the first Cup Series watermelon smash of his career.
The way things are going, the "Melon Man" might need to stock up.
All stats courtesy of Racing Reference